If you're outgrowing your apartment or rental unit, it may be time to think about purchasing a home. But before you start shopping, figure out how much you can afford with these tips.
Determine the Mortgage You Can Afford
First, review your current financial situation. What assets do you own? What is your income? What liabilities do you have now or will you have in the future? Is there anything about your financial situation that could change in the future? For example, will you have to start making student loan payments next year?
Your lender can help you understand your financial situation and get pre-approved for a home loan. Getting pre-approved for a home loan involves having a lender review your credit history, and verify your income and other information, then getting a commitment from that lender to make a loan to you for a certain amount.
This gives you useful perspective on which home prices are more realistic for your situation. For example, if you are pre-approved for a $200,000 mortgage with a $50,000 down payment, you may want to set your "maximum home price" at $250,000 and look at homes priced at or below that amount.
Your lender can also help you decide whether to take out a fixed interest rate ("fixed") or variable interest rate ("variable") home mortgage:
Fixed mortgages have fixed interest rates that are known to borrowers from the outset and therefore offer stability and predictability over the life of the loan with respect to the amount that the borrower will be expected to pay each month.
The amount you pay on a variable mortgage will be impacted by an index, which is a rate set by market forces that may be sensitive to changes in economic conditions and that will change from time to time. This means that as economic conditions change, your monthly payment and interest rate will also change by increasing or decreasing based on movements in the index rate.
Regardless of which type of mortgage you choose, a larger down payment will reduce your monthly mortgage installments. The Regions mortgage payment calculator can help you determine how your monthly costs could vary based on different down payment amounts.
Once you've determined your target home price, you will also need to plan for upfront expenses beyond your down payment. These may include home appraisal and inspection fees, termite checks, application and origination fees, title insurance, and other closing costs. Jim Duncan, a real estate broker in Charlottesville, Virginia, suggests budgeting up to 3 percent of the loan amount to cover these initial outlays. "You may sometimes be able to roll those into the loan and purchase price," he says.
Consider all the Costs of Home Ownership
A good rule of thumb is to keep your homeownership costs, including mortgage payments, insurance, real estate taxes, and regular maintenance, to less than 28 percent of your pretax income. Keep in mind that qualified mortgages may require other debt-to-income limitations.
Either way, assess variable costs and factor them into your monthly budget before you make an offer on a home. Expenses like property taxes vary by location, but you can contact the local assessor's office to learn more about tax rates in your area.
"Taxes usually become part of the mortgage payment, prepaid each month into escrow, and paid by the lender when they come due," Duncan explains. In order to make sure that you appropriately meet your tax obligations, you will want to know whether the property taxes are escrowed and then paid by the lender, or if you are responsible for setting aside money and paying them yourself.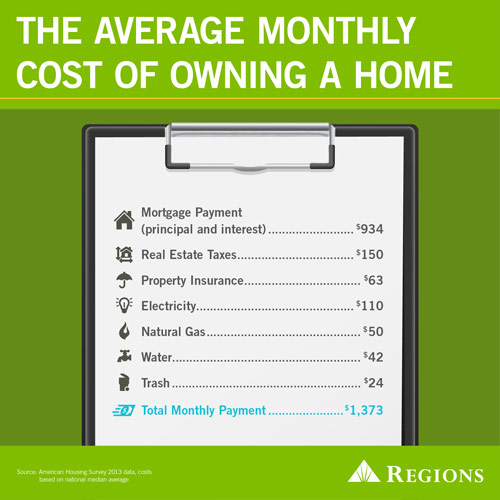 It's also helpful to talk to an insurance agent during your home search. If you have a location in mind, or have found a home that fits what you're looking for, you can call a local insurance agent to get a homeowners insurance estimate. Ask about the cost of common insurance riders, such as flood or sewage insurance, to get a comprehensive picture of your potential insurance costs.
If your down payment is less than 20 percent, you may also be required by your lender to purchase private mortgage insurance to cover the risk of defaulting on your mortgage. The monthly premium payments for this insurance will probably be included in your monthly payment to the lender; you won't "shop" for this insurance.
Don't forget to account for the costs of changing locks, maintaining the lawn, painting, and purchasing new furniture to fill a larger space, as well as some inevitable surprise expenses. You may also be required to pay homeowner's association dues in addition to utility costs, such as water, gas, electric, garbage, and sewage, which a landlord might have previously rolled into your monthly rent.