Assess where you're at, learn how to pivot, and create a solid plan for the coming year.
By Bobby Hoyt, Founder of Millennial Money Man
Sponsored by Regions Bank, Member FDIC. All thoughts are my own and I'm not a Regions client.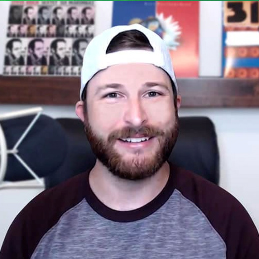 The past few months have been rough on everyone, but small business owners have been hit especially hard because they lack the resources big companies have to quickly pivot and adapt.
But as a small business owner myself, I believe that small businesses are actually more adaptable than big ones. We know our customers on a much more personal level, giving us the chance to better understand and solve their current problems.
Still, this year has been challenging. I've personally done a lot of soul searching, but I'm convinced it's only strengthened my business and prepared me for an even better 2021.
To help you get on the right track, I'm working with Regions Bank to help other small business owners adapt to a rapidly changing business landscape. I will be joining Regions for a free webinar, and here I'm offering a sneak peek of what I will be covering.
5 Small Business Strategies to Adapt and Thrive in 2021
1. Assess your current situation
Whenever I talk to someone who's wanting to make a major financial change – pay off debt, start investing, buy a house, etc. – I always recommend doing a financial assessment before doing anything else. It's like going to the doctor for a check-up before getting a bigger procedure done.
The same is 100% true for small business owners. You need to start by assessing the health of your business before you can make decisions about how to move forward.
Let's walk through some questions you can ask yourself.
Where am I spending money?
Keep it simple at first and start with a list of expenses. Lease, employees, marketing expenses, inventory, etc. Depending on how closely you interact with your business finances, there might be some surprises in there.
Take time to see if there's anywhere you've been hemorrhaging money, but also look for places where you may have been too lean. As the way you do business changes due to COVID-19, you may need to cut some spending areas or redirect funds.
Am I being as efficient as possible with my resources?
Your resources are things like capital, information, time, labor, management, and expertise. Are all of these being directed in the best way possible? Are there ways to optimize your resources?
Solopreneurs might find it's time to start outsourcing. I know it's terrifying to start spending money on that but consider how your time is best spent.
Am I selling all my inventory?
There are some creative ways you can unload unsold inventory, which can give you a decent boost of cash flow. Try bundling products together, remarketing them, or using some as freebies or incentives.
There are even online marketplaces you can sell on where you can reach customers who are more apt to do their shopping online. These marketplaces expand your reach, but the downside is that the selling fees are pretty steep.
2. Take time to clean house and evaluate where you're at
The evaluation you just did sets you up for this next step: cleaning house. Small business owners hurt by COVID-19 will likely have to reallocate funds and rethink how they run their businesses so that they can keep moving forward.
Think about what kinds of recurring subscriptions your business has and if you need them. This could be outdated software, subscriptions to trade magazines or sites, etc.
For some small businesses, office space is still a must, but that's no longer the case for everyone. In some industries, remote work has made it possible to completely rethink the office, so if downsizing your space is a possibility, this could be a serious money saver.
Another evaluation you'll want to spend some time on is your employees. Are you using them to the best of their capabilities? What kind of training resources can you offer to help them increase their skills? Are you underutilizing some of their skills and creativity?
I recently hired a project manager to come in and streamline my team and create more efficient processes. She took a look at everyone's strengths and weaknesses, and then we made adjustments to optimize everyone's workflow.
That was a huge thing for my site this year. I have more time to devote to what I'm best at and so is everyone else on my team. We're more productive and my site's generating more revenue as a result.
3. Adjust your focus for today's world
So much has changed in just a few months, and some of the changes you make to your overall business model will become the new norm.
One of the most obvious adjustments is making it easier for your employees to work from home when possible. I know this isn't a possibility for all industries, but it's something you need to consider if it fits your business.
Here are some ways you can make it easier:
Make sure everyone knows how to access remote files and has permissions
Choose a web-based teleconference platform and offer help using it
Establish guidelines for working hours and employee availability, like making sure everyone realizes they're not expected to be available around the clock
Consider allowing your employees to take office technology home
Establish check-in protocols
Have a clear policy regarding who pays for internet access and cell phone expenses
Update your security protocols
Expect some chaos in the beginning, and remind yourself that it will get easier as things smooth out
Remote work isn't just what many of your employees probably want these days. How you handled the pandemic will be a serious question from candidates when you're hiring in the future.
Potential employees will want to know if you made it possible to work from home. Companies that weren't willing to offer this (again, when possible!) might lose out on some highly qualified candidates.
4. Re-evaluate what you're offering
This point flows from that last one. As the world has changed, is what you're offering still relevant to your customers? Are you making great offers to customers to get them in the door, or are you continuing with what you've always done?
There are a couple of different ways to see what is and isn't working and how to improve:
Run a competitive analysis: Identify your top competitors, research what they're offering, check reviews (if available), and review their social media. Do they appear to be thriving or failing? Use their business behavior to inform your future decisions.
Check in with your current customers: Reach out and talk to the people who currently spend their time and money on you, and simply ask how you can better serve them. You're not going to be able to fill every single request, but this will help you understand their changing needs and how you can address their pain points.
I've spent the last few months thinking about how I can shape my blog content for the current market demand. More and more of my readers want content that's focused on making money, so that's where I've started heading.
My readers will see that shift in the articles I write and in several new course ideas I have for 2021. It's been energizing to think about all of the possibilities.
Really, all kinds of businesses can make adjustments to what they're offering. For some, this might be new product development. Others will need to focus on diversification. Look for ways to add value and keep customers long term.
I've seen a lot of exciting things happening already, and here are just a few examples:
I recently heard about a hair salon offering al fresco cuts for clients who wanted to trim their pandemic hair but weren't ready to go into a salon. In less than 24 hours, this salon booked 2 months' worth of al fresco cuts.
After seeing how customers have changed how they buy groceries, a small grocery store in my area started their own meal planning and delivery service.
Some hotel chains have started offering day rates to remote workers. Since tourism is down, these unused rooms have been turned into a quiet workspace with high-speed internet.
Businesses who adapt to fit their customer's needs are the ones who will thrive in the future.
5. It's time to evolve for the digital age
This one is huge, and it's something industry experts have been suggesting for years.
I've actually heard from a lot of people who run Facebook ads for small businesses that more and more of their clients are wanting additional digital services to keep up with the evolving landscape.
Don't feel discouraged if you haven't worked on your digital strategies yet. Here are three areas you can start working on now:
Social media: Social media is a great platform for small business owners. There are strong marketing tools, including highly targeted ads, but it's also a good way to handle customer concerns, share new product information, engage your customers, etc.
Improving your website: Your website may end up being the primary point of contact between you and your customers these days. Work on basic improvements like improving its speed, building your SEO practices, and ensuring your site is optimized for mobile.
Creating content: You can add pages to your site that explain more about your business and services. Writing regular blog posts can help you connect with customers. Email marketing is big too. Use it as a space to share stories and be real with your customers. Email has a massive ROI that shouldn't be ignored. Even consider what kinds of digital products you can offer customers: ebooks, webinars, YouTube videos courses, guides, printables, etc.
Taking your business online, in any capacity, presents the opportunity for virtually unlimited growth.
The final word
Listen, I know change is hard. But if 2020 has taught us anything, it's that we're all capable of change, no matter how hard we fought against it in the past.
Let 2020 be the year that kick-started a new business plan. Let it be the year that forced you to grow. It's been a hard year for many small businesses, but if you reframe it to look at the possibilities and how you can improve, you will thrive in 2021.
Want to hear more? Click here to register to watch the webinar, Steering Your Business Towards Success in the "New Normal."
About Bobby Hoyt
Inspired by a mentor to reach for more after starting MillennialMoneyMan.com and paying off his loans, Bobby Hoyt began a pursuit of all things personal finance. Unsatisfied with the financial condition of his fellow millennials, he applied his knowledge as an educator to his blog.
His mission is to encourage fellow Millennials (and generations beyond!) to adhere to four main principles:
Live below your means until you don't have to anymore.
Don't finance stuff you don't need.
Let your friends pass you up (don't try to keep up with the Joneses)
Work really hard, then make your money work for you.
Through his work on Millennial Money Man, he hopes to help change the face of personal finance in Gen Y by challenging his readers to slay their debt, increase their income, and plan for their future.
Since quitting his band director job after earning $3 in ad revenues (a tactic he doesn't recommend to students of his blogging courses) he has grown his blog to reach over 2 million readers each year. He's a regular personal finance columnist for the American Psychological Association and has made appearances on major media outlets such as Forbes, CNBC, and MarketWatch. A firm believer in the importance of the side hustle (and an educator who values sharing his knowledge), he partnered with former high school classmate Mike Yanda to teach others how to grow their income by running Facebook ads, along with two other active blogger-focused courses at Laptop Empires.
Bobby lives in the Houston, Texas area with his wife Coral, their wonderfully strange dog Strider, and can usually be found on the golf course, or boating on some body of water when they aren't traveling.