There's Good News and There's Bad News
March 2018

When faced with a good news/bad news scenario and given the choice, our preference is always to take the bad news first and save the good news for last. After all, it's hard to enjoy good news knowing there is bad news to follow, so better to deal with the bad then enjoy the good. Being the bearer of the news in this instance, we're going to proceed in the opposite order, though anyone who does want the bad news first is welcome to skip ahead then circle back.

In any event, between the tax bill enacted in late-2017 and the federal government spending bill enacted last month, the U.S. economy will see a significant degree of fiscal stimulus this year and next. Our baseline forecast anticipates that, on net, fiscal stimulus will add around six-tenths of a point to top-line real GDP growth in both 2018 and 2019. So, the good news is that the U.S. economy now has the fiscal policy it should have had a decade ago. There are some who question whether this is appropriate given the current economic expansion is now in its ninth year and the economy is closing in on full employment. Be that as it may, the reality is that fiscal stimulus is poised to spark a significant late-cycle acceleration in the economy's growth rate.

The bad news is that when the kick to growth fades, which will begin in 2020 if not late-2019, the costs will be with us for some time to come. Think of it as going on a holiday season shopping binge financed with credit cards, only on a ginormous scale. In other words, the magnitude of the fiscal stimulus to be delivered this year and next means already large federal government budget deficits figure to get larger over coming years. To be sure, to the extent the tax bill adds to the economy's sustainable growth rate, that would mitigate the impact on the deficit but, even in the most optimistic case, i.e., the tax cuts pay for themselves, the added government spending this year and next (if not longer) will add to the size of the deficits.
If so, dissaving in the government sector will be an increasing drag on private sector saving, i.e., combined household and business saving. While considerable attention is given to the saving rate in the household sector, this is only one part of the bigger picture, and the total level of saving in any economy is what matters because, in any economy, the aggregate level of investment must equal the aggregate level of saving. In a closed economy, dissaving in one or more sectors must be offset by saving in the remaining sector(s) to maintain a given level of investment, while in an open economy foreign saving can compensate for insufficient domestic saving.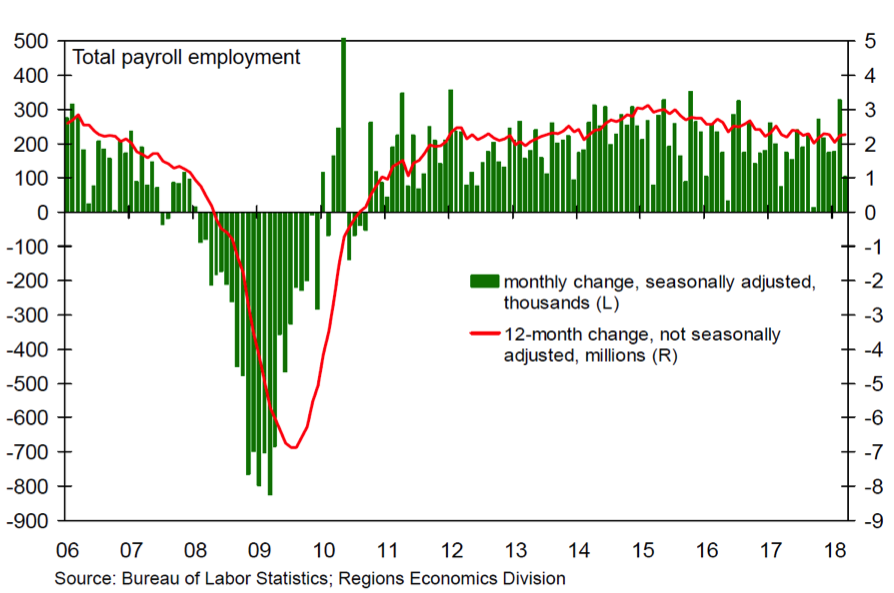 This matters because investment is the key fuel of any economy's growth over time. In the U.S., the domestic saving rate, or, total domestic saving as a percentage of GDP, stood at just 1.74 percent as of Q4 2017, well below historical norms. This reflects a household saving rate of 1.97 percent, a corporate (net) saving rate of 4.52 percent, and a government (combined local, state, and federal) saving rate of negative 4.75 percent. Note that the government sector saving rate does not yet reflect the tax cuts and increased spending, and even if the household saving rate rises as we think it will, the domestic saving rate could easily fall further over coming quarters. If so, this will leave the U.S. with two options.

One option is to embark on a path of steadily lower levels of investment spending, which implies a lower "speed limit" (our term for the economy's sustainable rate of noninflationary growth). The other option is to attract even higher levels of foreign saving. The U.S. has relied heavily on foreign saving over recent decades to compensate for declining domestic saving. It is often neglected in discussions on trade, but the reality is that the flip side to a trade deficit is a surplus in the capital account. One key reason the U.S. has been such a magnet for foreign capital is that the U.S. dollar is effectively the world's reserve currency, so that dollars accumulated by foreigners in the trade of goods and services have basically been "recycled" into demand for U.S. dollar denominated assets.

To the extent federal government budget deficits do become larger over coming years, in the absence of a corresponding increase in domestic saving the U.S. will need to attract even greater levels of foreign savings in order to finance a given level of investment. Doing so, however, will become more costly, i.e., it will take higher U.S. interest rates to attract higher levels of foreign savings. Though no such move is now in the offing, one downside risk is that there could come a time when there is a viable alternative to the U.S. dollar as the world's main reserve currency, which would make attracting foreign saving into the U.S. more difficult, i.e., more costly. Instead of an alarmist rant, this is hopefully taken as a reminder that the U.S. has been, and remains, highly dependent on foreign capital to finance both current consumption and future growth. That of course can go on until it can't, a time that can come abruptly and without advance notice.

We'll close by noting that the FOMC is widely expected to approve a 25-basis point hike in the Fed funds rate at their March 20-21 meeting. The main uncertainty surrounding this month's meeting is whether the updated "dot plot" will imply three or four such hikes for 2018 - the December 2017 dot plot implied three 25-basis point hikes. We do not see that changing in March, but it will at some point this year if wage growth and inflation accelerate faster than the FOMC anticipates.