U.S. Economy Expansion Still Intact
November 2018
While it may be tempting to attribute the recent volatility in the financial markets to a deteriorating economic outlook (to be sure, there have been some unable to resist this temptation), the high frequency economic data continue to paint a positive picture of the U.S. economy. While there are signs that growth is settling into a more sustainable pace, this is neither surprising nor alarming. At least it shouldn't be – one recent headline proclaimed "it's downhill from here" which, to this publication, is called news. We, on the other hand, call it our baseline forecast, which for over a year now has anticipated the same pattern of growth – 2018 may be one of the best, if not the best, year of economic growth of this entire expansion (now in its tenth year), with growth slowing in 2019 and slowing further in 2020. With 2018 thus far having played out pretty much as we had anticipated, we've seen no reason to change our view. It does, however, help to be aware of the distinction between slowing growth and the end of growth, even if the recent volatility in the financial markets leads some to fear we're seeing the latter, not the former.
The initial estimate by the Bureau of Economic Analysis (BEA) shows real GDP grew at an annualized rate of 3.5 percent in Q3 2018, on the heels of 4.2 percent growth in Q2. The details of the report on Q3 GDP, however, were a mixed bag. Real consumer spending grew at an annualized rate of 4.0 percent, adding 2.69 percentage points to top-line real GDP growth, and a sizeable build in nonfarm business inventories added 2.07 percentage points to top-line growth. On the flip side, a significantly wider trade deficit lopped 1.78 percentage points from top-line growth. Real business spending on equipment and machinery grew at an annualized rate of just 0.4 percent in Q3, well below the average 8.6 percent growth seen over the prior six quarters. We do not, however, think business investment has suddenly fizzled, and expect a faster rate of growth in Q4.
Can The U.S. Economy Sustain Its Momentum?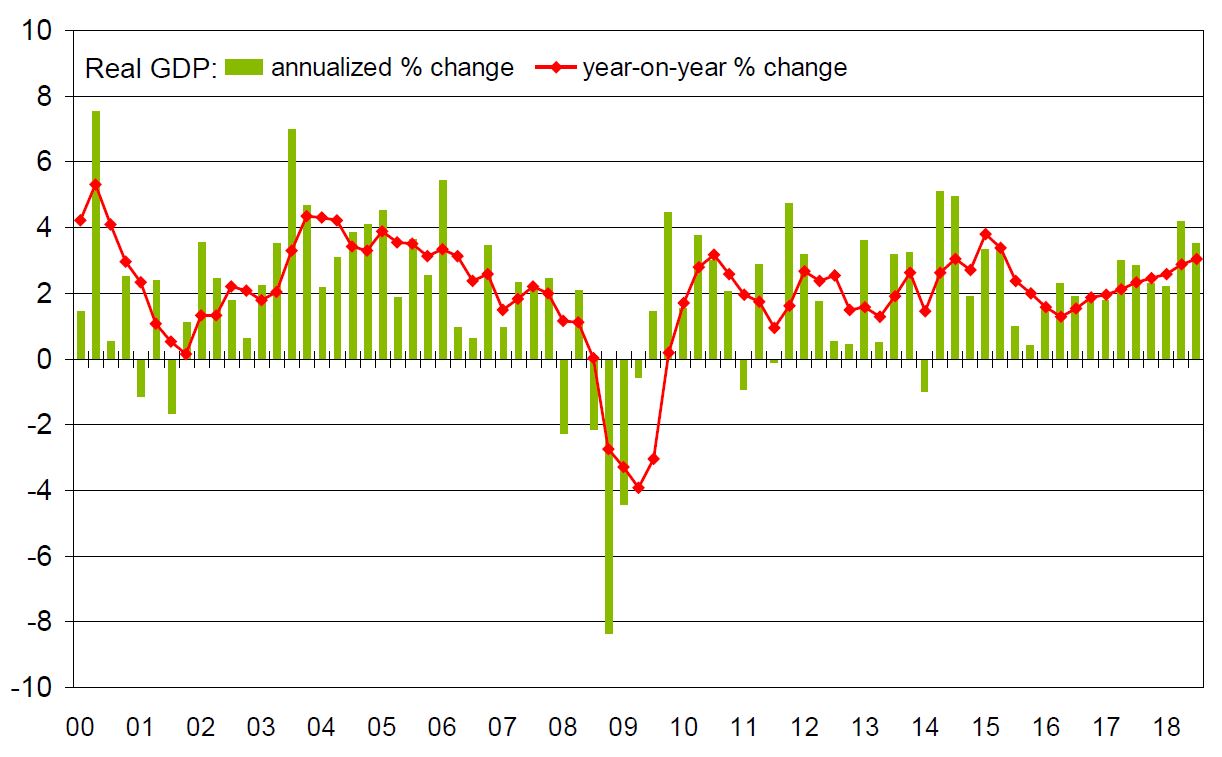 Neither the sharp increase in business inventories nor the sharp widening of the trade deficit seen in the Q3 data will be repeated in the Q4 data, so in terms of the effects on top-line growth, it will be pretty much of a wash. But, these swings do illustrate the drawbacks of taking quarterly changes and annualizing them as the basis on which to assess economic growth. We prefer to look at real GDP on the basis of year-on-year percentage changes, which we see as a better gauge of the underlying trend rate of growth. Real GDP was up 3.0 percent year-on-year in Q3, which is right in line with our forecast for full-year growth, and Q3 marks the ninth consecutive quarter in which year-on-year growth was faster than in the prior quarter, the longest such streak on record. That streak will end at some point but, when it does, it will be the end of the streak, not the end of the expansion.
To our point about growth settling into a more sustainable pace, the ISM Manufacturing Index slipped to 57.7 percent in October, well below levels seen over recent months but nonetheless the 26th consecutive month in which the headline index was above the 50.0 percent break between contraction and expansion. Though ISM reports many survey respondents are increasingly concerned about the adverse effects of tariffs, new orders and backlogs of unfilled orders continue to grow, suggesting continued growth in production and employment over coming months.
Indeed, a 32,000-job increase in manufacturing payrolls was one of the highlights of a standout October employment report. Total nonfarm employment increased by 250,000 jobs in October, with private sector payrolls up by 246,000 jobs as job growth remained notably broad based across private sector industry groups. While some of October's job growth reflects payback for Hurricane Florence having held down job growth in September, of more relevance is that over the past 12 months the U.S. economy has added an average of 210,000 jobs per month.
At first glance, the 3.1 percent increase in average hourly earnings in October may be seen as a sign that wage growth is finally responding to tighter labor market conditions. While wage growth is accelerating, however, the year-on-year increase in average hourly earnings has more to do with how weak hourly earnings were last October than with how strong they were this October. Last October saw sizeable numbers of lower-wage workers return to the employment rolls after having been displaced by Hurricanes Harvey and Irma. This biased hourly earnings lower – they fell by 0.2 percent last October, thus setting up the large year-on-year increase seen this October. That said, the Q3 Employment Cost Index and the Q3 data on labor productivity suggest the underlying trend rate of wage growth is accelerating, even if still a bit short of the 3.0 percent mark.
Though some have cited the recent turmoil in equity markets as grounds for the FOMC to hit the pause button, our view is that the FOMC is not, at least not yet, uncomfortable with the tightening in financial conditions brought about by lower equity prices. Indeed, Fed Chairman Powell has frequently pointed out that, rather than inflation heating up, unduly loose financial conditions may pose a bigger threat to the expansion, and the focus on financial conditions is consistent with what Mr. Powell has described as a risk management approach to setting monetary policy. As such, with the inflation-adjusted effective Fed funds rate still negative (as has been the case since late-2009) and the high frequency data pointing to solid, even if decelerating, economic growth, we do not expect the FOMC to pause any time soon, and expect another 25-basis point hike in the Fed funds rate at the December FOMC meeting.
Source: BEA, BLS, ISM; Federal Reserve Board