U.S. Economy Continues to Roll On
September 2018
Based on revised and more complete source data, the Bureau of Economic Analysis (BEA) now estimates real GDP grew at an annualized rate of 4.2 percent in Q2, up slightly from the initial estimate of 4.1 percent. Real consumer spending grew at an annualized rate of 3.8 percent in Q2 according to the BEA's second estimate, adding 2.55 percentage points to top-line real GDP growth. Sharply higher growth in U.S. exports was also a major contributor to Q2 real GDP growth, but to a large extent this reflected foreign buyers pulling purchases forward in anticipation of tariffs being placed on goods produced in the U.S. For instance, exports of soybeans to China surged in Q2 ahead of China imposing tariffs on U.S. produced agricultural goods in early July. Much of the spike in U.S. exports of goods was facilitated by firms drawing down inventories, and the drawdown in inventories took one full percentage point off of top-line real GDP growth in Q2. These effects will be reversed in the Q3 GDP data, with trade acting as a drag on top-line growth and inventory restocking acting as a support. At present, Q3 real GDP growth is tracking between 3.5 and 4.0 percent (annualized).
Total nonfarm employment rose by 201,000 jobs in August, easily topping expectations. At the same time, prior estimates of job growth in June and July were revised down by a net 50,000 jobs for the two-month period. On the whole, however, job growth remains broad based and monthly job growth has averaged 202,000 jobs over the past 12 months.
The unemployment rate held at 3.9 percent in August, as both the labor force and household employment are reported to have declined by better than 400,000 persons. We'd caution against reading too much into these declines, however, as they mainly reflect younger adults returning to school after working summer jobs. For instance, the not seasonally adjusted data show 1.923 million people between the ages of 16 and 24 left the labor force in August, the largest such decline for the month of August on record, with a similar decline in employment amongst this age cohort. Just as inflows of members of this age cohort are split between May and June of each year, the outflows are split between August and September, the specific timing in any given year dictated by the timing of the school year. That the decline in August was so large means the decline in September will be considerably smaller than normal for the month, which is likely to wreak havoc on the seasonally adjusted data, just as in August.
The reported decline in the labor force deflected attention from what to us is a far more relevant trend. Data on labor force flows show over 4.5 million people per month continue to transition from not being in the labor force in one month to being employed in the following month, an exceptionally strong number even when scaled to the size of the labor force. This of course can't go on forever, but we think it does have longer to run which will, the jump in August notwithstanding, continue to weigh on growth in hourly earnings.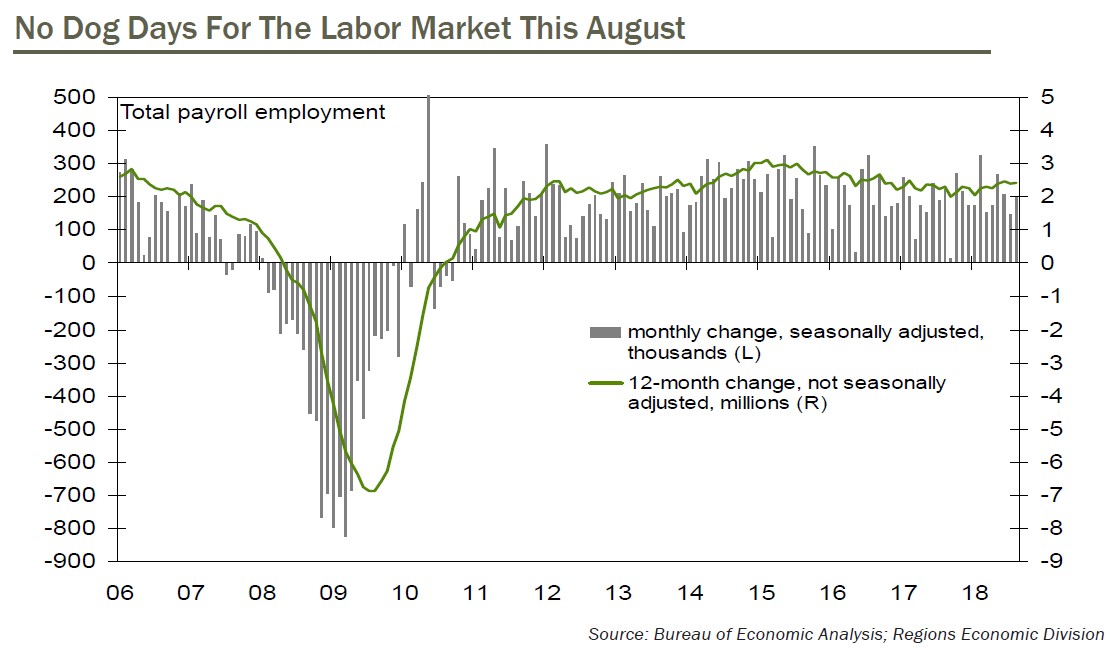 Average hourly earnings rose by 0.4 percent in August, leaving them up 2.9 percent year-on-year, the largest such increase during the current expansion. Two common reactions to this news were fear and derision – some expressed fear that faster wage growth will unleash inflation pressures and prompt the FOMC to raise the Fed funds rate at a faster pace, while others were quick to note that this faster wage growth is barely keeping pace with inflation, thus being of "no use" (as one analyst put it) to workers. We'll simply note that one month of data doesn't tell us very much one way or the other, and that broader measures of wage growth show trend growth accelerating but still shy of August's growth rate. Moreover, while much, too much in our view, has been made of growth in average hourly earnings barely keeping pace with inflation, aggregate wage and salary earnings have been growing at a better than 5.0 percent clip over the past few quarters. This is the key driver of growth in personal income and, in turn, growth in consumer spending, and rapid growth in aggregate wage and salary earnings is one reason we remain constructive on U.S. consumers.
The ISM Manufacturing Index jumped to 61.3 percent in August, the second highest reading on record (any reading over 50.0 percent implies growth in the factory sector). Trade battles loom as a source of uncertainty – how long they will continue and how wide they will spread – which may be leading some firms to defer planned capital spending. That said, core capital goods orders are still growing at a better than 8.5 percent pace (year-on-year), and already large backlogs of unfilled orders are getting larger while suppliers to manufacturers are also falling further behind, as evidenced by further slowing in supplier delivery times.
With a 25-basis point hike in the Fed funds rate target range a virtual lock at this month's FOMC meeting, attention will be focused on the Committee's updated economic projections and the updated "dot plot." While we do not look for any changes in the path of the funds rate implied by the dot plot – a total of four 25-basis point hikes this year and three more in 2019 – this would still leave the dot plot at odds with market participants, who expect fewer rate hikes by year-end 2019. It remains to be seen whether market participants will move to where the dot plot is, or whether the dot plot will move to where market participants are. Time will tell, but for now, even with the late-cycle acceleration in U.S. economic growth, there is little reason to think the FOMC will feel compelled to move at a faster pace.
Source: BEA, BLS, ISM