Yes, The Trend is Still Your True Friend...
April 2018

As a general rule, no single data point in any single month tells you anything meaningful about what it is intended to measure. As another general rule, in any given year proper seasonal adjustment of the economic data is far more difficult to achieve in the first quarter than at other times of the year. These general rules are on full display in the economic data for Q1 2018, which is (yet) another illustration of why we are so strict about following a general rule of our own – for any given data series, it is the underlying trends that tell the true story, not the headline number on the latest data release.
For instance, total nonfarm employment rose by 103,000 jobs in March after an increase of 326,000 jobs in February. Neither figure, however, is an accurate reflection of the state of the labor market. That of course didn't stop some analysts from reacting to each month's headline number as though it told the tale of the U.S. economy. In one such instance, the February number evidenced a booming economy which was done in by fears of a trade war, hence the soft March number. Unfortunately, this is an all-to-common occurrence, i.e., rather than taking a given data point in the context of other data points, too many are quick to spin a narrative of the economy based on a single data point. Sorry, but an economy as large and complex as the U.S. economy simply doesn't change course that quickly.
In part, this is a reflection of people simply accepting the data as they are reported, which is almost always on a seasonally adjusted basis and often on a seasonally adjusted and annualized basis, rather than examining the data in their "raw" form, i.e., neither seasonally adjusted nor annualized. We routinely focus on the raw data, as this is where one best sees the underlying trends as well as any abnormal movements from month-to-month, movements which tend to be magnified in the seasonally adjusted data. For instance, atypically mild winter weather during February meant that hiring in weather sensitive industries, most notably construction, was pulled forward earlier in the year than would normally occur. This contributed to the largest percentage increase in not seasonally adjusted total nonfarm employment for the month of February since 1941. The unavoidable reality was that there was going to be payback for this in the March data.
Indeed, the raw data show hiring in March was slower than normal for the month, and seasonal adjustment only amplified this slowdown. It is simply wrong, however, to react to slower hiring in March without putting it in the context of robust hiring in February. For instance, the not seasonally adjusted data show that for February and March combined, construction employment rose by 188,000 jobs, the largest such increase since 1979 and the fourth largest on record in data that go back to 1938. Hardly a sign of an economy shriveling in fear over a potential trade war. Here's what we see as the key takeaway from the employment data – over the past 12 months the U.S. economy has added 2.254 million jobs, or, an average of 188,000 per month. Not only is this impressive for an economy this late into an expansion, but it is also well above the rate needed to keep downward pressure on the unemployment rate. In other words, month-to-month swings notwithstanding, the trend rate of job growth remains solid.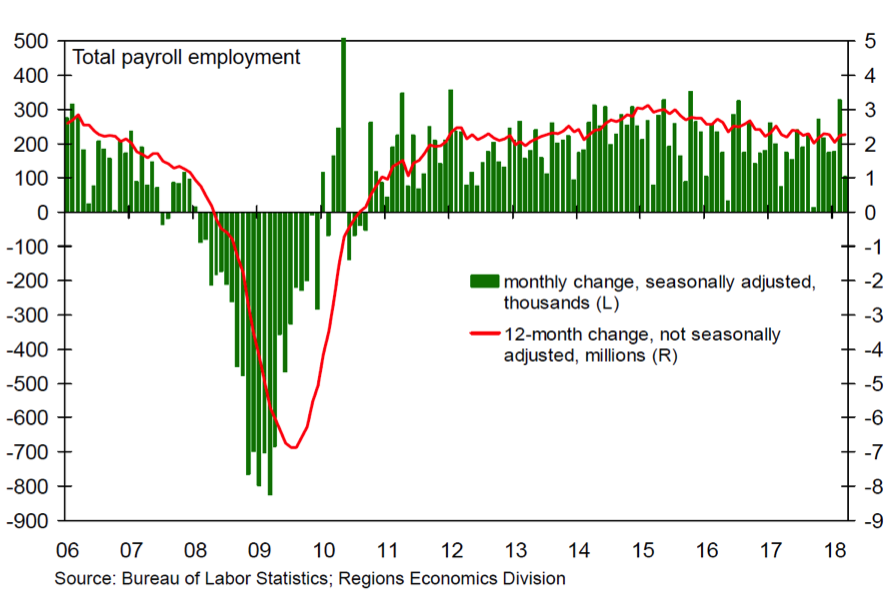 It will help to keep the above discussion in mind on April 27 – the day the BEA releases their first estimate of Q1 GDP. We say this because the GDP data in the first quarter of any given year are notably prone to seasonal adjustment issues that routinely knock as much as five-tenths of a point off of reported top-line real GDP growth. While this time really may be different, it's a good bet that reported Q1 2018 real GDP growth will be distorted by this noise and hence will tell us very little about the health of the U.S. economy. Absent the "residual seasonality" issue, our baseline forecast anticipates annualized Q1 growth of 2.6 percent and growth of around 3.0 percent for 2018 as a whole.
The Q1 2018 economic data have been nothing short of maddening, and not because they haven't behaved as we thought they would or that they haven't been particularly upbeat. We'd argue that they actually have been fairly positive, but in order to see that one would have to look beyond some wild swings in the headline numbers and focus on the underlying trends in the data. We maintain that the U.S. economy has a considerable degree of positive momentum, even if that is not apparent in the headline numbers.
Source: Bureau of Labor Statistics; Bureau of Economic Analysis