Figuring out how much of your investable assets to withdraw each year of retirement may feel like guesswork. You certainly don't want to draw down your assets too quickly, but you also don't want to shortchange your lifestyle.
Here are three points to address with your Regions Wealth Advisor to help determine the right withdrawal rate for you:
1. What's my current risk exposure?
Common wisdom says that you can spend 4 percent of your assets each year and have decent odds of them lasting at least 30 years. But that withdrawal rate may be too high, depending on your wealth allocation.1 The 4 percent guideline assumes that at least 60 percent of a retiree's assets are in stocks, meaning that his or her assets will likely continue to grow over time due to maintaining a higher equity exposure. Retirees with, say, 60 percent in bonds or other more conservative investments, such as real estate, and with less exposure to stocks, may need to withdraw less than 4 percent.
2. How long will my retirement be?
Longevity plays a big role in the question of how much you can safely withdraw — and life spans are increasing. A 65-year-old couple today has a 45 percent chance that one will live to age 90 and an 18 percent chance that one will live to 95, according to the Society of Actuaries.2 Some affluent retirees invest a portion of their assets in an annuity to ensure a steady income stream throughout their lifetimes. A long-term care plan can also help protect against longevity risk.
3. What are my objectives?
What portion of your assets do you want to leave to your heirs? How do you want to spend your time in retirement? Will reducing your spending drastically affect your desired retirement lifestyle or will it have little effect? Answering these types of questions can provide more clarity around what type of withdrawal rate makes sense for you.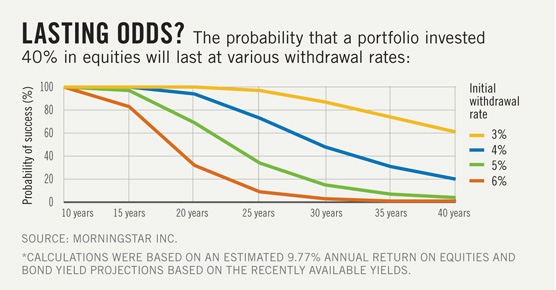 1 Finke, Michael S., Texas Tech University; Wade Pfau, The American College; and David Blanchett, Morningstar Investments; The 4 percent Rule Is Not Safe in a Low-Yield World, January 2013.
2 Society of Actuaries, Key Findings and Issues: Longevity, 2011 Risks and Process of Retirement Survey Report, June 2012.