Sallie Krawcheck, CEO of Ellevate, explains the challenges faced by professional women today and how they can achieve career success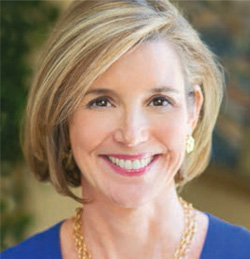 Sallie Krawcheck started her career as an investment banker in the late 1980s and eventually became one of the most powerful women on Wall Street. Today, Krawcheck runs Ellevate, a company dedicated to investing in women and helping them advance in their careers.
Insights recently spoke with Krawcheck about her organization, the hurdles professional women face today and how they can overcome them.
Q: Tell us about Ellevate.
Krawcheck: Ellevate (formerly called 85 Broads) is actually two businesses. One is a global network that connects professional women and provides education to help them advance in their career. The other is the Pax Ellevate Global Women's Index Fund, which invests in about 400 companies around the world that have a high proportion of women among their executive ranks. Women make up one-third of these companies' boards and one-quarter of their senior management — which is much higher than the global average. Both businesses are united around the belief that economic and financial engagement of women is a positive for women and for the economy overall.
Q: What are the top challenges facing professional women today?
Krawcheck: I could discuss this topic all day, because if those challenges were a simple sound bite, we'd have solved them already. One issue, for example, is that women — on average — still do a much larger share of childcare and housekeeping than men, in addition to their career. That makes it hard for them, because putting in face time in the office — rather than productivity, as it should be — is unfortunately still a key factor when managers decide whom to promote. If women are doing three times the childcare and twice the housework, the idea of sticking around the office to make sure people see them is probably not attractive.
Q: Is there a benefit for companies to have more women in leadership positions?
Krawcheck: Yes. Every piece of research I've seen shows that gender-diverse teams are associated with higher returns on capital, lower risk, greater innovation, more client focus and lower gender-pay disparities. But in the real world, it's more amorphous. It's harder to prove on a case-by-case basis that having more women on a team makes it better. That's part of the reason we launched the Ellevate index fund — to have real numbers that show companies with more women in executive positions outperform.
Q: Women hold less than 5 percent of CEO positions in large U.S. public companies. Why does that number continue to be so low?
Krawcheck: There are many reasons, but it's partly because women are falling out of the pipeline. What I found in the businesses I ran is that we hired rather equally between men and women for entry-level positions. But women would fall out of the workforce mid-career. Women may experience discrimination in the workforce, both overt and subtle. Some women may not get the same opportunities as men. Some women would say, "You know, as I look at the trade-off between staying at home with the kids versus working, I want to be home." It's more socially acceptable for women to stay home with kids than men. Government research also shows that women earn 78 cents on the dollar that men earn, so there's often less economic incentive for women to stay in the workforce.
Q: Studies have shown that women can hurt their career by taking even short breaks to raise children or for other reasons. Do you have advice for women who decide to take a break?
Krawcheck: Research shows that when a woman comes back after a year off, her salary is about 75 percent of what she earned before she left. After two years, it's 59 percent. Over longer periods, I think it's hard to come back into the workplace at all. This is an enormous loss for companies, too, because by not bringing women back into the workforce after career breaks means spending money to hire and retrain a replacement — which can be 200 percent of that woman's salary. My advice for women who want to take a break is to actively seek out employers where the workplace culture is one of flexibility without shame. What I mean by that is, choose companies that are known for giving both women and men flexibility in their work lives and for promoting women into leadership positions. Research suggests these will be more successful companies, anyway. My other advice is that women and their spouses consider all the financial factors of taking a career break beforehand. Consider not only the salary hit you might face by taking a break, but also take into account the raises and promotions you may not get in the future. It's important to know what you might be giving up.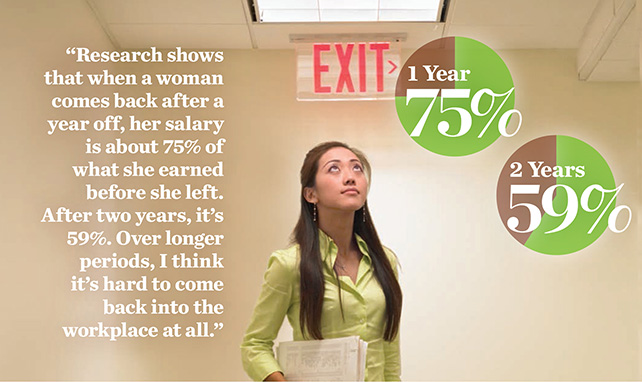 Q: What is your advice for young and mid-career women today who are hoping to move into high-level positions?
Krawcheck: First, work hard. Hard work and success tend to be positively correlated. Second, be resilient. Everybody's career is filled with bumps along the way. Be able to absorb some shock, whether that is the promotion you should have gotten but didn't get, the boss you can't manage or the time you got fired. Whatever it is, there is something remarkable about taking the hit and coming back to work the next day or finding a new job. Resiliency really matters.