Why businesses that engage women are better positioned for success
Many women know the feeling of walking into a business with their husband or significant other and having a salesperson address all the questions to him, not her. It's not a great business strategy, because research shows that women control an increasing share of household wealth and spending decisions.
"We've all been there," says Carole Davis, Vice President of Business Banking for Regions in Dallas, who works closely with many women-owned businesses. "Businesses today must realize that it's often the woman who is making the purchase decisions, and not just in beauty or fashion, but also cars, home improvement, financial services and a whole range of products."
The economic power of women continues to grow. The 2015 Regions Women and Wealth Study found that 44% of women are solely responsible for financial decisions in their household. The Bureau of Labor Statistics found that 29% of all wives earned more than their husbands in 2013, up from 18% in 1987.1 And more women control the pocketbook in their own businesses, too: Accounting for nearly $1.6 trillion in revenue, there were about 9.9 million women-owned businesses in the United States in 2012, up 28% from 7.8 million in 2007.2
Some companies are already understanding and reacting to these trends, Davis notes. Large athletic and beauty brands are producing substantial marketing campaigns founded on the theme of women's empowerment. Some life insurance providers are positioning their products as protecting the earnings of breadwinning women, not just as supporting women after the deaths of their husbands. And companies that help women network and succeed as executives and business owners are seeing success.
Making an impact.
Appealing to women isn't as easy as soliciting their feminine side by adopting a pastel color palette or being "mom-friendly," Davis says. "Men automatically receive respect in the marketplace from society. I believe that successful marketing to women starts with respecting their power in the marketplace as consumers and decision-makers. It begins with product design and continues through marketing, sale, delivery and support of that product or service." Davis mentions three ways businesses can engender more appeal among women:
Consult them. "Even today, too many products and services aimed at women are rolled out as the result of a brainstorm, with relatively little input from their intended consumers," Davis says. If a product is targeted to women, then women should be involved in the design and consulted through market research, such as focus groups and surveys.
Treat women customers equally. In male-dominated industries, it's hazardous to assume that only men are seeking advice and making the purchase decisions. Women must be treated as equal partners in transactions with these industries, because they will base their buying decisions on whether they feel respected and confident in the advice that is provided, Davis says.
Understand them. Even companies in traditionally women-oriented industries, such as fashion, must continue to strive to understand their customers. As a recent article in Harvard Business Review noted, "Most women are not a perfect size 6, and they don't like to be reminded of it every time they shop. Trying on clothes is often an exercise in frustration that just reinforces women's negative body images." The article noted that a major apparel maker has profited handsomely from making it easy for women of varying body types to find appropriate clothing and order it online.3
Profits in the balance.
The idea of respect can transform the entire customer experience in just about any industry. "You can see it at the dry cleaners where they greet you by name, even if they haven't seen you in months," Davis says. "Or on a customer support line where a representative carefully takes you through the steps in solving your problem. This is how companies attract women and keep them as repeat customers."
Of course, respect attracts men as well, but appealing to women has a special payoff. While men tend to be driven by the bottom line, research by organizations such as Nielsen suggest it is quality, rather than price, that drives brand loyalty among women.4 This points to higher profit margins for brands that can attract and retain women.
Brands that are favored by women can also realize a network effect. As Nielsen has discovered, women are more likely than men to tell their peers about products they like on social media.5 And women — like men — tend to respect the opinions of their peers more than advertisements.
So companies that engender brand loyalty in the era of social media will see lasting benefits as their best customers become their best "brand evangelists."
As a banking executive, Davis works with many women who own businesses in traditionally male-dominated industries, such as construction, petrochemicals and aerospace. "These women wield real financial power," Davis says. "They are major customers to both business-to-business and business-to-consumer companies. And they bring a special insight into the psyche of the women who are their customers and business partners."
As women's earning power, education levels and buying power continue to increase, women are less likely than ever to respond to shallow marketing pitches, Davis says. Companies that respect, recognize and listen to the needs of women are most likely to attract their dollars.
1
Bls.gov, "Labor Force Statistics from the Current Population Survey: Wives who earn more than their husbands, 1987-2013."
2
National Women's Business Counsel, "Fact Sheet: Women-Owned Businesses."
3
Harvard Business Review
, "The Female Economy," September 2009.
4
Nielsen, "Women of Tomorrow," June 6, 2011.
5
Nielsen, "How Social Media Impacts Brand Marketing," October 2011.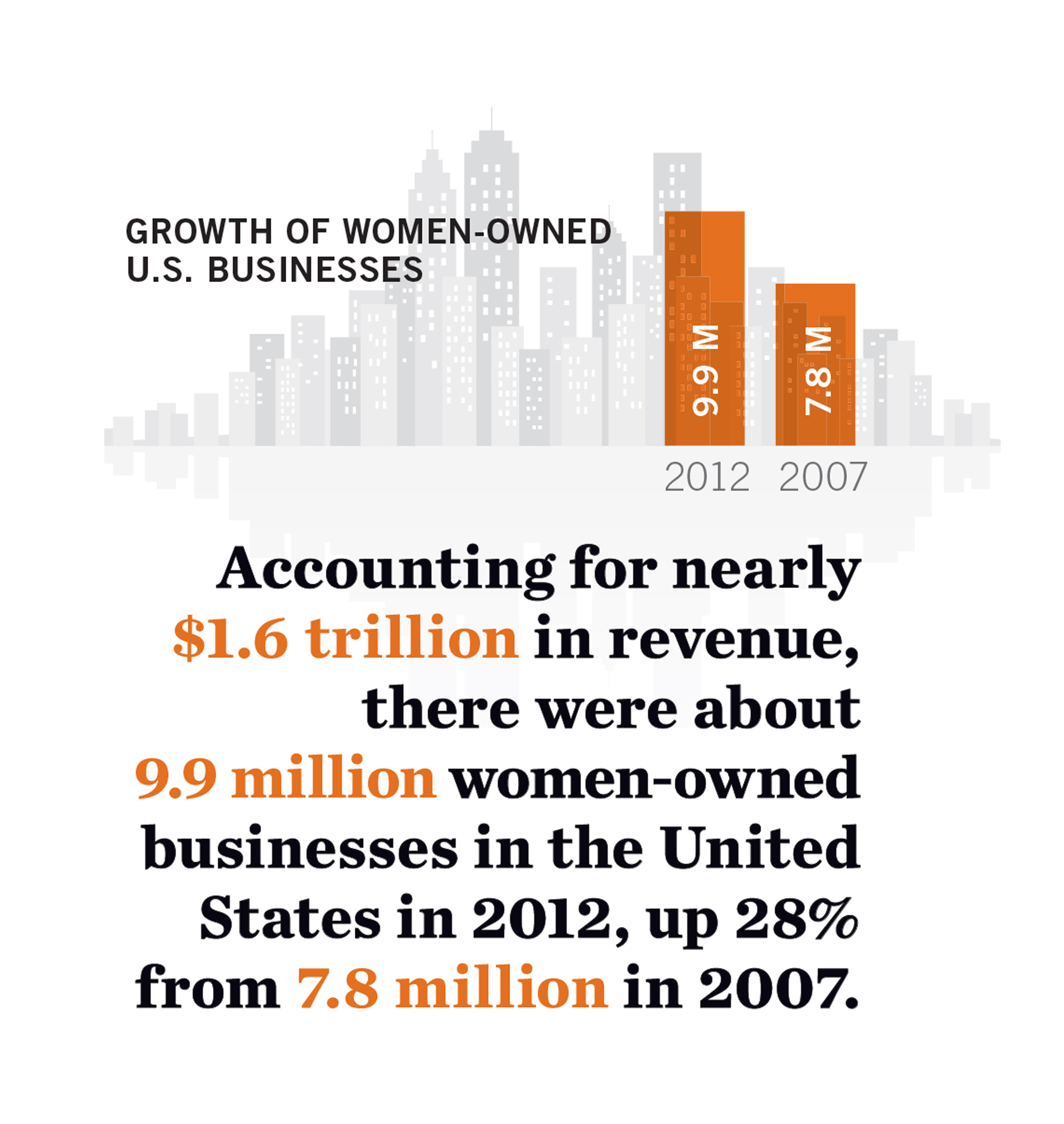 Click to view wealth