Women are slowly catching up to men when it comes to financial security, but large gaps persist. These gaps in income and wealth can present long-term financial planning issues, such as ensuring that women have enough financial resources throughout their lifetime.
Here's a look at some key statistics related to the wealth gap between men and women:
Income1
Women earned 78.3 cents for every $1.00 earned by men in 2013.
Average U.S. life expectancy2
Women: 81
Men: 76
Working years3
Due to caregiving, women work 12 fewer years than men do over their careers.
Total earnings
Over 30 years, that pay gap can cost women more than $400,000.
Retirement savings4
Men had an average of $139,467 in their individual retirement accounts as of 2012, compared to the average of $81,700 that women had in their IRAs.
Women & Wealth is a new, regular feature in Wealth Intelligence that explores issues related to women's wealth building and preservation and provides tips for how women can improve their financial independence.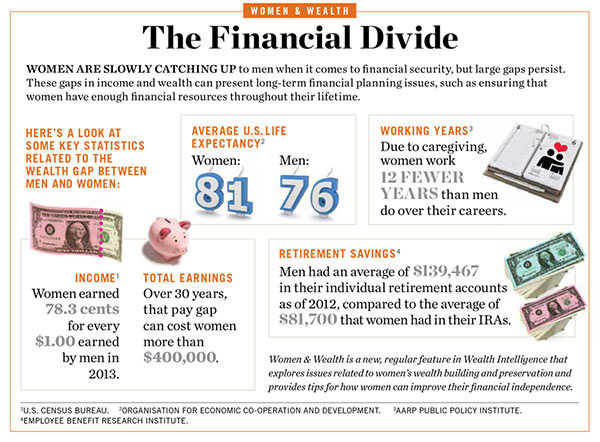 Click to view wealth