Regions partnered with Vanderbilt University to field an online survey of Regions customers to ascertain specific perceptions from women on a variety of financially-based questions.
Key Findings
The Regions Women and Wealth study revealed that women, specifically those who are 50 and younger are significantly less confident in handling their finances, with such insights as:
Women are less likely to identify themselves as taking a lead role in the financial decision-making process than men
Females under the age of 50 rated their confidence level significantly lower than other respondents in areas such as investing, saving for retirement, life insurance protection, budgeting, and managing debt
Females under the age of 50 were the most likely to answer that they have taken no actions in the past 12 months to improve their future financial security
Over one quarter of females under age 50 answered they had not done anything to leave their financial legacy
Women answered they were "slightly less optimistic" regarding their future financial well-being, with females under 50 as well as divorced females responding as even less optimistic
All respondents of the survey clearly indicated that the financial advice they could give themselves at age 20 would be to "Start Younger and Save More"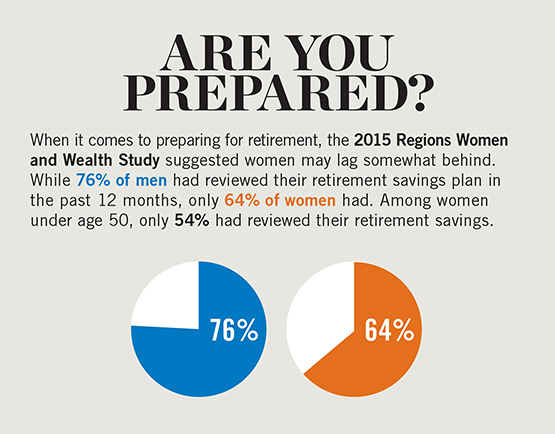 As a result of the feedback garnered in the Women and Wealth Study, Regions is launching a dedicated Women and Wealth initiative, providing a multichannel strategy to educate, equip and empower women, in every stage of life.
Media Contact: Evelyn Mitchell, 205-264-4551
Insights Magazine Special Issue: 2015 Women and Wealth Study Results: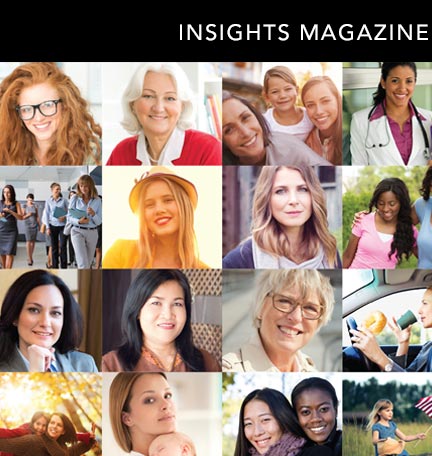 Learn More
Looking for innovative financial insights written especially for women? With our online resource Women and Wealth, you'll find valuable articles, videos and interactive calculators on a wide variety of topics, including Your Life, Your Legacy, Your Money, and Your Career. Regions is proud to take the lead in helping women strengthen their financial security.
Here are highlights from our Women and Wealth collection:
The Changing Face of Wealth — Women are controlling an increasing portion of U.S. assets. Are you ready for the future?
3 Ways to Prepare for Your Financial Future — When it comes to planning for your financial future, the earlier the better. But don't worry about falling behind. No matter where you are on the path to long-term financial planning, these three tips can start moving you forward.
5 Wealth-Building Tips for Women in their 20s and 30s — Building wealth isn't challenging if you take the right steps at the right time.
Buying Power of Women — Learn how the purchasing power of women continues to rise considerably in comparison to men's.
Why Women Can Be Better Investors than Men — Men make the majority of financial decisions in many households, but some studies suggest that women may be superior financial decision-makers—at least when it comes to investing.
Survey Methodology
An online survey was fielded by Regions Bank from June 2-14, 2015. The survey targeted an audience of roughly 9,000 Private Wealth Management clients and 18,700 Consumer/Priority customers with estimated household IPA (Income Producing Assets of $2,000,000+. At total of 1,157 customers responded for a response rate of 4.2%. The survey was designed in conjunction with faculty at Vanderbilt University. The survey objective was to obtain deeper insights into the perception and attitudes of Regions affluent customers.