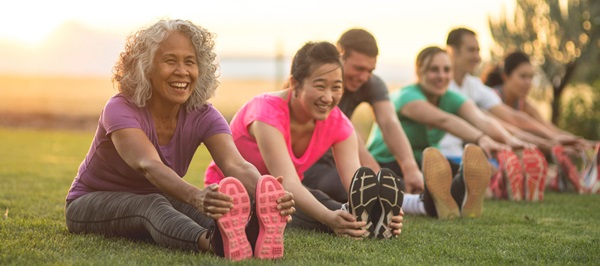 The Regions Corporate Wellness program, Wellness@Regions, gives associates access to multiple options for improving and maintaining a healthy lifestyle. The program includes initiatives in the areas of nutrition, physical well-being, emotional health and overall well-being, providing associates with resources to enjoy life to the fullest with a healthy focus.
Our Logo
Our logo represents a holistic or whole-person approach to wellness. The three icons incorporate physical health (body), emotional health (heart), nutritional health (fork and spoon) and overall well-being (apple), which includes financial, social, intellectual, environmental and occupational wellness. When you see the logo in whole or in part as individual icons, you will know it as a communication from Wellness@Regions.
Wellness@Regions on the HR Connect Portal
To learn more about Wellness@Regions, our corporate wellness program, visit the HR Connect portal and select Benefits & Perks, or search "Wellness@Regions."
Wellness Offerings
Wellness@Regions offers healthy, fun and rewarding initiatives. From an interactive well-being platform with rewards to team weight loss challenges, condition coaching and wellness champions, exciting programs are available! Wellness@Regions will communicate launch dates and special events on Vitality, life@regions, HR Connect and benefits.regions.com, as well as via email. Stay tuned!
Wellness@Regions offerings include:
Baby Yourself
Baby Yourself is a prenatal wellness program that helps ensure expectant mothers and their babies receive the best possible healthcare during pregnancy.
Chronic Condition Support
Member Management is a BCBS program designed to assist you and your covered dependents with managing a chronic illness diagnosis through early intervention, education, awareness of appropriate treatment and lifestyle changes.
Employee Assistance Program (EAP)
The EAP program is a free, confidential assessment, counseling and referral service for all associates and their eligible dependents who may need help in various areas of emotional health and well-being.
Flu Shots
Regions provides flu shots to associates free of charge via on-site flu shot clinics and a retail pharmacy program.
Mental Health Resources
Regions provides a variety of resources (some at no cost) to help support the mental health of associates and their dependents.
Pack Health Coaching
Pack Health helps individuals with chronic conditions overcome barriers to improving their health. Coaches help associates and spouses on the Regions Medical Plan solve problems and stay accountable. Free 12-month program valued at $399.

Vitality
Vitality is a free, comprehensive, confidential, interactive and personalized wellness platform that rewards you for healthy choices.
Need Help?
Contact the HR Connect Team at 1-877-562-8383