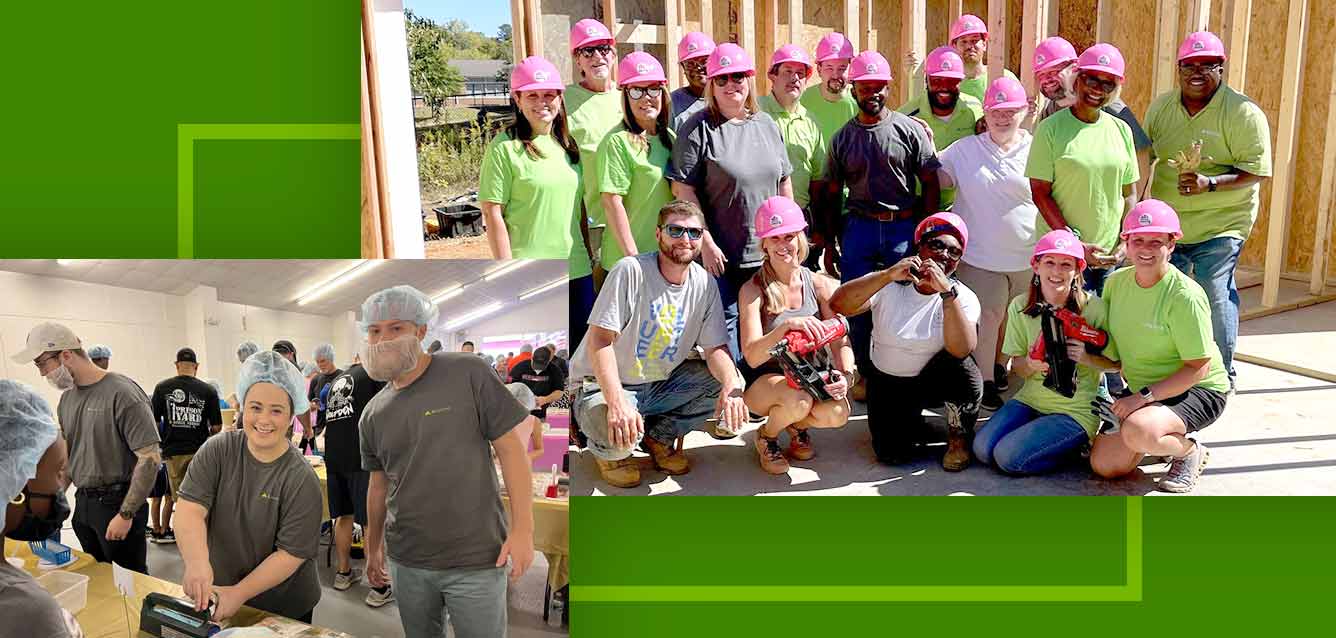 Regions® associates come to work every day motivated not only to meet the needs of our customers, but also to help our neighbors beyond the walls of our bank.
Thousands of associates volunteer their time, talent and finances throughout the year to support their local communities. In the past year, our associates logged 74,000 hours volunteering and serving the community.
Making Life Better InstituteSM
The mission of the Making Life Better Institute (MLBI) is to promote and coordinate associate volunteerism and all forms of the bank's non-monetary contributions to nonprofit organizations, Community Development Financial Institutions (CDFIs) and Minority Depository Institutions (MDIs)1.
Its components include:
Regions Associates in ActionSM – An enhanced employee volunteerism program that uses existing technology and an improved communication network to coordinate non-monetary contributions to nonprofit organizations, CDFIs and MDIs and create more opportunities to offer hands-on volunteer work.


Regions Skills in ServiceSM – Using a skills-based approach, the bank is matching the talents and experience of associates from across the organization with the specific needs of community partners. This targeted approach allows associates with subject-matter expertise in various areas to provide assistance where nonprofits, CDFIs and MDIs can best use it, including by offering financial advice and consultation. This enhanced program further enriches important work already being done by Regions associates in areas served by the bank.


Nonprofit board service – Regions leaders will have more opportunities to put their passions to work and provide financial management and strategic guidance while helping organizations reach their goals.


Financial education – The company continues to expand its robust Regions Next Step® Financial Wellness program to assist community partners, including nonprofit organizations, K-12 schools and groups who serve people in transition. Customized courses are available for youth, Spanish speakers, low vision or blind, and people with cognitive disabilities.


Support for Community Development Financial Institutions and Minority Depository Institutions – To further the bank's long-term commitment to supporting Community Development Financial Institutions (CDFIs) and Minority Depository Institutions (MDIs), Regions engages in executive-led informational sessions and idea-sharing opportunities with organizations in the bank's footprint. This innovative approach for improved collaboration and free technical assistance in areas such as business and human resources consulting services, along with the Regions Associates in Action and Regions Skills in Service programs, helps expand access to essential financial services and better support communities, especially underserved populations. These efforts enhance longstanding community lending programs within Regions Bank and the Regions Community Development Corporation.


Volunteer Recognition Programs – Celebration of our associates' dedication to giving back. The Lee Ann Petty Heart of Service Award honors an associate, nominated by a colleague, who has made a significant impact to the community. The second award, Regions Community Champions, recognizes associates who have recorded 16 or more volunteer hours during the year.
What A Difference A Day Makes
Through the What A Difference A Day Makes volunteer program, our associates have the opportunity to take one paid day off each year to make life better by volunteering with community organizations and giving back where we work and live within the communities Regions serves.
Share the Good®
Share the Good® is an annual program organized by Regions associates. Thousands volunteer at dozens of initiatives happening in the local communities we serve. Read more about how our associates make a meaningful difference in the lives of others.
United Way®
Over the past three years, Regions Bank and our associates have donated $21.2 million to over 170 local United Ways across our footprint, in addition to $825,000 in contributions from the Regions Foundation. Associates also help partner agencies carry out their critical missions through local volunteering.
Matching Gifts Program
Full-time associates and recent retirees (up to 5 years after retirement) of Regions and its affiliated companies can request a Regions Matching Gift to eligible organizations. The recipient organization must be a 501(c) or 170(c) organization located in the Regions footprint (except for accredited educational institutions, which may be located anywhere in the United States) and has a primary mission that clearly fits one of these categories:
Economic and community development: Supporting economic prosperity through affordable housing, job creation, small-business development, homebuyer education and retention, neighborhood revitalization and stabilization, food security/hunger relief.
Education and workforce readiness: Supporting career prosperity through Pre-K to 12th grade initiatives, teacher training and post-secondary partnerships.
Financial wellness: Supporting financial prosperity through K-12 and college financial education, adult and workforce financial empowerment.
Arts and culture: Organizations that promote visual or performing arts, historic or science museums, zoos, botanical gardens, libraries, parks or public radio and television.
Service members and Veterans: Organizations that have a primary mission of supporting U.S. military service members and veterans.
Individuals with disabilities: Organizations that have a primary mission of supporting individuals with disabilities.
Associates and recent retirees can submit matching gift requests on Regions Community Engagement Central.