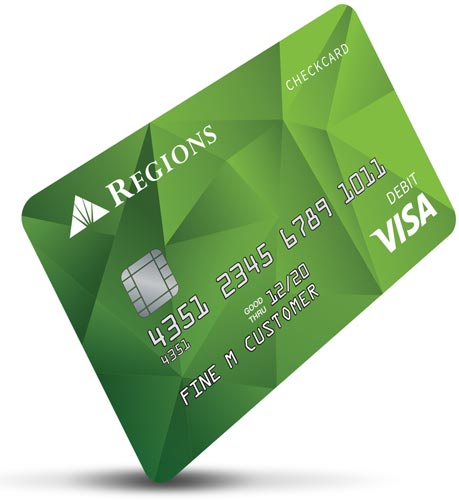 Need a new check card? Now there's no need to wait!
You can walk into any of the below designated Regions branches and walk out with a new Visa® CheckCard during the same visit.
If you misplace your card, experience fraud or need to replace your check card for any reason, come by and we'll issue you a new one the same day. It's just another way Regions makes life easier for you.
Instant Issue is available at designated Regions branches. Click the state abbreviations below to find a location near you.
| Branch Name | Street | City | State | Zip |
| --- | --- | --- | --- | --- |
| ALABASTER KENT STONE WAY | 33 Kent Stone Way | Alabaster | AL | 35007 |
| ALABASTER PROMENADE | 55 South Colonial Dr. | Alabaster | AL | 35007 |
| ALBERTVILLE HWY 431 | 7330 US Highway 431 | Albertville | AL | 35950 |
| COVINGTON COUNTY MAIN | 200 Church St. | Andalusia | AL | 36420 |
| ANNISTON WILMER AVE MAIN | 930 Wilmer Ave. | Anniston | AL | 36201 |
| AUBURN MAIN | 165 North College St. | Auburn | AL | 36830 |
| BAY MINETTE COURTHOUSE SQUARE | 408 Courthouse Square | Bay Minette | AL | 36507 |
| BESSEMER N 19TH ST | 330 North 19th St. | Bessemer | AL | 35020 |
| MORGAN RD GREENMOR DR | 1290 Greenmor Dr. SE | Bessemer | AL | 35022 |
| TANNEHILL PROMENADE | 5041 Bond Blvd. | Bessemer | AL | 35022 |
| BIRMINGHAM MAIN 5TH AVE N | 1900 5th Ave. N | Birmingham | AL | 35203 |
| CAHABA HEIGHTS VILLAGE | 3172 Heights Village | Birmingham | AL | 35243 |
| CENTERPOINT 2306 CENTER POINT RD | 2306 Center Point Rd. | Birmingham | AL | 35215 |
| EASTWOOD | 1642 Montclair Rd. | Birmingham | AL | 35210 |
| FIVE POINTS SOUTH | 941 20th St. S | Birmingham | AL | 35205 |
| FIVE POINTS W LOMB AVE | 2800 Lomb Ave. | Birmingham | AL | 35208 |
| FORESTDALE TOMAHAWK RD | 1304 Tomahawk Rd. | Birmingham | AL | 35214 |
| GREYSTONE | 5420 Highway 280 | Birmingham | AL | 35242 |
| HOOVER GREEN VALLEY | 1592 Montgomery Hwy. | Birmingham | AL | 35216 |
| INVERNESS VALLEYDALE | 102 Inverness Plaza | Birmingham | AL | 35242 |
| MOUNTAIN BROOK | 2721 Culver Rd. | Birmingham | AL | 35223 |
| OXMOOR VALLEY | 601 Lakeshore Pkwy. | Birmingham | AL | 35209 |
| RIVERCHASE | 1849 Montgomery Hwy. S | Birmingham | AL | 35244 |
| ROEBUCK 9178 PARKWAY E | 9178 Parkway E | Birmingham | AL | 35206 |
| SUMMIT | 341 Summit Blvd. | Birmingham | AL | 35243 |
| TRACE CROSSINGS | 2531 John Hawkins Pkwy. | Birmingham | AL | 35244 |
| UAB | 1900 University Blvd. | Birmingham | AL | 35233 |
| VALLEYDALE MARKETPLACE | 2668 Valleydale Rd. | Birmingham | AL | 35244 |
| CENTRE AL | 110 West Main St. | Centre | AL | 35960 |
| CHELSEA | 16046 Highway 280 | Chelsea | AL | 35043 |
| CLANTON MAIN | 100 7th St. S | Clanton | AL | 35045 |
| COLUMBIANA | 21325 Highway 25 | Columbiana | AL | 35051 |
| POINT MALLARD PARKWAY | 1209 Point Mallard Pkwy. | Decatur | AL | 35601 |
| DEMOPOLIS | 939 US Highway 80 E | Demopolis | AL | 36732 |
| DOTHAN MAIN | 3201 Ross Clark Cir. NW | Dothan | AL | 36303 |
| EAST CIRCLE | 2140 East Main St. | Dothan | AL | 36301 |
| WESTGATE ENTERPRISE | 631 Boll Weevil Cir. | Enterprise | AL | 36330 |
| FAIRFIELD VALLEY RD | 5701 Valley Rd. | Fairfield | AL | 35064 |
| FOLEY W ROOSEVELT AVE | 100 West Roosevelt Ave. | Foley | AL | 36535 |
| FT PAYNE MAIN | 100 Grand Ave. S | Fort Payne | AL | 35967 |
| CLUBVIEW | 2001 Rainbow Dr. | Gadsden | AL | 35901 |
| GADSDEN BROAD ST MAIN | 200 Broad St. | Gadsden | AL | 35901 |
| GARDENDALE ODUM RD | 895 Odum Rd. | Gardendale | AL | 35071 |
| GULF SHORES 1400 GULF SHORES PKWY | 1400 Gulf Shores Pkwy. | Gulf Shores | AL | 36542 |
| HELENA HWY 17 | 4915 Highway 17 | Helena | AL | 35080 |
| BOB WALLACE AVENUE | 902 Bob Wallace Ave. SW | Huntsville | AL | 35801 |
| MADISON ST HUNTSVILLE | 508 Madison St. | Huntsville | AL | 35801 |
| MIDCITY HUNTSVILLE | 960 Old Monrovia Rd. | Huntsville | AL | 35806 |
| MOORES MILL RD HUNTSVILLE | 1031 Winchester Rd. NE | Huntsville | AL | 35811 |
| UNIVERSITY HUNTSVILLE | 4003 University Dr. | Huntsville | AL | 35816 |
| JASPER MALL | 310 Highway 78 E | Jasper | AL | 35501 |
| LEEDS | 8049 Parkway Dr. | Leeds | AL | 35094 |
| BRADFORD CREEK | 8863 Highway 72 W | Madison | AL | 35758 |
| HUGHES RD | 351 Hughes Rd. | Madison | AL | 35758 |
| NORTH MADISON 7990 HWY 72 | 7990 Highway 72 W | Madison | AL | 35758 |
| BELAIR | 3001 Airport Blvd. | Mobile | AL | 36606 |
| CRICHTON | 2720 Springhill Ave. | Mobile | AL | 36607 |
| LOOP | 2050 Airport Blvd. | Mobile | AL | 36606 |
| TILLMANS CORNER 5436 HWY 90 | 5436 Highway 90 W | Mobile | AL | 36619 |
| UNIVERSITY SOUTH AL | 1 South University Blvd. | Mobile | AL | 36608 |
| MONTEVALLO | 910 North Main St. | Montevallo | AL | 35115 |
| EASTBROOK | 301 Coliseum Blvd. | Montgomery | AL | 36109 |
| EASTDALE | 320 Eastdale Cir. | Montgomery | AL | 36117 |
| GREEN LANTERN | 2911 McGehee Rd. | Montgomery | AL | 36111 |
| WESTERN | 3118 Mobile Hwy. | Montgomery | AL | 36108 |
| MUSCLE SHOALS | 700 Avalon Ave. | Muscle Shoals | AL | 35661 |
| NORTHPORT AL | 1910 Regions St. | Northport | AL | 35476 |
| OPELIKA MAIN GATEWAY DR | 2401 Gateway Dr. | Opelika | AL | 36801 |
| OXFORD 804 QUINTARD AVE | 804 Quintard Ave. | Oxford | AL | 36203 |
| PELHAM 2228 PELHAM PKWY | 2228 Pelham Pkwy. | Pelham | AL | 35124 |
| PELHAM 2964 PELHAM PKWY | 2964 Pelham Pkwy. | Pelham | AL | 35124 |
| PELL CITY | 1031 Martin St. S | Pell City | AL | 35128 |
| BROAD ST PHENIX CITY | 1200 Broad St. | Phenix City | AL | 36867 |
| HWY 280 | 3548 US Highway 431 N | Phenix City | AL | 36867 |
| DEERFOOT PKWY | 6685 Old Springville Rd. | Pinson | AL | 35126 |
| PINSON | 6666 Highway 75 | Pinson | AL | 35126 |
| AUTAUGA COUNTY | 1901 East Main St. | Prattville | AL | 36066 |
| PRICHARD | 524 South Wilson Ave. | Prichard | AL | 36610 |
| SARALAND S HWY 43 | 421 Highway 43 S | Saraland | AL | 36571 |
| SELMA | 1105 Highland Ave. | Selma | AL | 36701 |
| SEMMES | 9001 Moffett Rd. | Semmes | AL | 36575 |
| SYLACAUGA | 70 James B. Payton Blvd. | Sylacauga | AL | 35150 |
| TALLADEGA MAIN | 215 North St. W | Talladega | AL | 35160 |
| THEODORE - HAMILTON BLVD | 5810 Highway 90 | Theodore | AL | 36582 |
| THOMASVILLE | 32515 Highway 43 | Thomasville | AL | 36784 |
| UNIVERSITY TROY | 801 George Wallace Dr. | Troy | AL | 36081 |
| TRUSSVILLE DOWNTOWN | 193 Main St. | Trussville | AL | 35173 |
| TRUSSVILLE MARKETPLACE | 429 Main St. | Trussville | AL | 35173 |
| DOWNTOWN TUSCALOOSA | 800 22nd Ave. | Tuscaloosa | AL | 35401 |
| SKYLAND 1225 SKYLAND BLVD E | 1225 Skyland Blvd. E | Tuscaloosa | AL | 35405 |
| UNIVERSITY MALL | 1501 McFarland Blvd. E | Tuscaloosa | AL | 35404 |
| VESTAVIA 529 MONTGOMERY HWY | 529 Montgomery Hwy. | Vestavia Hills | AL | 35216 |
| MILITARY RD | 917 Military Rd. | Benton | AR | 72015 |
| CABOT DOWNTOWN | 106 South 2nd St. | Cabot | AR | 72023 |
| CONWAY MAIN | 1023 Main St. | Conway | AR | 72032 |
| FAYETTEVILLE AR | 1465 East Joyce Blvd. | Fayetteville | AR | 72703 |
| FORREST CITY | 321 North Rosser St. | Forrest City | AR | 72335 |
| CENTRAL | 5700 Rogers Ave. | Fort Smith | AR | 72903 |
| HOT SPRINGS MAIN | 302 Malvern Ave. | Hot Springs | AR | 71901 |
| MALL | 4441 Central Ave. | Hot Springs | AR | 71913 |
| JONESBORO MAIN | 2400 East Highland Dr. | Jonesboro | AR | 72401 |
| BASELINE | 6101 Baseline Rd. | Little Rock | AR | 72209 |
| CHENAL PROMENADE | 17615 Chenal Pkwy. | Little Rock | AR | 72223 |
| FINANCIAL WEST | 800 South Shackleford Rd. | Little Rock | AR | 72211 |
| HEIGHTS LITTLE ROCK | 6001 R St. | Little Rock | AR | 72207 |
| LITTLE ROCK MAIN | 400 West Capitol Ave., Suite 250 | Little Rock | AR | 72201 |
| LAKEWOOD AR | 4545 Fairway Ave. | North Little Rock | AR | 72116 |
| EAST RUSSELLVILLE | 2404 East Parkway Dr. | Russellville | AR | 72802 |
| EAST RACE ST | 2717 East Race St. | Searcy | AR | 72143 |
| WEST PLEASURE | 2001 West Beebe Capps Expressway | Searcy | AR | 72143 |
| SHERWOOD LITTLE ROCK | 3616 East Kiehl Ave. | Sherwood | AR | 72120 |
| WEST MEMPHIS MAIN | 231 East Broadway St. | West Memphis | AR | 72301 |
| ALTAMONTE | 360 West State Road 436 | Altamonte Springs | FL | 32714 |
| APOPKA WEKIVA | 2101 East Semoran Blvd. | Apopka | FL | 32703 |
| BOYNTON BEACH | 289 North Congress Ave. | Boynton Beach | FL | 33426 |
| LAKEWOOD RANCH | 11515 SR 70 E | Bradenton | FL | 34202 |
| RIVERS EDGE | 5009 East State Road 64 | Bradenton | FL | 34208 |
| BRANDON TOWN CENTER | 11314 Causeway Blvd. | Brandon | FL | 33511 |
| CALLAWAY | 730 North Tyndall Pkwy. | Callaway | FL | 32404 |
| CELEBRATION | 50 Blake Blvd., Building D | Celebration | FL | 34747 |
| TRI CITY | 5200 East Bay Dr. | Clearwater | FL | 33764 |
| CLERMONT | 2630 East Highway 50 | Clermont | FL | 34711 |
| PONCE DE LEON | 2800 Ponce de Leon Blvd. | Coral Gables | FL | 33134 |
| SUNSET PLACE | 1569 Sunset Dr. | Coral Gables | FL | 33143 |
| CORAL SPRINGS | 2425 University Dr. | Coral Springs | FL | 33065 |
| CRESTVIEW | 2355 South Ferdon Blvd. | Crestview | FL | 32536 |
| CUTLER RIDGE | 20901 Southwest 112th Ave. | Cutler Bay | FL | 33189 |
| EAST COMMERCIAL BLVD | 2660 East Commercial Blvd. | Fort Lauderdale | FL | 33308 |
| FT WALTON MAIN | 25 Beal Pkwy. NE | Fort Walton Beach | FL | 32548 |
| ARCHER RD | 3710 Southwest 38th St. | Gainesville | FL | 32608 |
| EAST 4TH AVE | 4375 East 4th Ave. | Hialeah | FL | 33013 |
| EAST HIALEAH | 600 East 9th St. | Hialeah | FL | 33010 |
| SOUTH HIALEAH | 3700 West 12th Ave. | Hialeah | FL | 33012 |
| HOLLYWOOD | 450 North Park Rd. | Hollywood | FL | 33021 |
| HOMESTEAD | 2700 NE 8th St. | Homestead | FL | 33033 |
| GULF HIGHLANDS | 7512 State Road 52 | Hudson | FL | 34667 |
| INVERNESS MAIN | 809 West Main St. | Inverness | FL | 34450 |
| GLYNLEA | 6524 Atlantic Blvd. | Jacksonville | FL | 32211 |
| JOHN YOUNG BERMUDA | 2000 North John Young Pkwy. | Kissimmee | FL | 34741 |
| SUNRISE PLAZA | 3195 Vineland Rd. | Kissimmee | FL | 34746 |
| LAKE MARY | 4094 West Lake Mary Blvd. | Lake Mary | FL | 32746 |
| NORTH LAKELAND | 4300 US Highway 98 N | Lakeland | FL | 33809 |
| SOUTH LAKELAND | 4535 South Florida Ave. | Lakeland | FL | 33813 |
| SPRINGS PLAZA | 125 Wekiva Springs Rd. | Longwood | FL | 32779 |
| LYNN HAVEN SOUTH | 2320 South Highway 77 | Lynn Haven | FL | 32444 |
| MARIANNA MAIN | 2889 Green St. | Marianna | FL | 32446 |
| BIRD RD | 9450 Southwest 40th St. | Miami | FL | 33165 |
| CALLE OCHO | 2205 Southwest 8th St. | Miami | FL | 33135 |
| COUNTRY WALK | 15800 Southwest 137th Ave. | Miami | FL | 33177 |
| DORAL | 8200 Northwest 36th St. | Miami | FL | 33166 |
| FOUNTAINBLEAU | 8373 West Flagler St. | Miami | FL | 33144 |
| KENDALE LAKES | 13892 Southwest 56th St. | Miami | FL | 33175 |
| LEJEUNE | 4196 West Flagler St. | Miami | FL | 33134 |
| MARY BRICKELL VILLAGE | 901 South Miami Ave., Suite 210 | Miami | FL | 33130 |
| OVERTOWN | 1490 Northwest 3rd Ave. | Miami | FL | 33136 |
| TAMIAMI | 6990 Southwest 8th St. | Miami | FL | 33144 |
| WEST KENDALL | 14770 North Kendall Dr. | Miami | FL | 33196 |
| WEST TAMIAMI | 12310 Southwest 8th St. | Miami | FL | 33184 |
| SOUTH BEACH | 1700 Alton Rd. | Miami Beach | FL | 33139 |
| PALMETTO LAKES | 16301 Northwest 57th Ave. | Miami Gardens | FL | 33014 |
| MIAMI LAKES | 15330 Northwest 79th Ct. | Miami Lakes | FL | 33016 |
| MOUNT DORA | 17220 US Highway 441 | Mount Dora | FL | 32757 |
| VINEYARDS | 5909 Pine Ridge Rd. | Naples | FL | 34119 |
| NAVARRE 8234 NAVARRE PKWY | 8234 Navarre Pkwy. | Navarre | FL | 32566 |
| NORTH FT MYERS | 13520 North Cleveland Ave. | North Fort Myers | FL | 33903 |
| WEST DIXIE | 16051 West Dixie Hwy. | North Miami Beach | FL | 33160 |
| NORTHPORT | 15000 Tamiami Trail | North Port | FL | 34287 |
| NORTH OCALA | 2734 Northeast Jacksonville Rd. | Ocala | FL | 34470 |
| PADDOCK PARK | 3232 Southwest College Rd. | Ocala | FL | 34474 |
| MAGUIRE AND MOORE | 270 Moore Rd. | Ocoee | FL | 34761 |
| OCOEE | 252 Ocoee Apopka Rd. | Ocoee | FL | 34761 |
| COLLEGE PARK ORLANDO | 2645 Edgewater Dr. | Orlando | FL | 32804 |
| DR PHILLIPS BLVD | 5084 Dr. Phillips Blvd. | Orlando | FL | 32819 |
| FLORIDA MALL | 7393 Southland Blvd. | Orlando | FL | 32809 |
| HUNTERS CREEK | 13700 South John Young Pkwy. | Orlando | FL | 32837 |
| KIRKMAN RD | 5401 South Kirkman Rd. | Orlando | FL | 32819 |
| LAKE NONA | 10349 Narcoossee Rd. | Orlando | FL | 32832 |
| NARCOOSSEE | 14010 Narcoossee Rd. | Orlando | FL | 32832 |
| ORLANDO MAIN 111 N ORANGE AVE | 111 North Orange Ave. | Orlando | FL | 32801 |
| RIO PINAR | 7350 Lake Underhill Rd. | Orlando | FL | 32822 |
| SANDLAKE AND BAY HILL | 8061 Via Dellagio Way | Orlando | FL | 32819 |
| SOUTH ORLANDO S ORANGE AVE | 3146 South Orange Ave. | Orlando | FL | 32806 |
| SOUTHCHASE | 12301 South Orange Blossom Trail | Orlando | FL | 32837 |
| WATERFORD LAKES | 12309 East Colonial Drive | Orlando | FL | 32826 |
| WEST COLONIAL | 7142 West Colonial Dr. | Orlando | FL | 32818 |
| ALAFAYA WOODS | 11 Alexandria Blvd. | Oviedo | FL | 32765 |
| 2405 THOMAS DR PANAMA CITY | 2405 Thomas Dr. | Panama City | FL | 32408 |
| PANAMA CITY MAIN | 469 West 23rd St. | Panama City | FL | 32405 |
| BREAKFAST POINT | 11540 Panama City Beach Pkwy. | Panama City Beach | FL | 32407 |
| MIDDLE BEACH RD | 10800 Hutchinson Blvd. | Panama City Beach | FL | 32407 |
| PIER PARK | 15501 Panama City Beach Pkwy. | Panama City Beach | FL | 32413 |
| WEST PEMBROKE PINES | 16010 Pines Blvd. | Pembroke Pines | FL | 33027 |
| ENSLEY PENSACOLA | 4 East Nine Mile Rd. | Pensacola | FL | 32534 |
| PENSACOLA BEVERLY PKWY | 50 Beverly Pkwy. | Pensacola | FL | 32505 |
| PENSACOLA MAIN N BAYLEN ST | 70 North Baylen St. | Pensacola | FL | 32502 |
| WARRINGTON | 575 North Navy Blvd. | Pensacola | FL | 32507 |
| THE FALLS | 12395 South Dixie Hwy. | Pinecrest | FL | 33156 |
| PINELLAS PARK | 4325 Park Blvd. | Pinellas Park | FL | 33781 |
| PLANT CITY | 2303 Thonotosassa Rd. | Plant City | FL | 33563 |
| PLANTATION | 400 North Pine Island Rd. | Plantation | FL | 33324 |
| BIG BEND | 10616 Big Bend Rd. | Riverview | FL | 33569 |
| MURRELL AND BARNES | 3836 Murrell Rd. | Rockledge | FL | 32955 |
| SEMINOLE TOWN CENTER | 4477 West 1st St. | Sanford | FL | 32771 |
| SOUTHGATE SARASOTA | 4034 South Tamiami Trail | Sarasota | FL | 34231 |
| SOUTH PASADENA | 1400 Pasadena Ave. S | South Pasadena | FL | 33707 |
| ST CLOUD | 4459 13th St. | St Cloud | FL | 34769 |
| DOWNTOWN ST PETE | 510 Central Ave. | St. Petersburg | FL | 33701 |
| TYRONE | 3399 66th St. N | St. Petersburg | FL | 33710 |
| NORTH MONROE | 2266 North Monroe St. | Tallahassee | FL | 32303 |
| TEMPLE TERRACE | 10904 North 56th St. | Tampa | FL | 33617 |
| UNIVERSITY OF SOUTH FLORIDA | 11804 Bruce B. Downs Blvd. | Tampa | FL | 33612 |
| WATERS AND HIMES | 3601 West Waters Ave. | Tampa | FL | 33614 |
| WEST TAMPA HILLSBORO | 2770 West Hillsborough Ave. | Tampa | FL | 33614 |
| WEST WATERS AVENUE | 6297 West Waters Ave. | Tampa | FL | 33634 |
| ROSEMARY SQUARE | 372 South Rosemary Ave., Suite 102 | West Palm Beach | FL | 33401 |
| WEST PALM BEACH | 8100 Okeechobee Blvd. | West Palm Beach | FL | 33411 |
| WINDERMERE | 7852 Winter Garden Vineland Rd. | Windermere | FL | 34786 |
| HAMLIN TOWN CENTER | 16037 New Independence Pkwy. | Winter Garden | FL | 34787 |
| WINTER GARDEN | 14075 West Colonial Dr. | Winter Garden | FL | 34787 |
| WINTER HAVEN CITI CENTER | 811 1st St. S | Winter Haven | FL | 33880 |
| UNIVERSITY BLVD | 7562 University Blvd. | Winter Park | FL | 32792 |
| WINTER PARK FAIRBANKS AVE | 1245 West Fairbanks Ave. | Winter Park | FL | 32789 |
| TUSCAWILLA | 5830 Red Bug Lake Rd. | Winter Springs | FL | 32708 |
| ACWORTH | 4590 Morningside Dr. | Acworth | GA | 30101 |
| STILESBORO OAKS | 1728 Mars Hill Rd. NW | Acworth | GA | 30101 |
| DAWSON RD | 2616 Dawson Rd. | Albany | GA | 31707 |
| EAST ALBANY | 2415 Sylvester Rd. | Albany | GA | 31705 |
| MCGINNIS FERRY RD | 5352 McGinnis Ferry Rd. | Alpharetta | GA | 30005 |
| MIDWAY | 4850 Atlanta Hwy. | Alpharetta | GA | 30004 |
| PRINCE AVE | 2009 Prince Ave. | Athens | GA | 30606 |
| ANSLEY MALL | 1544 Piedmont Ave. NE, Suite 215 | Atlanta | GA | 30324 |
| ATLANTA MIDTOWN | 1180 West Peachtree St. NW, Suite 160 | Atlanta | GA | 30309 |
| BUCKHEAD | 121 West Paces Ferry Rd. NW | Atlanta | GA | 30305 |
| SANDY SPRINGS MAIN | 6343 Roswell Rd. NE | Atlanta | GA | 30328 |
| AUSTELL | 1593 Mulkey Rd. SW | Austell | GA | 30106 |
| BALLGROUND | 2995 Canton Hwy. | Ball Ground | GA | 30107 |
| CAMBRIDGE SQUARE | 1960 Johnson Ferry Rd. NE | Brookhaven | GA | 30319 |
| HAMILTON MILL | 3330 Hamilton Mill Rd. | Buford | GA | 30519 |
| CALHOUN N WALL ST MAIN | 208 North Wall St. | Calhoun | GA | 30701 |
| RIVERSTONE | 1417 Riverstone Pkwy. | Canton | GA | 30114 |
| SOUTH CANTON | 2653 Marietta Hwy. | Canton | GA | 30114 |
| CARROLLTON MAIN | 777 South Park St. | Carrollton | GA | 30117 |
| CARTERSVILLE COMMONS | 620 East Main St. | Cartersville | GA | 30121 |
| CEDARTOWN MAIN | 120 North Main St. | Cedartown | GA | 30125 |
| CHATSWORTH | 801 North 3rd Ave. | Chatsworth | GA | 30705 |
| WHITTLESEY BLVD | 5555 Whittlesey Blvd. | Columbus | GA | 31909 |
| CONYERS MAIN | 1848 Highway 138 SE | Conyers | GA | 30013 |
| SIXTEENTH AVE | 1216 East 16th Ave. | Cordele | GA | 31015 |
| BETHELVIEW PLAZA | 5530 Bethelview Rd. | Cumming | GA | 30040 |
| COAL MOUNTAIN | 3270 Dahlonega Hwy. | Cumming | GA | 30040 |
| CUMMING MAIN | 515 Atlanta Rd. | Cumming | GA | 30040 |
| HAMMONDS CROSSING | 3480 Keith Bridge Rd., Suite C1 | Cumming | GA | 30041 |
| MOUNTAIN CROSSING | 1985 Gravel Springs Rd. | Dacula | GA | 30019 |
| DALLAS GA | 160 Confederate Ave. | Dallas | GA | 30132 |
| PLAZA DALLAS | 1100 Merchant Dr. | Dallas | GA | 30132 |
| DALTON MAIN | 500 East Walnut Ave. | Dalton | GA | 30721 |
| DAWSONVILLE | 6183 Highway 53 E | Dawsonville | GA | 30534 |
| NORTH DECATUR SQUARE | 1565 Church St. | Decatur | GA | 30033 |
| BILL ARP | 6104 Central Church Rd. | Douglasville | GA | 30135 |
| DOUGLASVILLE MAIN | 6636 Church St. | Douglasville | GA | 30134 |
| DULUTH | 1581 Satellite Blvd. | Duluth | GA | 30097 |
| DUNWOODY | 1457 Mt. Vernon Rd. | Dunwoody | GA | 30338 |
| CAMP CREEK PARKWAY | 3511 Camp Creek Pkwy. | East Point | GA | 30344 |
| EAST POINT | 2833 Main St. | East Point | GA | 30344 |
| ELLIJAY MAIN | 187 South Main St. | Ellijay | GA | 30540 |
| FAYETTEVILLE GA | 320 West Lanier Ave., Suite 100 | Fayetteville | GA | 30214 |
| FRIENDSHIP SPRINGS | 7405 Spout Springs Rd. | Flowery Branch | GA | 30542 |
| FT OGLETHORPE 832 BATTLEFIELD PKWY | 832 Battlefield Pkwy. | Fort Oglethorpe | GA | 30742 |
| GAINESVILLE MAIN | 102 E. E. Butler Pkwy. | Gainesville | GA | 30501 |
| SOUTH HALL | 3458 Mundy Mill Rd. | Gainesville | GA | 30507 |
| GRIFFIN | 327 West Taylor St. | Griffin | GA | 30223 |
| HAPEVILLE | 600 South Central Ave. | Hapeville | GA | 30354 |
| PAULDING COMMONS | 4271 Jimmy Lee Smith Pkwy. | Hiram | GA | 30141 |
| STATE BRIDGE | 5952 State Bridge Rd. | Johns Creek | GA | 30097 |
| SHILOH SQUARE | 4255 Jiles Rd. | Kennesaw | GA | 30144 |
| LITHIA SPRINGS | 10565 Veterans Memorial Hwy. | Lithia Springs | GA | 30122 |
| LOGANVILLE | 4212 Atlanta Hwy. | Loganville | GA | 30052 |
| MABLETON | 750 Nickajack Rd. SW | Mableton | GA | 30126 |
| MADISON GA | 1460 Eatonton Rd. | Madison | GA | 30650 |
| EAST MARIETTA | 2486 Roswell Rd. NE | Marietta | GA | 30062 |
| MACLAND | 2048 MacLand Crossing Cir. SW | Marietta | GA | 30008 |
| MERCHANTS WALK | 4200 Roswell Rd. | Marietta | GA | 30062 |
| PARKAIRE LANDING | 680 Johnson Ferry Rd. | Marietta | GA | 30068 |
| PARKSIDE WEST | 250 Casteel Rd. | Marietta | GA | 30064 |
| SANDY PLAINS | 3028 Shallowford Rd. | Marietta | GA | 30062 |
| TERRELL MILL | 1314 Powers Ferry Rd. SE | Marietta | GA | 30067 |
| HENRY COUNTY MAIN | 120 Keys Ferry St. | Mcdonough | GA | 30253 |
| MORROW | 6145 Jonesboro Rd. | Morrow | GA | 30260 |
| NEWNAN MAIN | 40 Bullsboro Dr. | Newnan | GA | 30263 |
| THOMAS CROSS ROADS | 3111 Highway 34 E | Newnan | GA | 30265 |
| NORCROSS | 5935 Buford Hwy. | Norcross | GA | 30071 |
| PEACHTREE CITY | 300 South Peachtree Pkwy. | Peachtree City | GA | 30269 |
| RIVERBEND | 1400 Turner McCall Blvd. | Rome | GA | 30161 |
| ROME MAIN | 400 Turner McCall Blvd. | Rome | GA | 30165 |
| ROSWELL | 865 Woodstock Rd. | Roswell | GA | 30075 |
| SMYRNA GA MAIN | 3262 South Cobb Dr. | Smyrna | GA | 30080 |
| VININGS SMYRNA | 1650 Cumberland Pkwy. SE | Smyrna | GA | 30080 |
| SNELLVILLE | 1900 Scenic Hwy. | Snellville | GA | 30078 |
| SUGAR HILL | 5905 Suwanee Dam Rd. | Sugar Hill | GA | 30518 |
| JOHNS CREEK | 3621 Peachtree Pkwy. | Suwanee | GA | 30024 |
| SUWANEE | 1085 Peachtree Industrial Blvd. | Suwanee | GA | 30024 |
| VILLAGE SHOPPES AT WINDERMERE | 3110 Old Atlanta Rd. | Suwanee | GA | 30024 |
| LAVISTA NORTHLAKE MALL | 3880 Lavista Rd. | Tucker | GA | 30084 |
| VALDOSTA MAIN | 2611 North Patterson St. | Valdosta | GA | 31602 |
| VILLA RICA | 1 Community Square | Villa Rica | GA | 30180 |
| WINDER MAIN | 209 North Broad St. | Winder | GA | 30680 |
| TOWNE LAKE | 2255 Towne Lake Pkwy. | Woodstock | GA | 30189 |
| TRICKUM RD | 12175 Highway 92 | Woodstock | GA | 30188 |
| RIDGEWAY IA | 224 West Ridgeway Ave. | Waterloo | IA | 50701 |
| 4800 W MAIN BELLEVILLE | 4800 West Main St. | Belleville | IL | 62226 |
| CAHOKIA CAMP JACKSON RD | 1304 Camp Jackson Rd. | Cahokia | IL | 62206 |
| CARBONDALE | 816 West Main St. | Carbondale | IL | 62901 |
| EAST PEORIA | 160 Spinder Dr. | East Peoria | IL | 61611 |
| LINCOLN TR | 10950 Lincoln Trail | Fairview Heights | IL | 62208 |
| EAST MAIN ROBINSON | 1400 East Main St. | Robinson | IL | 62454 |
| THE BRIDGES AT 116TH | 11447 Springmill Rd. | Carmel | IN | 46032 |
| EVANSVILLE | 7400 Eagle Crest Blvd. | Evansville | IN | 47715 |
| FRANKFORT | 2361 East Wabash St. | Frankfort | IN | 46041 |
| CASTLETON | 5151 East 82nd St., Suite 800 | Indianapolis | IN | 46250 |
| EAGLE CREEK | 7007 Shore Terrace | Indianapolis | IN | 46254 |
| NORA | 1250 East 86th St., Suite 400 | Indianapolis | IN | 46240 |
| PENDLETON PIKE | 10869 Pendleton Pike | Indianapolis | IN | 46236 |
| TOWER | 211 North Pennsylvania St., 1st Floor | Indianapolis | IN | 46204 |
| MARION UNIVERSITY MARKETPLACE | 4122 South Western Ave. | Marion | IN | 46953 |
| ANSON | 6002 Heartland Dr. | Whitestown | IN | 46075 |
| UNIVERSITY MURRAY | 515 North 12th St. | Murray | KY | 42071 |
| AMITE | 755 West Oak St. | Amite | LA | 70422 |
| BON CARRE | 7265 Florida Blvd. | Baton Rouge | LA | 70806 |
| ESSEN LANE | 5111 Essen Ln. | Baton Rouge | LA | 70809 |
| SOUTH SHERWOOD | 3121 South Sherwood Forest Blvd. | Baton Rouge | LA | 70816 |
| BELLE CHASSE | 8018 Highway 23 | Belle Chasse | LA | 70037 |
| PIERRE BOSSIER | 2948 East Texas St. | Bossier City | LA | 71111 |
| PARIS RD CHALMETTE | 3101 Paris Rd. | Chalmette | LA | 70043 |
| DENHAM SPRINGS | 1509 South Range Ave. | Denham Springs | LA | 70726 |
| BURNSIDE GONZALES | 916 South Burnside Ave. | Gonzales | LA | 70737 |
| GONZALES | 508 North Airline Hwy. | Gonzales | LA | 70737 |
| WALL BLVD | 101 Wall Blvd. | Gretna | LA | 70056 |
| WESTBANK EXPRESSWAY | 313 Westbank Expressway | Gretna | LA | 70053 |
| HAMMOND MAIN | 1500 Southwest Railroad Ave. | Hammond | LA | 70403 |
| SOUTH MORRISON | 1180 Roma Ave. | Hammond | LA | 70403 |
| MANHATTAN BOULEVARD | 1749 Manhattan Blvd. | Harvey | LA | 70058 |
| MLK HOUMA | 1830 Martin Luther King Blvd. | Houma | LA | 70360 |
| WILLIAMS BLVD | 3525 Williams Blvd. | Kenner | LA | 70065 |
| SOUTH COLLEGE | 2901 Johnston St. | Lafayette | LA | 70503 |
| LAPLACE | 110 Belle Terre Blvd. | Laplace | LA | 70068 |
| CLEARVIEW | 4400 Veterans Blvd. | Metairie | LA | 70006 |
| HOMER RD | 200 Homer Rd. | Minden | LA | 71055 |
| MONROE MAIN | 1900 North 18th St., Suite 100 | Monroe | LA | 71201 |
| UNIVERSITY MONROE | 601 Sterlington Rd. | Monroe | LA | 71203 |
| NEW IBERIA MAIN | 734 South Lewis St. | New Iberia | LA | 70560 |
| ALGIERS | 4626 General Degaulle Dr. | New Orleans | LA | 70131 |
| GENTILLY | 3836 Elysian Fields Ave. | New Orleans | LA | 70122 |
| NEW ORLEANS MAIN POYDRAS ST | 400 Poydras St., Suite 100 | New Orleans | LA | 70130 |
| UPTOWN | 1820 St. Charles Ave., Suite 100 | New Orleans | LA | 70130 |
| TRENTON ST | 1317 North Trenton St. | Ruston | LA | 71270 |
| BAYOU WALK | 6602 Youree Dr. | Shreveport | LA | 71105 |
| HEARNE AVE | 5824 Hearne Ave. | Shreveport | LA | 71108 |
| HUNTINGTON PARK | 6800 Pines Rd. | Shreveport | LA | 71129 |
| MANSFIELD RD | 2559 Bert Kouns Industrial Loop | Shreveport | LA | 71118 |
| NORTH MARKET | 1633 North Market St. | Shreveport | LA | 71107 |
| GAUSE SLIDELL | 1253 Gause Blvd. | Slidell | LA | 70458 |
| ARNOLD | 180 Richardson Crossing | Arnold | MO | 63010 |
| 407 N KINGSHIGHWAY | 407 North Kingshighway St. | Cape Girardeau | MO | 63701 |
| CLAYTON MO | 8351 Maryland Ave. | Clayton | MO | 63105 |
| DES PERES | 11801 Manchester Rd. | Des Peres | MO | 63131 |
| FLORISSANT | 100 North Highway 67 | Florissant | MO | 63031 |
| NEW HALLS FERRY | 11920 New Halls Ferry Rd. | Florissant | MO | 63033 |
| JEFFERSON CITY MO | 425 Madison St. | Jefferson City | MO | 65101 |
| LAKE ST LOUIS | 701 Civic Center Dr. | Lake Saint Louis | MO | 63367 |
| MANCHESTER | 14204 Manchester Rd. | Manchester | MO | 63011 |
| OFALLON K & N | 3005 Highway K | O'Fallon | MO | 63368 |
| OFALLON MO | 1201 Highway K | O'Fallon | MO | 63366 |
| PERRYVILLE | 320 North Main St. | Perryville | MO | 63775 |
| SOUTH CAMPBELL | 2927 South Campbell Ave. | Springfield | MO | 65807 |
| ST ANN | 10906 St. Charles Rock Rd. | St. Ann | MO | 63074 |
| UNIVERSITY COMMONS | 2000 West Clay St. | St. Charles | MO | 63301 |
| JENNINGS MAIN | 9269 Lewis and Clark Blvd. | St. Louis | MO | 63136 |
| LEMAY | 2582 Lemay Ferry Rd. | St. Louis | MO | 63125 |
| MIDTOWN ST LOUIS | 7 South Vandeventer Ave. | St. Louis | MO | 63108 |
| CAVE SPRINGS | 3895 Veterans Memorial Pkwy. | St. Peters | MO | 63376 |
| JUNGERMANN RD | 1530 Jungermann Rd. | St. Peters | MO | 63376 |
| MID RIVERS | 6150 Mid Rivers Mall Dr. | St. Peters | MO | 63304 |
| TWIN OAKS | 1141 Meramec Station Rd. | Twin Oaks | MO | 63021 |
| WEBSTER GROVES | 29 West Lockwood Ave. | Webster Groves | MO | 63119 |
| CROSSGATES | 1595 West Government St. | Brandon | MS | 39042 |
| BROOKHAVEN | 714A Halbert Heights Rd. | Brookhaven | MS | 39601 |
| BYRAM S SIWELL RD | 7265 South Siwell Rd. | Byram | MS | 39272 |
| CLARKSDALE | 109 Anderson Blvd. Extended | Clarksdale | MS | 38614 |
| CLINTON MS | 609 Highway 80 E | Clinton | MS | 39056 |
| CORINTH | 510 Taylor St. | Corinth | MS | 38834 |
| GREENVILLE SUNNY | 1531 Highway 1 S | Greenville | MS | 38701 |
| GREENWOOD PARK AVE | 606 West Park Ave. | Greenwood | MS | 38930 |
| MAIN STREET HATTIESBURG | 501 North Main St., Suite 102 | Hattiesburg | MS | 39401 |
| TURTLE CREEK MALL | 1000 Turtle Creek Dr. | Hattiesburg | MS | 39402 |
| WEST BROADWAY | 1491 Broadway Dr. | Hattiesburg | MS | 39402 |
| HORN LAKE GOODMAN RD | 3850 Goodman Rd. | Horn Lake | MS | 38637 |
| SOUTHWEST JACKSON | 5400 Highway 18 W | Jackson | MS | 39209 |
| KOSCIUSKO MAIN | 620 Veterans Memorial Dr. | Kosciusko | MS | 39090 |
| LAUREL MAIN | 1415 West 5th St. | Laurel | MS | 39440 |
| HIGHLAND COLONY | 109 Webster Cir. | Madison | MS | 39110 |
| DELAWARE | 1624 Delaware Ave. | Mccomb | MS | 39648 |
| NORTH HILLS MERIDIAN | 2409 North Hills St. | Meridian | MS | 39305 |
| NATCHEZ MAIN | 413 South Canal St. | Natchez | MS | 39120 |
| OLIVE BRANCH | 8975 East Goodman Rd. | Olive Branch | MS | 38654 |
| OXFORD EASTGATE CENTER | 1960 East University Ave. | Oxford | MS | 38655 |
| OXFORD JACKSON AVE | 1931 Jackson Ave. W | Oxford | MS | 38655 |
| PICAYUNE | 407 Highway 11 S | Picayune | MS | 39466 |
| SENATOBIA | 5641 Highway 51 N | Senatobia | MS | 38668 |
| GOODMAN RD | 969 Goodman Rd. E | Southaven | MS | 38671 |
| STARKVILLE MAIN | 300 University Dr. | Starkville | MS | 39759 |
| CHARLOTTE UPTOWN | 615 South College St. | Charlotte | NC | 28202 |
| GLENWOOD | 3700 Glenwood Ave., Suite 100 | Raleigh | NC | 27612 |
| SOUTH AIKEN | 1799 Whiskey Rd. | Aiken | SC | 29803 |
| CLEMSON BLVD | 3404 Clemson Blvd. | Anderson | SC | 29621 |
| GREENVILLE SC MAIN | 290 South Pleasantburg Dr. | Greenville | SC | 29607 |
| MT PLEASANT WANDO CROSSING | 1486 Stuart Engals Blvd. | Mount Pleasant | SC | 29464 |
| SPARTANBURG MAIN | 235 South Pine St. | Spartanburg | SC | 29302 |
| SUMMERVILLE SC | 201 South Main St. | Summerville | SC | 29483 |
| MIDLAND | 216 South Calderwood St. | Alcoa | TN | 37701 |
| HICKORY HOLLOW PKWY | 5236 Hickory Hollow Pkwy. | Antioch | TN | 37013 |
| ARLINGTON | 4900 Milton Wilson Blvd. | Arlington | TN | 38002 |
| CONGRESS PKWY | 921 Congress Pkwy. S | Athens | TN | 37303 |
| BARTLETT | 6231 Stage Rd. | Bartlett | TN | 38134 |
| WOLFCHASE | 7790 Stage Rd. | Bartlett | TN | 38133 |
| MELROSE | 2608 8th Ave. S, Suite 101 | Berry Hill | TN | 37204 |
| MILL CREEK | 6700 Nolensville Pike | Brentwood | TN | 37027 |
| 4538 HWY 58 CHATTANOOGA | 4538 Highway 58 | Chattanooga | TN | 37416 |
| BRAINERD | 5515 Brainerd Rd. | Chattanooga | TN | 37411 |
| CHATTANOOGA REGIONS CENTER | 601 Market St. | Chattanooga | TN | 37402 |
| EAST RIDGE 4334 RINGGOLD RD | 4334 Ringgold Rd. | Chattanooga | TN | 37412 |
| GUNBARREL RD | 2128 Gunbarrel Rd. | Chattanooga | TN | 37421 |
| LOWE'S DRIVE | 2155 Lowes Dr. | Clarksville | TN | 37040 |
| BRADLEY SQUARE | 178 Paul Huff Pkwy. | Cleveland | TN | 37312 |
| NORTHWEST CLEVELAND | 800 25th St. NW | Cleveland | TN | 37311 |
| STERLING POINTE | 2450 Treasury Dr. SE | Cleveland | TN | 37323 |
| COLLIERVILLE MAIN | 1300 West Poplar Ave. | Collierville | TN | 38017 |
| COLUMBIA MAIN | 610 North Garden St. | Columbia | TN | 38401 |
| SHADYBROOK | 884 South James Campbell Blvd. | Columbia | TN | 38401 |
| COOKEVILLE MAIN | 10 West Broad St. | Cookeville | TN | 38501 |
| JEFFERSON COOKEVILLE | 790 South Jefferson Ave. | Cookeville | TN | 38501 |
| CORDOVA TRINITY | 640 North Germantown Pkwy. | Cordova | TN | 38018 |
| CROSSVILLE MAIN | 175 Miller Ave. | Crossville | TN | 38555 |
| DAYTON 1502 MARKET ST | 1502 Market St. | Dayton | TN | 37321 |
| DICKSON | 123 Beasley Dr. | Dickson | TN | 37055 |
| LINCOLN COUNTY MAIN | 302 East College St. | Fayetteville | TN | 37334 |
| FRANKLIN MURFREESBORO RD | 1206 Murfreesboro Rd. | Franklin | TN | 37064 |
| GALLATIN MAIN | 285 East Main St. | Gallatin | TN | 37066 |
| VILLAGE GREEN | 1140 Nashville Pike | Gallatin | TN | 37066 |
| GERMANTOWN GREENLINE | 1284 Germantown Rd. | Germantown | TN | 38138 |
| GERMANTOWN POPLAR AVE | 7744 Poplar Ave. | Germantown | TN | 38138 |
| GOODLETTSVILLE | 112 Long Hollow Pike | Goodlettsville | TN | 37072 |
| RIVERGATE MALL | 900 Rivergate Pkwy. | Goodlettsville | TN | 37072 |
| HARRIMAN MIDTOWN | 2018 Roane State Hwy. | Harriman | TN | 37748 |
| HENDERSONVILLE | 249 East Main St. | Hendersonville | TN | 37075 |
| HERMITAGE | 4444 Lebanon Rd. | Hermitage | TN | 37076 |
| MURRAY PARK | 11 Murray Guard Dr. | Jackson | TN | 38305 |
| VININGS | 1861 North Highland Ave. | Jackson | TN | 38305 |
| NORTH JOHNSON CITY | 208 Sunset Dr. | Johnson City | TN | 37604 |
| UNIVERSITY JOHNSON CITY | 1408 West State of Franklin Rd. | Johnson City | TN | 37604 |
| KINGSPORT CENTRAL | 461 West Center St. | Kingsport | TN | 37660 |
| CUMBERLAND AVE | 1831 Cumberland Ave. | Knoxville | TN | 37916 |
| HARDIN VALLEY | 2289 Valley Vista Rd. | Knoxville | TN | 37932 |
| NORTHSHORE | 1935 Pinnacle Pointe Way | Knoxville | TN | 37922 |
| POWELL | 6601 Clinton Hwy. | Knoxville | TN | 37912 |
| LAKELAND CANADA RD | 9850 US Highway 64 | Lakeland  | TN | 38002 |
| LA VERGNE | 5021 Murfreesboro Rd. | Lavergne | TN | 37086 |
| MADISON TN | 500 Gallatin Pike S | Madison | TN | 37115 |
| WEST MARYVILLE 1614 W BROADWAY AVE | 1614 West Broadway Ave. | Maryville | TN | 37801 |
| MCMINNVILLE NORTH | 1035 Smithville Hwy. | McMinnville | TN | 37110 |
| CROSSTOWN | 270 North Cleveland St. | Memphis | TN | 38104 |
| DOWNTOWN 88 UNION | 88 Union Ave. | Memphis | TN | 38103 |
| FOX MEADOWS 3558 S MENDENHALL RD | 3558 South Mendenhall Rd. | Memphis | TN | 38115 |
| FRAYSER HOLLYWOOD | 2595 Frayser Blvd. | Memphis | TN | 38127 |
| HICKORY RIDGE | 5969 Winchester Rd. | Memphis | TN | 38115 |
| HOLIDAY CITY | 3751 Lamar Ave. | Memphis | TN | 38118 |
| KIRBY PARKWAY | 3545 Kirby Pkwy. | Memphis | TN | 38115 |
| LAMAR | 2800 Lamar Ave. | Memphis | TN | 38114 |
| MIDTOWN MEDICAL CENTER | 1415 Union Ave. | Memphis | TN | 38104 |
| OVERTON SQUARE | 2053 Union Ave. | Memphis | TN | 38104 |
| POPLAR | 3307 Poplar Ave. | Memphis | TN | 38111 |
| POPLAR MAIN | 6200 Poplar Ave. | Memphis | TN | 38119 |
| RALEIGH MEDICAL | 3954 Austin Peay Hwy. | Memphis | TN | 38128 |
| RIDGEWAY MEMPHIS | 1171 Ridgeway Rd. | Memphis | TN | 38119 |
| RIVERDALE RD | 4643 Riverdale Rd. | Memphis | TN | 38141 |
| SOUTHGATE MEMPHIS | 1889 South 3rd St. | Memphis | TN | 38109 |
| SOUTHWIND | 3577 Hacks Cross Rd. | Memphis | TN | 38125 |
| WHITE STATION | 4790 Poplar Ave. | Memphis | TN | 38117 |
| WHITEHAVEN SOUTH | 1190 East Shelby Dr. | Memphis | TN | 38116 |
| MILAN S MAIN | 2052 South Main St. | Milan | TN | 38358 |
| LAKEWAY MAIN OFFICE | 201 West Morris Blvd. | Morristown | TN | 37813 |
| CHURCH ST MURFREESBORO | 100 East Vine St., Suite 200 | Murfreesboro | TN | 37130 |
| MEMORIAL MURFREESBORO | 1800 Memorial Blvd. | Murfreesboro | TN | 37129 |
| ST ANDREWS MURFREESBORO | 2615 Old Fort Pkwy. | Murfreesboro | TN | 37128 |
| BELLEVUE HWY 70 S | 7608 Highway 70 S | Nashville | TN | 37221 |
| BORDEAUX | 3701 Clarksville Hwy. | Nashville | TN | 37218 |
| CENTENNIAL | 3021 West End Ave. | Nashville | TN | 37203 |
| DONELSON LEBANON RD | 2409 Lebanon Rd. | Nashville | TN | 37214 |
| EAST NASHVILLE | 599 Gallatin Ave. | Nashville | TN | 37206 |
| FIFTY FIRST | 5100 Charlotte Pike | Nashville | TN | 37209 |
| HARDING MALL | 4056 Nolensville Rd. | Nashville | TN | 37211 |
| HICKORY PLAZA | 5707 Nolensville Rd. | Nashville | TN | 37211 |
| INGLEWOOD SOUTH | 1025 Joyce Ln. | Nashville | TN | 37216 |
| NASHBORO VILLAGE | 2250 Murfreesboro Rd. | Nashville | TN | 37217 |
| NASHVILLE WEST | 6704 Charlotte Pike | Nashville | TN | 37209 |
| NORTH NASHVILLE | 1200 Rosa L. Parks Blvd. | Nashville | TN | 37208 |
| ONE NASHVILLE PLACE | 150 4th Ave. N | Nashville | TN | 37219 |
| VILLAGE 21 | 1624 21st Ave. S | Nashville | TN | 37212 |
| ELM ST SHELBYVILLE | 101 Elm St. | Shelbyville | TN | 37160 |
| SAM RIDLEY | 415 Sam Ridley Pkwy. W | Smyrna | TN | 37167 |
| SMYRNA S LOWRY ST | 301 South Lowry St. | Smyrna | TN | 37167 |
| SPRING HILL COLUMBIA PIKE | 4934 Columbia Pike | Spring Hill | TN | 37174 |
| SPRINGFIELD TN | 3572 Tom Austin Hwy. | Springfield | TN | 37172 |
| UNION CITY | 1702 West Reelfoot Ave. | Union City | TN | 38261 |
| WHITE HOUSE | 204 Highway 76 | White House | TN | 37188 |
| MOPAC | 6611 South MoPac Expressway, Suite C | Austin | TX | 78749 |
| CEDAR HILL | 743 North Highway 67 | Cedar Hill | TX | 75104 |
| HARPERS PRESERVE | 10100 Highway 242 | Conroe | TX | 77385 |
| ALDER TRAILS | 11415 Barker Cypress Rd. | Cypress | TX | 77433 |
| FAIRFIELD PLACE | 28350 Northwest Fwy. | Cypress | TX | 77433 |
| SPRING CYPRESS | 17465 Spring Cypress Rd. | Cypress | TX | 77429 |
| DALLAS UPTOWN | 1717 McKinney Ave., Suite 150 | Dallas | TX | 75202 |
| PRESTON CENTER | 5858 West Northwest Hwy. | Dallas | TX | 75225 |
| FT WORTH | 3017 West 7th St. | Fort Worth | TX | 76107 |
| WINDSONG RANCH | 16510 FM 423 | Frisco | TX | 75033 |
| BELLAIRE BLVD | 14533 Bellaire Blvd. | Houston | TX | 77083 |
| BRIAR FOREST | 1502 Eldridge Pkwy. | Houston | TX | 77077 |
| COPPERWOOD VILLAGE | 15702 Kingfield Dr. | Houston | TX | 77084 |
| CYPRESS CREEK | 3349 FM 1960 Rd. W | Houston | TX | 77068 |
| GENERATION PARK | 14125 East Sam Houston Pkwy. N | Houston | TX | 77044 |
| GREENWAY PLAZA | 3773 Richmond Ave. | Houston | TX | 77046 |
| KEMPWOOD | 2730 Gessner Rd. | Houston | TX | 77080 |
| NORTHBROOK | 11150 Northwest Fwy., Suite 300 | Houston | TX | 77092 |
| SAN FELIPE | 5890 San Felipe St. | Houston | TX | 77057 |
| STADIUM | 1100 Old Spanish Trail | Houston | TX | 77054 |
| UPTOWN CROSSING | 5409 South Rice Ave. | Houston | TX | 77081 |
| WALLISVILLE | 15375 Wallisville Rd. | Houston | TX | 77049 |
| WESTCHASE | 10803 Westheimer Rd. | Houston | TX | 77042 |
| CROSS CREEK | 4930 FM 1463 Rd. | Katy | TX | 77494 |
| MORTON RANCH | 22730 Morton Ranch Rd. | Katy | TX | 77449 |
| STABLESIDE | 9702 Gaston Rd. | Katy | TX | 77494 |
| WESTPARK TOLLWAY | 25010 FM 1093 | Katy | TX | 77494 |
| KILGORE | 2107 North State Highway 42 | Kilgore | TX | 75662 |
| LANCASTER | 1425 North Dallas Ave. | Lancaster | TX | 75134 |
| LEAGUE CITY | 1950 West League City Pkwy. | League City | TX | 77573 |
| LONGVIEW MAIN | 722 West Marshall Ave. | Longview | TX | 75601 |
| LUFKIN MAIN | 221 South 2nd St. | Lufkin | TX | 75901 |
| SOUTH MEDFORD | 4501 South Medford Dr. | Lufkin | TX | 75901 |
| EGYPT | 6534 FM 1488 | Magnolia | TX | 77354 |
| LAKE COLONY | 4800 Highway 6 S | Missouri City | TX | 77459 |
| SIENNA PLANTATION | 9129 Highway 6 | Missouri City | TX | 77459 |
| NACOGDOCHES MAIN | 300 East Main St. | Nacogdoches | TX | 75961 |
| VALLEY RANCH | 21962 Market Place Dr. | New Caney | TX | 77357 |
| HOUSTON PASADENA | 3491 East Sam Houston Pkwy. | Pasadena | TX | 77505 |
| PEARLAND SILVERLAKE | 10600 Broadway St. | Pearland | TX | 77584 |
| ALIANA | 18801 Somerled Ave. | Richmond | TX | 77407 |
| BRAZOS TOWN CENTER | 23716 Southwest Fwy. | Rosenberg | TX | 77471 |
| ROUND ROCK | 101 West Old Settlers Blvd. | Round Rock | TX | 78681 |
| CHAMPION FOREST | 20314 Champion Forest Dr. | Spring | TX | 77379 |
| CREEKSIDE | 25830 Kuykendahl Rd. | Spring | TX | 77375 |
| KUYKENDAHL | 6730 Spring Stuebner Rd. | Spring | TX | 77389 |
| LOUETTA | 7801 Louetta Rd. | Spring | TX | 77379 |
| RAYFORD CROSSING | 2819 Riley Fuzzel Rd. | Spring | TX | 77386 |
| SPRINGWOODS | 2114 Spring Stuebner Rd. | Spring | TX | 77389 |
| LAKE RIVERSTONE | 18831 University Blvd. | Sugar Land | TX | 77479 |
| TEXARKANA TX MAIN | 2000 Richmond Rd. | Texarkana | TX | 75503 |
| THE WOODLANDS | 10831 Kuykendahl Rd. | The Woodlands | TX | 77382 |
| TOMBALL | 28522 Tomball Pkwy. | Tomball | TX | 77375 |