The right 401(k) match can benefit employers and employees. Here's how to create a cost-effective 401(k) match that's a true win-win.
Attracting and retaining talented employees is no easy task and, as an employer, it may seem like you have few levers you can pull to reduce turnover. But don't overlook offering or increasing a 401(k) match.
More than three-quarters (77%) of workers say that the retirement benefits a new employer offers are either very or extremely important when deciding whether to leave their current employer. Given that employee turnover is estimated to cost between one-half and two times the departing worker's annual salary, investing in your employees' retirements by offering a 401(k) match could help save you money now and in the future.
Not only that, but a good matching program can increase employee productivity. "Employees who are less worried about financial issues are more productive at work because they're not stressed out each and every day about saving for retirement," says Ryan Sladek, Head of Institutional Sales at Regions Bank.
The Benefits of Offering 401(K) Matching
In addition to helping lower turnover and increasing productivity, offering a 401(k) match creates a host of other benefits.
Lower taxes: Employers' contributions to employees' 401(k) accounts are tax deductible up to certain limits. That can translate into significant savings for many companies.
Potentially lower health-care costs, especially in the long term: A 401(k) match helps employees save more and, as a result, they can retire before they're at greater risk of experiencing costly health problems. "That can lead to a significant decrease in health-care costs for employers," Sladek says.
Achieving these benefits isn't just about increasing the match or accelerating vesting. Taking a strategic approach will help you maximize the value and cost-effectiveness of the 401(k) match you offer.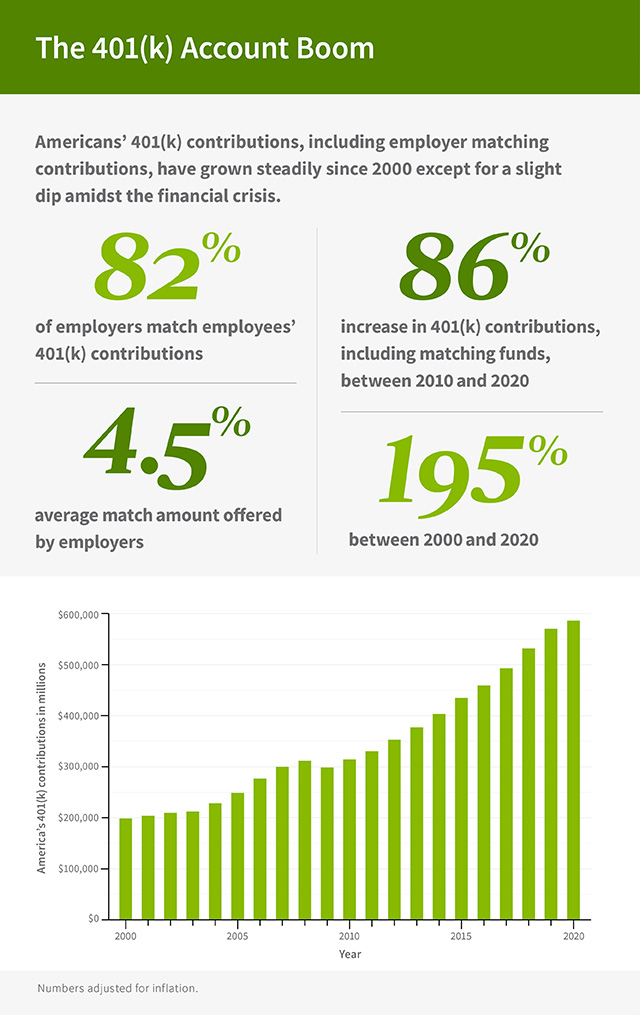 Set Clear Goals for Your 401(K) Matching Program
Because a 401(k) matching program offers a range of potential benefits, defining what success looks like for your company is crucial. A matching program that's intended to attract and retain employees may look different from one that's focused on lowering the company's taxes. Without clear goals, you may not realize the benefits you want from your investment in matching.
Consider What Your Employees Want
Don't finalize your goal until you've considered what your employees want in a 401(k) match. Employee preferences can vary widely. Some employees may want a lower overall matching amount paired with faster, or even immediate, vesting. Others, especially those further from retirement age, may prefer a higher matching amount that vests more slowly.
An employee survey can help you determine what your employees want, as can other sources of information. Early in his career, Sladek worked at call centers, answering questions from employees participating in 401(k) plans, and he discovered those questions reveal valuable information that can help employers design plans and matching programs.
"You get to know what's at the forefront of employees' minds, which can help plan sponsors open up important conversations around financial wellness and employee education, which is another key aspect of any matching program," Sladek says.
Educate and Communicate
Employee participation can powerfully influence the success of any 401(k) match. After all, if employees don't know about the match or understand its value, they may miss out on the financial benefits—for both themselves and the company.
Consistent education and communication are key, and personalization can dramatically boost results. When employees learn about 401(k) matching in a new-hire orientation or an annual workshop, the concept may feel abstract, and they may not act on the information. As a result, they may not increase their contributions enough to maximize their matching dollars.
Personalized messages about increases to financial contributions and matching options can help. Customizing each individual's message turns an abstract concept into specific dollar amounts and increases the chances the employee will take action. Sending by email or text can make it easier for employees to take action directly from the message, further enhancing results.
Use Data Whenever Possible
Data can, and should, inform you at every step as you develop or refine your 401(k) matching program. Your plan administrator or record keeper can provide data and insights to help you better understand what matters to employees about 401(k) programs.
Your administrator or record keeper can also run impact assessments so you can estimate the financial impact of different 401(k) matching options. These assessments cover the costs you'll incur from making matching contributions as well as the tax savings you'll enjoy. And they will cover multiple scenarios that account for varying employee responses to different options including:
Employee increases to 401(k) contributions in response to a higher matching.
Employees' contributions from salaries, wages and bonuses.
Accelerated vesting on matching contributions.
Plan administrators can help set up and execute education campaigns—like the customized one described above—and provide data on how they affected employee contributions.
And administrators can help you determine if it's time to re-evaluate your 401(k) matching program once you've set it up. One way to check on this is to look at the percentage of your employees who are on track to replace 75% (or more) of their current income in retirement. "If that number is high, say 80%, there's probably very little change you need to make in your matching strategy," says Sladek. "It's working for participants."
However, if you see that a relatively low share of employees, especially those in their prime earning years (between 40 and 55), are on track to replace 75% of their current income in retirement, it may be time to re-evaluate the match you offer. "Looking at participant outcomes helps you better understand how to drive the decisions that will help employees," Sladek says.
A Qualified, Unbiased Consultant Can Help
When you're designing a 401(k) match, a qualified, unbiased consultant can help you make smart choices for your organization and make progress toward your goals. Look for a fiduciary who will take the time to understand your needs before offering solutions. To learn more about how Regions Bank can help you develop a 401(k) match that's a win-win for you and your employees, contact your Regions Relationship Manager today.
---
Three Things to Do
Listen to our podcast episode about the latest trends in employee benefits.
Learn about investing in employee wellness.
Read more about choosing a retirement plan that matches the needs of your employees.
---