Fraud from within is more common than many C-suite leaders realize. Learn how to protect your business.
Business leaders often underestimate the likelihood that occupational fraud might impact their organization. However, a 2020 report conducted by the Association of Certified Fraud Examiners (ACFE) suggests that the average company loses 5% of its revenue to fraud each year.
Sometimes referred to as "internal fraud" or "employee fraud," occupational fraud describes any type of fraud perpetrated by someone inside the victim organization, such as an employee, manager, or executive. Given the level of access available to perpetrators, occupational fraud is often quite damaging, accounting for more than 40% of fraud cases with losses of $100 million or more, according to a 2020 PwC survey.
Spotting the Signs of Occupational Fraud
Generally speaking, occupational fraud occurs through corruption, asset misappropriation, or financial statement fraud. More often than not, the perpetrator is unassuming — and in many cases, they're a trusted or tenured employee. In fact, the ACFE finds that internal fraudsters who had been with the victim organization for at least 10 years stole four times the median amount of employees with less than one year of tenure.
According to criminologist Donald R. Cressey, perpetrators are typically motivated by three factors, commonly referred to as the Fraud Triangle:
Opportunity: The perpetrator is aware of a weakness in the system that will allow their fraud to go undetected.
Pressure or Motivation: The individual is dealing with some type of pressure, whether psychological or financial — like debt problems or addiction.
Rationalization: The perpetrator finds an excuse to justify their behavior. For example, "I don't get paid what I'm worth" or "I'll pay the money back in a few weeks — no one will even notice."
Oftentimes, perpetrators will exhibit a combination of obvious behavioral and lifestyle changes. For example, in 42% of internal fraud cases examined by the ACFE, the perpetrator exhibited significant lifestyle changes that extended beyond their means. It's important to note that the purchase of an expensive new car or fine jewelry should not be construed as an immediate red flag — often, this occurs in conjunction with other attitude changes. For example, the employee might be unwilling to take vacation or sick days, or they might suddenly become territorial about their work, refusing to let anyone help with their duties and becoming defensive when asked simple questions about their output.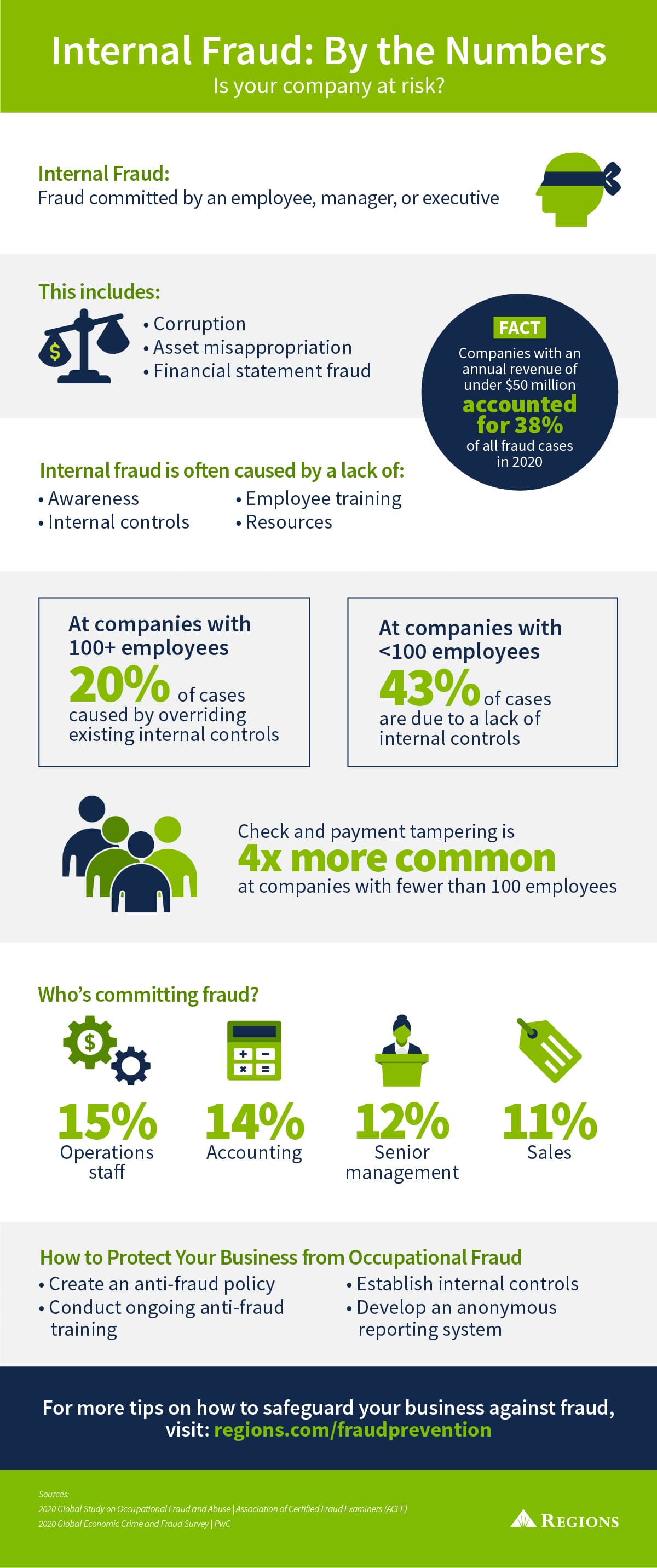 How to Prevent Occupational Fraud
One of the most effective ways to prevent internal fraud is by establishing anti-fraud controls. This may include creating a thorough anti-fraud policy, establishing a system of checks and balances, training employees, and providing an anti-fraud training program for managers and executives. The ACFE finds that nearly a third of occupational fraud cases stem from a lack of such controls. This is particularly true for small organizations, which tend to be more vulnerable to certain types of fraud. Not only is check and payment tampering four times more common at companies with fewer than 100 employees, but these companies also suffer the highest median losses from internal fraud.
And while bigger companies might be more likely to have some internal control measures in place, they often lack a system of checks and balances. In fact, the ACFE finds that 20% of internal fraud cases at companies with more than 100 employees were caused by overriding existing internal controls.
For both large and small businesses, establishing a dual approval process for financial transactions can be a highly effective way to deter internal fraud. And the benefit is two-fold: It's also effective at preventing common types of external fraud, including payment fraud.
Finally, organizations shouldn't underestimate the value of employee training. Not only can anti-fraud training programs help your employees spot the signs of potential fraud, they can also help deter would-be fraudsters.
For more tips on how to protect your business against both internal and external fraud, visit regions.com/fraudprevention.