By Bobby Hoyt, Founder of Millennial Money Man
Sponsored by Regions Bank, Member FDIC. All thoughts are my own.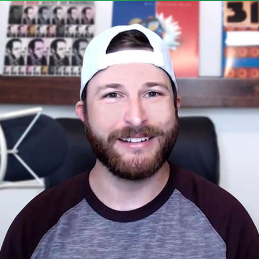 You graduated, congrats! That's a massive accomplishment, and you should be proud. Finding a job will become top priority as you move onto the next phase of your life.
As you start the hunt for your dream job, there are going to be some moments where you feel overwhelmed and stressed out — that's completely normal. You are going to find the right job, and there are things you can do to help you with your search. This includes how you look for work, the kinds of jobs you apply for, and finding other opportunities to make money in the meantime.
1. Focus on industries that are hiring
Depending on what's going on in the world, there are times when certain sectors go through hiring surges. If you pay attention to the news, you may be able to figure some of this out on your own. For example, you might hear a news story about a shortage of hospital workers or supply chain issues. That may indicate industries like healthcare and logistics are in full-blown hiring mode.
However, your safest bet is to do some research, and there is a lot of very accessible data online. A quick Google search can tell you which industries are in need of workers, and you can even find lists of companies who are actively hiring. The Bureau of Labor Statistics also has a wealth of data about specific industries and occupations, from short-term job outlook to state-level data.
Tailoring your job search to industries with job security and growth can give you an edge. That doesn't mean the right job isn't out there in a sector that isn't growing as quickly, but this approach can help you optimize your search.
2. Pay attention to your digital media presence
Your digital presence has never been more important. It's an opportunity to build remote connections and many recruiters and hiring managers are looking at social media when considering candidates.
That means new grads should start developing a digital footprint for their professional life. The obvious place to start is creating a profile on LinkedIn and building your network there. You may also want to build a website that links to your resume or CV.
For some new graduates, a website can go a long way, especially if you want to share any kind of portfolio. Linking to articles you have written, projects you've contributed to, or any kind of content you've helped develop can help you outshine competitors. There's a lot you can share, but only share it if it adds value to your specific job search.
Social media is another huge factor, and there is a good chance future employers will take a look at your accounts before hiring you. Clean up your social accounts so they look professional. You can even curate public content that is relevant to your job search.
3. Start building your professional network
I've already mentioned LinkedIn as a way to cultivate a valuable professional network that helps you get hired. Recruiters and head-hunters use LinkedIn to search for candidates and approach them directly through the site. You can even ask professors, former supervisors, and academic advisors to add endorsements to help you stand out.
Here are some tips for your LinkedIn profile:
Use LinkedIn to build your personal brand. You can create a broader narrative around your strengths and work style. Think about what sets you apart from competitors.
Use keywords. LinkedIn is a database, and employers will be able to find you better if you use keywords that are relevant to your audience of potential employers.
Complete your profile. LinkedIn's algorithm, as well as hiring managers, prefer completed profiles.
Focus on top sections. The first few sections of your LinkedIn profile are the most important, and it's where you'll capture a recruiter's attention. This includes your cover photo, profile picture, headline, summary, and recent experience. You can even add major accomplishments or certifications in your summary and not wait until the later sections.
It can be an adjustment to get comfortable marketing yourself, but often that is what sets you apart when you are working to get hired.
Check out this article for some extra tips for how to make connections and build your network. You'll learn more about asking for introductions, personalizing your connection requests and following up promptly.
4. Treat your job search like a job
It's possible that you've heard this advice before, and there's a reason so many people say it. Job hunting is emotionally and mentally draining, but treating it like work can help you set boundaries and find some balance.
The biggest thing is to be consistent. Commit to a set number of hours per day for job searching, and use that time only for job searching. Make sure it's a realistic amount of time that fits in with the rest of your life. Make a list of things to complete during those hours. Your list can include things like creating a LinkedIn profile, preparing for interviews, signing up for a job board, emailing connections, researching companies and completing applications.
You will also need to stay organized. Creating a job diary, even if that's a Google Doc, will help you keep track of everything. It can include dates when you reached out to specific connections so you know when to send a follow-up email, and dates that specific applications are due. Setting reminders or alerts on your phone can help as well.
Your job (of job hunting) should also include a lot of research. Research which industries are hiring, what skills you still need to develop, and any news and trends relevant to your job search.
Job hunting is a big undertaking, so spend time developing relationships with others who are doing the same thing you're doing. These can be people you know from school or people you've met while networking. You'll help each other stay on track and think positively.
5. Use job boards wisely
Networking and building connections are some of the most effective ways to find a job after you graduate, but that doesn't mean you should completely ignore traditional job boards.
Job boards definitely have their place, but they aren't always comprehensive for the types of opportunities you may be looking for.
Still, because job boards can help you in your search, here are tips for using them to your advantage:
Create a searchable and personable profile: Follow the same tips that I outlined for your LinkedIn profile, including a thorough profile with searchable terms.
Set up alerts: Job boards will let you set up alerts so you don't spend hours poring over listings. You'll be able to optimize your time for other job-hunting tasks.
Introduce yourself directly: Research company's job listings to find out who the hiring manager is and then reach out to them directly.
6. Make money while you search
The average student loan debt for college graduates entering the workforce is an estimated $36,900, which can add stress to your job search. Federal student loans do offer a grace period you can take advantage of while job hunting, but finding ways to make money in the meantime can relieve a lot of that stress.
My favorite jobs to recommend during this period are flexible ones, or side hustles, because you can still put a lot of energy towards your job search. Delivering food for companies like DoorDash and Instacart is a good place to start. You pick when you work, and some food delivery drivers make upwards of $15-$20/hour.
Freelancing is also a solid option because it can actually turn into a full-time job. You can leverage skills you've learned in school — writing, marketing, HR, graphic design, web development, to name a few — and look for work on freelance marketplaces like Upwork or Freelancer.
Brand new freelancers typically need to take lower paying gigs when they're first starting, but this is a very scalable option. I have a team of freelancers who help me run my blog, and many of them earn a full-time living with their freelance skills.
7. Don't neglect your finances
You've got a lot going on at this point. You're job hunting, making money on the side, and probably trying to maintain a healthy social life. That's a lot to keep track of, but you also need to make time to check in on your finances.
If you don't have one yet, I highly recommend starting a budget. Your budget will help you create a plan for what's currently happening with your money, and it will also help create a plan for the future. If you need some help creating a budget or want to improve your budgeting skills, check out these podcasts.
You also want to pay attention to your credit. Starting to build your credit score now will help you in the future. For example, you'll need a good credit score if you want to refinance your student loans or finance a car.
Speaking of student loans, now is the time to start looking at repayment options. Federal student loan borrowers have a few options — standard, graduated, and income-based repayment options. Research what's available to you and how your payments will fit into your budget.
The reality for many new graduates is that money is probably pretty tight right now. And it's more than okay to do things that help you save money, like moving back in with your parents. This is only temporary.
The final word for recent college graduates
Job hunting is tough for everyone. It's exhausting, and it's easy to take things personally. However, the tips you've read above will put you on a path towards landing the right job.
Some of you will find a job quickly, but some of you have a longer road ahead. Navigating the job market for the first time is hard, so try not to compare yourself to others – everyone is charting their own path. Don't forget to take care of yourself while you're out there. Keep in touch with your friends and family, set boundaries, and get rest.
This is just the start of your life. You have so many exciting things ahead of you, and graduating college is one of many accomplishments you'll see in the future.
Inspired by a mentor to reach for more after starting MillennialMoneyMan.com and paying off his loans, Bobby Hoyt began a pursuit of all things personal finance. Unsatisfied with the financial condition of his fellow millennials, he applied his knowledge as an educator to his blog.
His mission is to encourage fellow Millennials (and generations beyond!) to adhere to four main principles:
Live below your means until you don't have to anymore.
Don't finance stuff you don't need.
Let your friends pass you up (don't try to keep up with the Joneses)
Work really hard, then make your money work for you.
Through his work on Millennial Money Man, he hopes to help change the face of personal finance in Gen Y by challenging his readers to slay their debt, increase their income, and plan for their future.
Since quitting his band director job after earning $3 in ad revenues (a tactic he doesn't recommend to students of his blogging courses) he has grown his blog to reach over 2 million readers each year. He's a regular personal finance columnist for the American Psychological Association and has made appearances on major media outlets such as Forbes, CNBC, and MarketWatch. A firm believer in the importance of the side hustle (and an educator who values sharing his knowledge), he partnered with former high school classmate Mike Yanda to teach others how to grow their income by running Facebook ads, along with two other active blogger-focused courses at Laptop Empires.
Bobby lives in the Houston, Texas area with his wife Coral, their wonderfully strange dog Strider, and can usually be found on the golf course, or boating on some body of water when they aren't traveling.