One of the mysteries for parents and children when starting college is how to secure financial aid. Fortunately, the government has a standard application process for federal aid.
The office of Federal Student Aid (FSA), which administers the Free Application for Federal Student Aid (FAFSA), is the largest provider of student financial aid in the United States. Each year, it issues more than $150 billion in federal grants, loans, and work-study funds to millions of students.
Federal student aid may offer several unique benefits. For example, federal student loans often have fixed interest rates while student loans can have variable interest rates. Also, the terms of a federal student loan may not require repayment until after a student graduates and may allow for monthly payments based on income.
Given all of the upsides, if you're starting college — or your child is — it's worth applying for federal student aid.
Here are answers to some of the most common questions when it comes to the FAFSA.
What information and documentation will I need to apply for federal student aid?
The FAFSA is comprised of seven sections of questions and requests for information regarding the student, their parents, and the colleges that should receive the student's FAFSA information. The requested information ranges from general demographic and contact information (such as marital status, mailing address, and Social Security numbers) to specifics regarding the student's and parents' assets (such as gross household income and 529 account balances).
Before filling out the FAFSA, gather federal income tax returns and other tax and financial documents for both the parents and the student. Find a complete list of the necessary documents and information at the U.S. Department of Education's Federal Student Aid website.
How is the amount of student aid determined?
Most students are eligible for some form of financial aid. State and school financial aid programs use the information provided on the FAFSA to determine financial need. They usually apply a mathematical formula that takes into account the cost of attendance at the school or schools listed (up to 10 may be included on the FAFSA), minus the expected family contribution. In addition, other factors, such as the size of a family and the parents' income, are typically considered when determining financial need and aid award amounts.
When should I apply for federal student aid?
The deadlines for aid vary by program and by state so it's important to familiarize yourself with the various programs and their respective deadlines. The FSA's website provides deadline information for some programs.
There are some federal student aid programs that have limited funds and many schools award aid on a first-come, first-served basis, so it may be beneficial to apply as early as possible — even if current taxes for the student or their parents have not been filed. If you are in this situation and use estimated tax information on the FAFSA, it must be corrected after the appropriate return is filed. In addition, because financial situations can change from year to year, a new FAFSA must be completed for every school year in order for the student to stay eligible for student aid.
Fortunately, filling out an application is free, and the FSA website provides several resources. In total, the process can take less than an hour.
College can be costly, but careful planning can help make the expense more manageable. Learn more about creating a financial plan for college.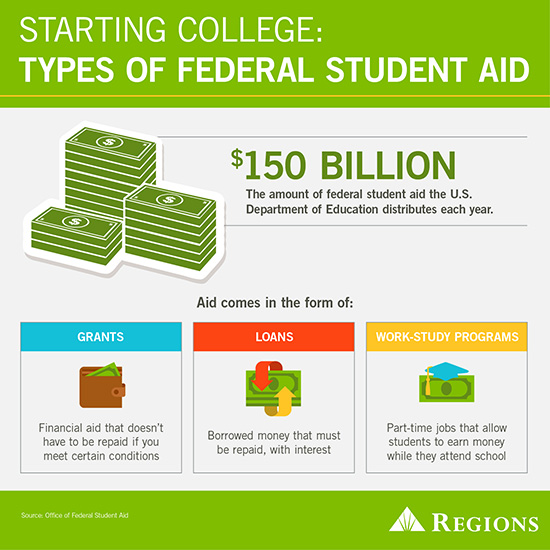 Click to view personal