Learn how to be successful working from home with these tips.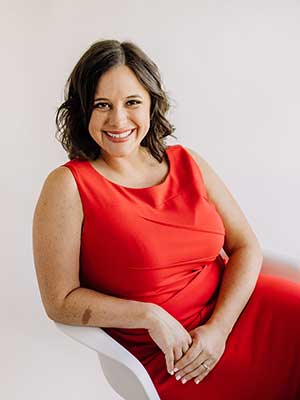 By Jessica Turner, Founder of The Mom Creative.
Sponsored by Regions Bank, Member FDIC. All thoughts are my own.
Working from home has many benefits, but it can also be a challenge. Sometimes it can feel like your work owns you, which is why it's important to set boundaries and pay attention to what you need. Create healthy habits with these seven strategies for working from home:
Get dressed for the day you want. Wearing elastic pants and t-shirts every day is nice at first, but long-term you might notice that your attire impacts your mood and productivity. Consider getting dressed as if you are leaving the house and see if that changes your mood or the way you approach your day. It's amazing what buttons can do!
Plan your day. Taking just five to ten minutes to plan for your day and review your appointments can help set the day up for success. Each morning I start my day with a task list, which I share with my team in a group chat (we check-in every morning at 8:30 am). This helps keep me accountable to both myself and my team. It also keeps me productive and focused.
Leverage technology. Using technology like Teams or Slack can help reduce emails and phone calls and keep you productive. Look for technology solutions to help you to be efficient, while staying connected with your colleagues.
Eat lunch and take a break. It can be easy to work non-stop when you are working from home. But research shows that taking a lunch break can result in higher productivity in the afternoon for work. So block a lunch break on your calendar and walk away from your desk. Eat, do some stretches, make a personal call or do something else just for you. You'll enter the second half of your workday recharged and ready to work.
Multitask home chores and work when possible. One of the perks of working from home is the flexibility to do things at home you could never do while in the office. For instance, if you have a conference call where you are listening and not actively participating, fold laundry while you listen or do some meal prep. Accomplishing these simple tasks while working can make a difference in your work-life balance.
Move your body. We all know we should exercise, but it can be tough to be motivated when you are working from home. It is easy to become sedentary, which is not good for our bodies. Schedule time in your day to exercise and honor that scheduled time. Also, make sure to move every hour, even if it is just to pace for a few minutes. Another trick is to walk while you are on a conference call.
End your day on time. Just because you are at home doesn't mean you should work longer hours. It is important to have boundaries in your workday and to have a consistent end to your work. If your workspace has a door, consider shutting the door as you leave the area as a tangible reminder that work is done for the day. At the very least, power down your computer!
These simple tips will help you to healthily and successfully approach remote work. For more on managing working from home, read this helpful article or visit Regions Next Steps for Business.
About Jessica Turner
Jessica N. Turner, The Mom Creative, is a popular writer and speaker based in Nashville, Tennessee. Her first book, the Wall Street Journal's best-selling title, The Fringe Hours: Making Time for You, encourages women to practice self-care and make time for their passions. Her latest book, Stretched Too Thin: How Working Moms Can Lose the Guilt, Work Smarter and Thrive released last year.
A veteran in the blogging industry, Jessica founded her popular lifestyle site The Mom Creative in 2006. Since then she has published thousands of blog posts and worked with the nation's most trusted brands including Southwest Airlines, Maytag, P&G, World Vision, Dyson, Rubbermaid, and Hallmark. Women from across America trust Jessica's advice on shopping, parenting and intentional living.
Jessica has been featured in numerous media outlets, including The Today Show, Hallmark's Home & Family, O Magazine, Pregnancy & Newborn Magazine, Better Homes and Gardens, and Inc.com. She and her husband, Matthew, have three active children.