Keeping your credit card and personal information secure can feel like a challenge. If you've ever lost your credit card and someone has used it to make unauthorized purchases, you know what it's like to be a victim of credit card fraud.
If you've ever had someone open an account in your name, you know what it's like to be a victim of identity theft. Both situations can be scary. What are the first things you need to do if you believe you're a victim of credit card fraud?
Unauthorized Use of Your Credit Card
As technology advances, thieves are finding new ways to steal credit card data, from hacking the companies where consumers shop, to placing skimmers on credit card machines, to conducting old-fashioned theft. But there's good news, there are protections available to limit your liability for unauthorized use of your card. Here are a few steps to take to help limit your liability if you think your card might be compromised. Start by alerting your credit card issuer. Call them right away, and then follow up with a letter.
Calling your card provider immediately serves two purposes:
It allows the issuer to quickly put a hold on the account, which prevents further activity on your card. If it turns out someone stole the card, the issuer can cancel the stolen card and reissue you a new card. If you have set up any scheduled or recurring payments using the old card, you likely need to update them to reflect the new payment information.
It limits your liability for unauthorized charges made against the account. Generally, Regulation Z limits your maximum liability for fraudulent credit card charges that occur before you report your card lost or stolen to $50. In many cases, card issuers may even wave all liability for fraudulent charges.
Follow up with a letter. After that initial phone call to the issuer, carefully review your account and flag every fraudulent transaction. Then immediately write a letter to the issuer summarizing the entire incident. Include your name and account number, the time and date when you became aware of the theft or fraud, and when you first called the issuer. Provide a list of the fraudulent transactions, including the date, type and amount of each transaction. Send the letter to the address listed on your credit card account statements for billing errors.
The Federal Trade Commission (FTC) recommends sending the letter by certified mail and requesting a return receipt. Once you receive the return receipt, keep that receipt, along with a copy of the letter itself, to demonstrate that you acted quickly.
Identity theft
While identity theft can happen any time someone steals your personal information, it may be more likely to happen online. If you receive a collections call or an account statement on a credit card account you did not open, it's possible that a fraudster has pieced together enough of your personal data to impersonate you online. In that case, you might be a victim of online identity theft.
If you suspect you have been a victim of identity theft, you should check your credit report to see whether any suspicious activity has already taken place. You are legally entitled to one free copy of your credit report every 12 months from each of the three credit reporting companies – TransUnion, Equifax and Experian. You can request a report by visiting AnnualCreditReport.com.
You should also consider contacting the major credit bureaus to request a free credit freeze or fraud alert on your credit report. Credit freezes restrict access to your credit report by requiring you to unfreeze (and subsequently refreeze) your account before a lender or other third party can access your credit (for example, when you submit a credit or employment application). Fraud alerts make it harder for someone to open new accounts in your name. When you have a fraud alert on your credit report, a business must verify your identity before it issues new credit in your name. Fraud alerts last for one year by default, but can be extended for up to seven years.
If you've been a victim of identity theft, you also should report the theft to your local police department, as well as to the federal authorities. You can report identity theft to federal authorities both through the FTC's website, IdentityTheft.gov, and the Federal Bureau of Investigation (FBI)'s Internet Crime Complaint Center (ic3.gov). The latter is especially geared toward victims of internet schemes, such as email-based scams designed to trick consumers into voluntarily sharing their account information.
Keep in mind that attempts to open credit in your name are more likely if the thief has access to your Social Security number, so avoid routinely carrying your Social Security card or other documents that display your Social Security number, and be careful how you share the number online. Tip: If you suspect you may be the victim of identity theft, the FTC also suggests you file your tax return early in the tax season, to try to prevent attackers from attempting to claim your refunds via a bogus tax return filed in your name.
Protect yourself against future attacks
Once you've taken steps to mitigate the immediate effects of credit card fraud, it's time to add safeguards so that your physical cards, your account information, and your personal information are better protected against future theft. Here are three tactics you can employ to help shore up your security:
Protect your information offline. One sure way to prevent theft of your credit card is to not carry it in the first place. The FTC recommends thinking through your planned activities before you go out, and taking only the cards you'll need. The FTC also advises carrying your card separately from your wallet.
At home, keep your financial documents and card statements in a locked file cabinet, and shred documents you don't need. At work, keep your purse or wallet in a locked drawer. Don't lend your card to anyone, even your friends or kids. Keep an eye on your card when making transactions, and never leave it behind.
Also, the FTC advises keeping a record of your account number and your card's expiration date, as well as your card issuer's emergency phone number. With those in hand, you'll be ready to respond quickly in the event that your card is stolen or your account is compromised.
Get smart about online shopping. One way fraudsters collect personal or credit card information is by impersonating legitimate businesses online, or infiltrating the transaction processes of legitimate but unsecured websites. The FBI recommends you only enter your credit card number at secure and reputable sites. Here are some clues that allow you to determine whether a website is secure: Look for an icon of a padlock next to the URL at the top of your browser, which signifies greater security (though the agency cautions that the icon "is not a guarantee of a secure site, but provides some assurance"); verify the email addresses and phone numbers listed on the website are active and associated with the business; and check for information from the Better Business Bureau.
Protect your information online. Delete personal information from computers and mobile devices before disposing of them. Use strong passwords and keep them private. Don't over-share on social media networks, because doing so makes it easier for fraudsters to piece together personal information in order to impersonate you online. The FTC also advises limiting access to social media profiles to a select group of friends, in order to make it more difficult for identity thieves to gain access.
Realizing you've lost control of your credit card or that you've been a victim of identity theft is unnerving. But being prepared can help to keep the damage—and your personal liability—to a minimum.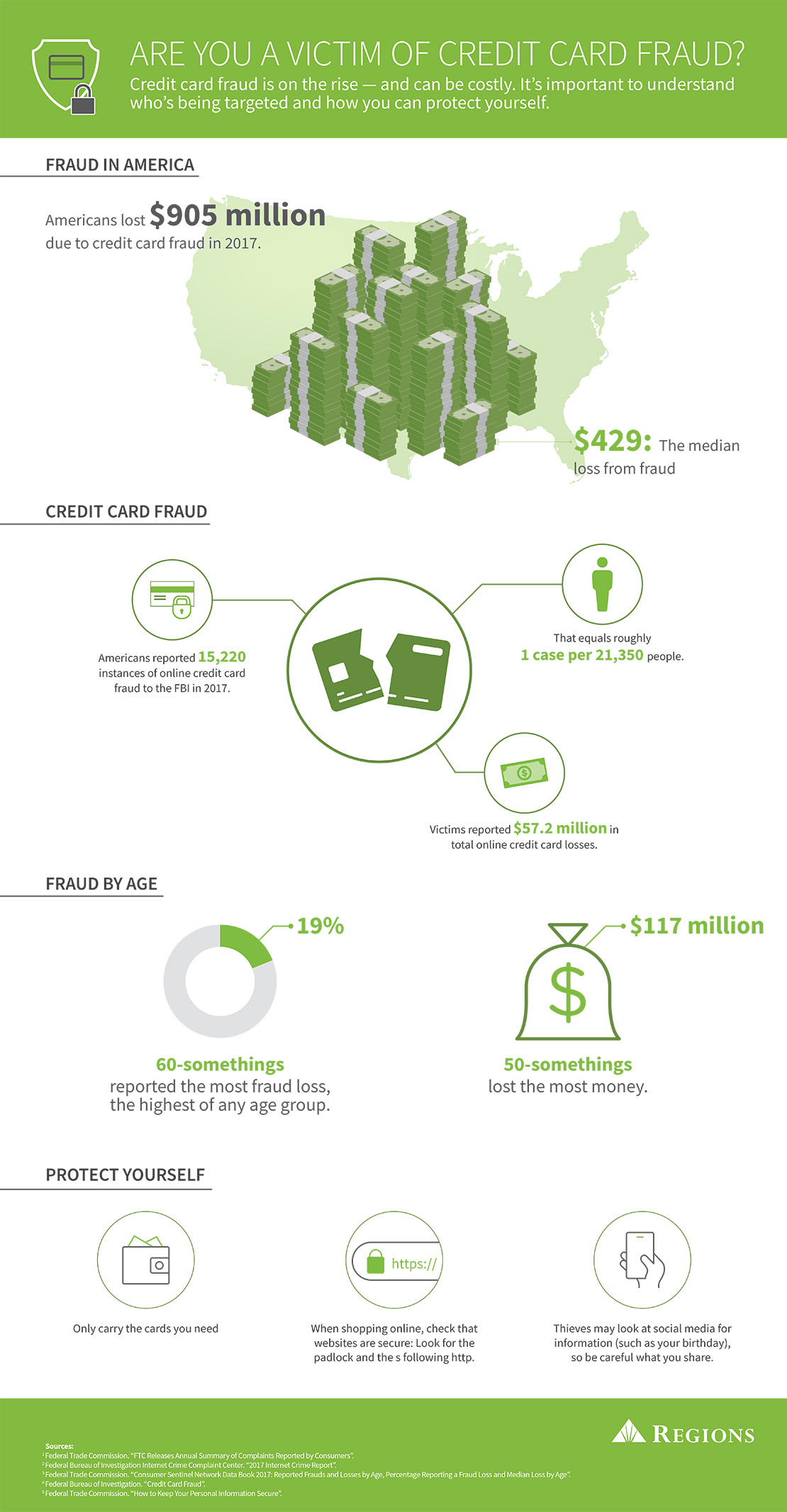 Click to view personal