Improving Revenue Cycle Management with Healthcare Remittance Solutions.
Revenue cycle is an essential element in the effective management of any business. In healthcare, as in all industries, there are measures that can and should be taken to ensure a profitable and sustainable business model. To identify the appropriate options for revenue cycle improvement, healthcare providers should first examine the challenges currently presented, whether regulatory or financial.
There is no doubt that the environment in which healthcare providers currently operate is complex and evolving. The introduction of new regulatory requirements and rising numbers of self-pay patients and high-deductible healthcare plans are presenting new complications to revenue cycle management (RCM). With the level of reimbursement declining and the days-services-outstanding going up, efficient cash flow is being constrained. Additionally, the trend toward pay-for-performance reimbursement models makes it even clearer that revenue cycle management must adapt to the changes occurring on multiple fronts.
The financial and regulatory challenges
Consumerism is increasing as employers work to contain healthcare costs, placing more pressure on billing platforms and increased collection costs. Financial pressures on healthcare organizations will escalate as consumers are increasingly forced to bear a larger financial responsibility for their care. So, healthcare providers must seek new ways to adapt to these changes and minimize adverse cash flow impacts.
Incremental regulation is driving the healthcare industry toward requiring much more documentation to accompany each claim. This presents barriers to claim production, acceptance and approval. The additional documentation also creates a disruption to the revenue cycle, and, along with regulatory mandates such as the industry's transition to ICD-10 codes slated for October 1, 2014, is driving the development of more robust revenue management systems.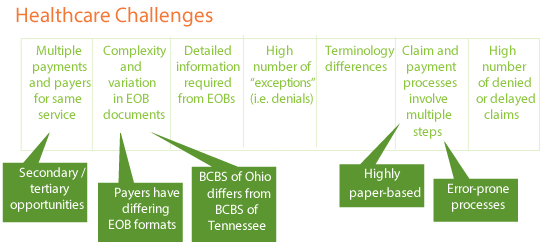 Traditional challenges to healthcare revenue cycle management.
Fact: Healthcare is currently the fastest growing segment of the United States economy
– Centers for Medicare and Medicaid
Leveraging revenue cycle management solutions
Implementing technologies and process improvements that lead to bottom-line success is imperative in an industry besieged by such rapid change. There are a range of solutions that drive business efficiencies and provide tangible benefits like outsourcing billing functions and shifting the cost burden of in-house billing. The key to revenue cycle health is consistently keeping denial rates low and collection rates high. The question then becomes how can this be best achieved?
While the outsourcing of individual accounts receivable tasks can prove beneficial, a more holistic approach to revenue cycle management better addresses the regulatory and financial pressures providers are experiencing by ensuring timely and accurate claims handling through end to end automation. The latest healthcare revenue cycle tools, such as remittance processing solutions, are designed to maximize revenue capture and streamline the billing and collection process with electronic claims management, direct entry of Medicare claims, automatic secondary billing, electronic remittance posting, and document image retrieval for research and issue resolution, along with contract and denial management.
Benefits through process automation
Accounts receivable technologies like Regions' Healthcare Remittance Processing solution offer automated processes that ensure security and accuracy, while reducing response times and improving productivity. Claim submission, posting remittances, and manual research are extremely time-consuming tasks, not to mention costly and subject to errors. Revenue cycle solutions can automatically capture EOB data and provide posting in ANSI 835 format or in formats tailored to your patient management system without manual intervention. Attachments, claims and remittances, status inquiries are more automated, thus reducing unnecessary effort, errors and expense.
This solution also provides opportunities for reduced collection costs, manual paper processing, and paper storage expense. Providers realize a reduction in DSO and fewer billing write-offs. Plus there is no need to purchase fixed infrastructure such as scanning equipment or associated service contracts. Best of all, remittance processing solutions inherently protect healthcare information and meet all HIPAA requirements.
End –to-end remittance processing solutions are managed through online applications with tools specific to the healthcare industry, such as Web-based archival of all remittance and payment data. Most online portals also integrate exception processing into the electronic workflow through the matching and posting of items including remit-no-claim and out-of-tolerance items. This can prove to be a real time saver for staff. In addition, traditional lockbox processing is enhanced not only by a unique box number for daily deposits, but also through the auto-postable claims function. Lockbox data, electronic payments and remittance data are compared to EOBs and ERAs and payments are reconciled, providing a detailed view into the entire submission and claims process for all remittance streams.
Fact: Annual healthcare spending in the U.S. is estimated to surpass $4.2 trillion in 2018
– U.S. Office of Management and Budget
The bottom line
All types of healthcare providers face the same financial and regulatory pressures. Revenue cycle management tools provide data insight and cash flow transparency, allowing your organization to process and monitor claims throughout the entire billing cycle. Improving process efficiencies through electronic automation can reduce costs and maximize profitability by eliminating manual tasks and streamlining multiple processes.
Is your practice's cash flow being constrained by A/R process inefficiencies? Are you failing to realize valuable dollars in your revenue cycle? Contact a Regions Treasury Management officer or relationship manager today for a revenue cycle review. Find out what you may be missing and how advanced remittance solutions can help so you can focus on what matters most.
Did you know?
The estimated cost to process a single EOB ranges from $3.30 to $9.50
It is estimated that 1/3 of all U.S. hospitals operate at a loss – First Research
29 percent of claim payments are outstanding more than 30 days
15 percent of claim payments are outstanding more than 60 days