Efficiently managing your company's cash could give you a competitive edge.
Businesses tend to experience their fair share of ups and downs, much like the regular swings in the economy. Still, amid uncertainty, one constant remains: Companies that efficiently manage their cash stand a good chance of thriving in both up and down economic cycles.
Among the various aspects of your business to keep an eye on, your cash management is perhaps one of the best barometers of your company's health. Cash management, at its most basic level, focuses on how revenue comes in and payments go out, yet it is not always a frictionless process. Cash shortfalls can occur, or cash balances can become excessive.
Cash management is one area where you don't want to take shortcuts. "It's important to remember that when companies neglect managing their cash, there can be far-reaching consequences for the business," says Dan Eveloff, Treasury Management Executive at Regions Bank in Sarasota, Florida. "Companies that fall asleep behind the wheel may find themselves jeopardizing the health of their business by impairing their access to credit, making it harder to secure funding or even losing business."
Becoming more efficient at cash management isn't a one-time task. Managing your cash means closely monitoring how your business brings in cash in exchange for providing goods or services, how payments are made and how inventory turns. These are the building blocks that will help inform which automation tools, solutions and best practices make the most sense for your business.
The good news is that eliminating some of the following inefficiencies can potentially free up revenue streams that can help your business grow.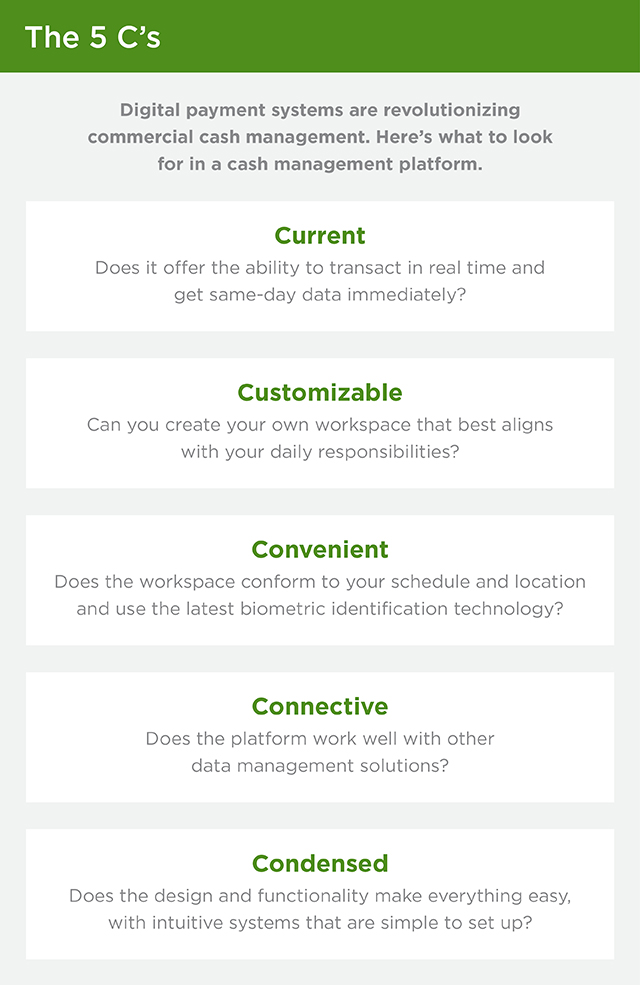 Speed Up Payments and Access to Funds
In terms of speed, today's digital options for accounts payable and accounts receivable far surpass what was available even five years ago. So with more solutions available than ever before, there's never been a better time to make cash management a priority. Businesses of all sizes can now access real-time payment networks that process digital payments in seconds. Accounts payable, accounts receivable, invoicing and bill payment capabilities are accessible within a fully integrated solution, such as CashFlowIQ.
Not only can alternative payment methods and digital solutions speed up the receipt of accounts receivable, but they also can help you to better understand how and when you should process outgoing payments to vendors for maximum efficiency. Automating these processes can enhance your company's overall cash position, and doing so allows you to improve your cash management process without necessarily adding headcount to your finance team.
"Nowadays, clients are almost in disbelief that they have access to real-time payments that can be processed within 15 seconds," Eveloff says. "Having this advanced technology is light-years ahead of the old methods of paying by check, wire transfer or ACH transactions, especially since companies can now push the payment out to the actual terms date and seamlessly receive payments."
Have a Cash Conversation
It's all too easy to feel confident about your business prospects when the economy is strong and the flow of money is steady. But don't wait for an economic slowdown to have more detailed conversations with your banker about working capital inside your business. "As you begin thinking more seriously about cash management, these conversations should include considerations far beyond cash on hand, how many days that cash could last or accounts receivable turnover," Eveloff says. "Pay close attention to quick ratios, current ratios and other more detailed working capital concepts."
Cash management should be an integral part of your company, and as it does, you may discover previously overlooked opportunities to grow your business. You may be able to leverage liquidity for strategic expansions, for instance, or use it in place of credit. For example, you may want to invest in new machinery that would normally require a specialty loan. If you have maximized the efficiency of your cash management, your business might be able to avoid borrowing at today's high interest rates for the purchase. Precise knowledge of your cash flow will show you when—and if—you can pay cash for major and minor purchases.
Eveloff believes that credit solutions will always have a place in a cash management world. But if a business understands its cash flow, the conversations around credit needs can be much different. Providing advice and guidance on a company's operations—and the best alternative payment methods to fit those operations and mitigate risk—is easiest when businesses use the best-in-class cash management options.
---
Three Things to Do
Begin assessing your payables and receivables to identify areas where there's room for improvement.
Read our "Guide to Cash Flow Management for Small Business."
Watch this video on reviewing business expenses.
---