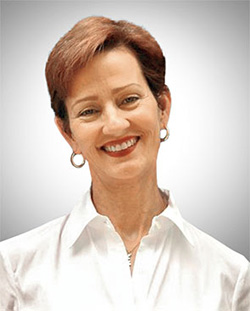 How one woman is making good on her vision for a green paradise in the heart of urban Miami.
Meg Daly's "big idea" came in 2013 when she broke both arms in a bicycle accident and rode Miami's elevated Metrorail to physical therapy. Walking the last leg in the shade under the Metrorail's raised track, the marketing entrepreneur began to envision a linear public park, akin to the High Line on Manhattan's West Side. Over three years, she marshaled allies to help turn her private dream into a public reality. Her nonprofit, Friends of The Underline, has already raised nearly $10 million of the estimated $100 million needed to create the 10-mile-long park. Her plan to break ground next year and complete the park in six to seven years sounds ambitious, but after sitting down with this doer and capturing her thoughts below, we wouldn't bet against her.
Getting Started
There's no how-to manual for a project like this. I'm good at defining strategy, and as an entrepreneur I'm used to pivoting. But the most important thing is getting support from the right people. One is my father, Parker Thomson, an attorney and philanthropist who helped create the Miami Performing Arts Center. When Parker Thomson calls, people listen. I also brought on a treasurer. We landed our first grant, $10,000 from the Knight Foundation, to build a website and organize our first events. My architect daughter-in-law designed our first logo.
The Need
Miami-Dade County is the fourth most dangerous place for walkers in America and the most hazardous locality for cyclists in the country's most dangerous biking state. We also have gridlocked roads, so we need safer alternatives to cars. And we need more parks: Miami-Dade County has three acres of green space per thousand residents, compared to nearly 24 in Portland, Oregon. The Underline is 10 miles long, but really it's just the beginning of a bicycle and pedestrian network in Miami.
Public Angels
The public sector is large and confusing. You need a government ally to open doors. The folks in the Miami-Dade County Parks and Recreation Department have been our angels. They have helped us work with Miami-Dade County Transit, which owns the land below the Metrorail.
Idea into Action
An idea is far less important than the delivery. We're determined to get The Underline built—not end up in some master-plan morgue. The company I ran for many years was deadline-oriented. We had to deliver on time, 100% of the time. That's harder with an all-volunteer core, but we've done it, and our speed has helped build community excitement.
Building a Park—and a Legacy
For me, this is a legacy project. My children are in New York chasing their dreams. I'm 55, and I want to help build a city that they want to come home to one day. This has been a great gift for me. I've met fascinating people. I've stepped out of the five-mile radius of my life. I feel like I'm part of the fabric of Miami.