Studies show that women are often stronger investors than men, so what's driving the gender investing gap?
Since the early 90's, numerous studies have found that female investors outperform male investors on average. However, according to S&P Global, despite holding 42% of wealth, just 26% of American women are invested in the stock market. If women are stronger investors than men, why do so few women invest?
The investing gender gap can likely be attributed to differing attitudes toward investing. A 2018 survey conducted by Levo League found that while over half of Millennial women have the financial means to invest, 56% say that fear holds them back from doing so.
Comparing Male vs. Female Investors
Interestingly, that same sense of caution regarding investment decisions is actually one of the primary reasons why women are historically stronger investors than men, along with the following factors.
Women may have more realistic expectations.
FINRA's 2018 National Financial Capability Study found that 32% of male investors expected their portfolio to perform better than the market as a whole, while only 25% of female investors shared that attitude.
Women investors are more likely to stay the course.
40% of male respondents had made four or more transactions in the past year compared to just 25% of women. In other words, women may be better investors than men simply because they are more willing to stay a course and not make a hasty decision.
Men are less likely to work with an investment advisor.
Regions' Women and Wealth Survey found that 73% of men handle their investment decisions themselves. Conversely, 72% of female investors said that a financial planner or advisor advises them on their investment and financial planning.
Men have a higher risk tolerance.
Research shows that male investors are also more likely to make riskier investment decisions. They also tend to be more conservative — as shown in the infographic below, 41% of women say they're conservative investors compared to just 24% of men.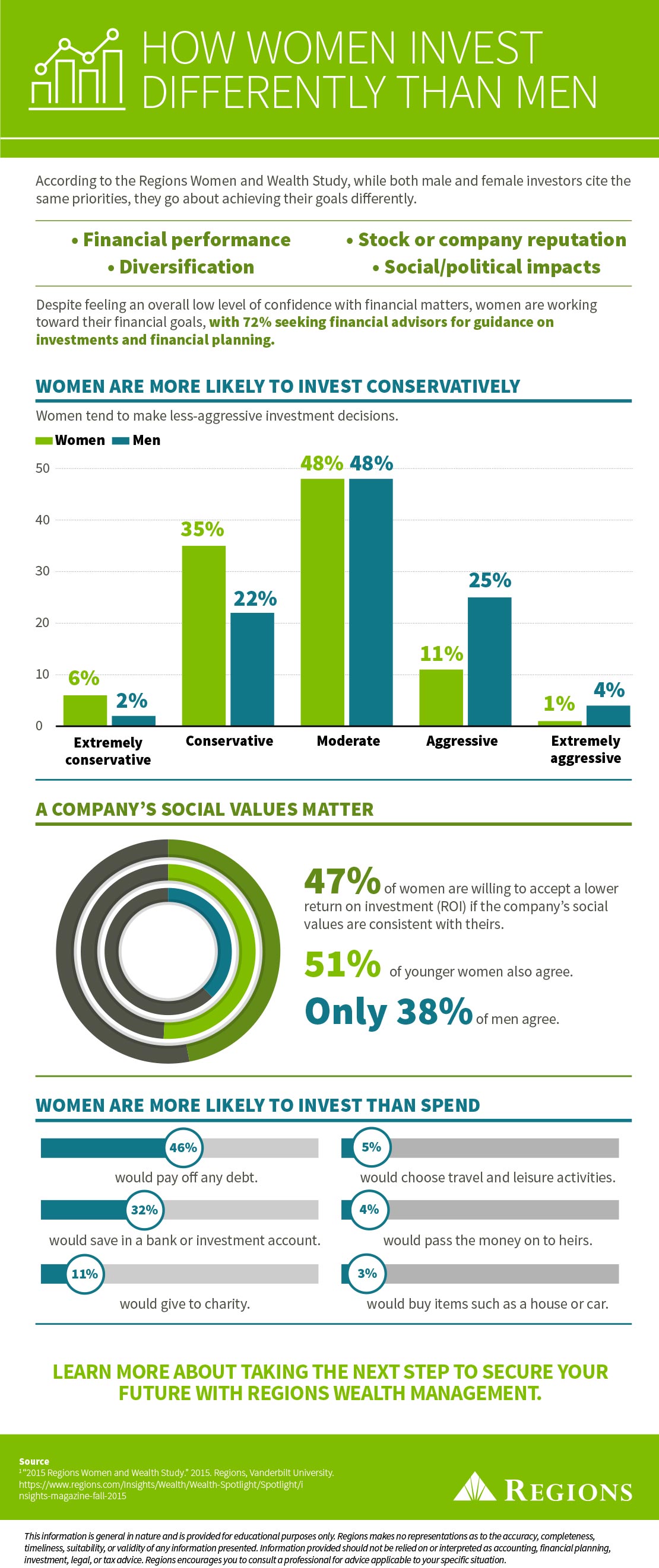 Closing the Gender Investing Gap
While surveys indicate that women feel less confident as investors than men, research also shows that their lack of confidence is, more often than not, unfounded.
"Women think they need to know more than they actually do in order to jump in and start finding their way," explains Elizabeth Winter, Wealth Advisor at Regions Bank. "In many cases, a man is going to be more confident in his level of expertise, even if both parties have the same level of experience and background."
Since women are saving for a longer retirement, taking appropriate levels of risk in an investment portfolio early in your retirement savings may yield higher savings in the long run. Consider working with an advisor to assess your risk tolerance and create a portfolio built around your goals and objectives.
Regions Wealth Advisors can help you review your assets and investments and answer any questions you may have. A Wealth Advisor can also help you evaluate investment opportunities and find investments aligned with your specific goals and needs.
Resources for Women Investors
For more investment and financial management strategies for women, check out the following episodes of Regions Wealth Podcast: