For every day Don Heath and Frank Walburn spend in a suit and tie, they spend at least one more in denim and boots. They are not your typical bankers.
With more than 70 years' collective experience as trained foresters and land-management experts, Heath and Walburn spend much of their time wheeling pickup trucks throughout the rural central and southern United States. From Alabama to Arkansas, they meet with the more than three dozen farm managers, geologists, foresters, property managers and other professionals who work in Regions' Natural Resources/Real Estate (NRRE) Department. The group devotes itself to helping Regions' clients buy, sell and manage land assets, whether that means farmland, properties with mineral rights or timberland.
Walburn, manager of Regions' six timber funds, personally visits tree sites the funds may wish to purchase to analyze their growth and income prospects. "I never expected when I finished forestry school and went to the woods of South Alabama that I'd end up wearing a dark suit at least half the time," he says.
Natural Selection
Heath and Walburn are busier than ever these days. More private investors are acquiring land assets to diversify their portfolios in today's challenging economic climate. Moreover, with the world's population expected to surge beyond 8 billion by 2025, investors see the earth's bounty as a way to position their portfolios toward the future. Developing countries rely on food, timber, fossil fuels and other raw materials to grow their economies.
Clients may also inherit farmland or mineral properties from older generations in their family and turn to Regions to determine how to reap greater value from them.
Regardless of the reason, Regions' NRRE group helps investors buy and sell land investments and determine the best way to extract income potential. In many cases, clients want to own land for investment, recreational or sentimental purposes, but may live in urban areas or have neither the time nor interest to farm or drill it themselves. Regions helps them determine how to maximize income from various types of land they own and provides property managers with expertise in supervising that particular type of land.
Regions' NRRE group manages land in 36 states, adding up to a million acres of timberland, 2.5 million acres of mineral properties and about a quarter-million acres of farmland. Managing land for trusts, institutions and individuals is a unique service for a bank to offer, but Regions has been doing just that for over 40 years.
Back to Basics
In the 1990s, universities and pension funds began snapping up natural resources in search of an alternative asset — and were encouraged by the federal government to diversify their holdings. More recently, high-net worth investors have started following suit, says Heath, a Regions' senior vice president and head of the NRRE group.
In times of economic and market uncertainty, natural resources are attractive because they're tangible, says Heath. "Soil, trees, coal, cotton, soybeans — these are hard assets, and they provide a little back-to-basics comfort for investors in times like these," he adds. Land also provides income-generating opportunities beyond its appreciation and has intrinsic value regardless of the market's direction. Moreover, natural resources tend to perform differently from stocks and bonds. In investing parlance, they traditionally have a low correlation to these other asset classes. Amid the financial crisis of recent years, for instance, many natural resource investments have outperformed the stock and bond markets. That's partly because land investments often have unique economic drivers that are independent from the broader economic climate.
Take timberland, for example: About three-quarters of the return garnered from timberland is directly related to actual growth of the trees, Walburn says — which can happen regardless of the current economic climate. That said, a potential drawback of natural resource investing is that it generally is more illiquid than stocks or bonds. Investors in land often must be prepared to hold on to an investor's investment for several years and may not be able to sell it exactly when they want.
Farmland, in particular, has seen rapid appreciation in recent years, thanks to the "healthy and growing global demand for basic agriculture commodities," says Walburn. Commodities' uses are growing beyond nutrition into areas such as biofuel and energy production, driving up demand. And the commodities market is now truly global: One southern entrepreneur recently made headlines for selling chopsticks to China and Japan made with wood grown in Georgia.
Growth Opportunities
Regions' NRRE group helps clients navigate often complex decisions related to land investments. Many investors who already own land, for instance, face a tough question: Should they sell it to take advantage of today's pricing or keep it and find ways to generate income off it? Regions can help explore whether a sale makes sense, given recent pricing trends in an investor's area, income opportunities for the particular swath and other market factors.
Landowners don't always realize the income potential of keeping their property, often focusing solely on the potential sales price. Regions' NRRE experts, working in coordination with wealth advisors, help clients evaluate income-generating management services, such as lease negotiation and oversight, cash-flow monitoring and tax and document administration. Commodity prices may fluctuate regularly, but Regions' deep expertise of markets, hedging techniques and insurance options helps manage market risks.
"We have clients whose property includes forestland and farmland, a gas well or gravel pit, even a family home where they can hunt," Heath says. Those clients rely on Regions to help them with the day-to-day handling of that land, while still enjoying the personal benefits of landownership, he adds.
Beyond understanding how to maximize the value of land, investors should also understand how land assets fit into their overall portfolio, including risks and potential return. Regions Wealth Advisors help clients determine how to better incorporate land as an investment, including the risks and potential benefits.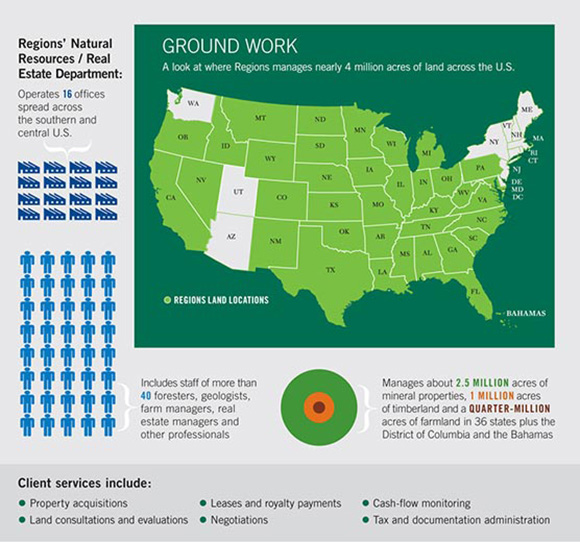 Click to view wealth