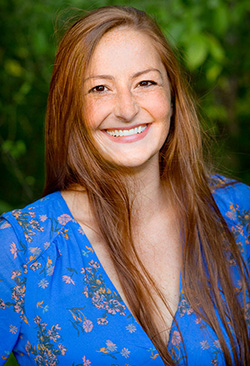 The new Executive Director of Ruffner Mountain tells us about her plans for the future.
Carlee Sanford has a lot of responsibilities as the new Executive Director of Ruffner Mountain, the streamlined nonprofit that operates a 1,038-acre urban nature preserve in the heart of Birmingham, Ala. The same day she spoke with Insights, she had done everything from fixing buzzing lightbulbs to ordering new signage to text messaging with her board of directors. With a background at a creative agency, she's using her can-do attitude and problem-solving skills to rethink how the organization, which was founded in 1977 and has struggled financially in recent years, operates today as well as how it will operate in the future.
About Ruffner Mountain
Carlee: We have over 14 miles of trails available, and we really could have a lot more mileage, but we just can't operate without more staff and funding. The preserve is surrounded by an urban environment, but for a moment you may feel like you're on the Appalachian Trail.
Back on mission
We're going back to Ruffner Mountain's original mission, which is to restore the land while positively impacting the communities that surround it. We're doing things like restoring wildlife habitats that were damaged because of the city's industrial past. We host educational programs and interpretive hikes for local students to open their eyes to the natural world, something we feel is crucial for today's youth.
Smarter use of staff
There had been a lot of employee turnover over the last five years, because we were hiring environmental experts who loved nature and animals, and we were trying to sustain operations through income from weddings and events. By the time Saturday night rolls around, our small team is simply exhausted after a full workweek. So we've cut back on events and I'm pushing for our staff to do what they are trained—and love—to do.
Branding
We cleaned up our logo and gave it a retro look as a nod to our late-'70s roots. With a small budget, I worked with a team of freelance designers through the design process. Our new brand identity couldn't be more fitting and natural for us thanks to some extremely talented graphic designers.
Dealing with the board
We have a really strong board right now. Together we're cleaning up our bylaws, policies and procedures in order to make a better plan for the future. It's going to take at least two years, but I see us being more stable in the next six months. We're already better than we were six months ago. Overall, I'm energized about the path forward for Ruffner Mountain, because we're building on the foundation of the past to create an even brighter future.