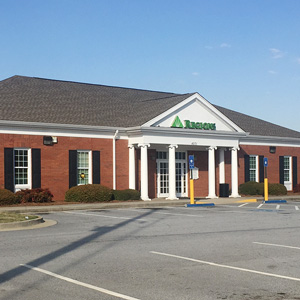 Paulding Commons
678-931-6750

Branch Hours

Lobby Open

Mon - 9:00 a.m. - 5:00 p.m.

Show Lobby Hours

Drive Through Open

Mon - 9:00 a.m. - 5:00 p.m.

Show Drive Through Hours

ATM Info

Drive Up DepositSmart ATM® Open

1 Available

Products & Services

Checking Accounts
Savings Accounts – Money Market, CDs, IRAs
Credit Card
Credit Lines / Loans / Mortgages
Insurance
Securities / Investments
Additional Services
Send/receive money domestically or internationally, or pay bills – no checking account required.4

You can walk into this Regions branch and walk out with a new Regions Personal Debit Card during the same visit. If you misplace your card, experience fraud or need to replace your debit card for any reason, come by this location and we'll issue you a new one the same day. It's just another way Regions makes life easier for you.
We make banking better and easier

Keeping customers first
We're committed to providing excellent customer service in our branches, online, over the phone or even at an ATM.

Tech-driven convenience
Bank anytime from virtually anywhere using our Online and Mobile Banking services and Mobile Banking App.5

Strong community partner
We create shared value through lending programs, support for nonprofit resources and educational initiatives.

Extensive products options—and guidance
We offer a full range of consumer and business products and services plus the guidance of knowledgeable professionals to take you to the next step.