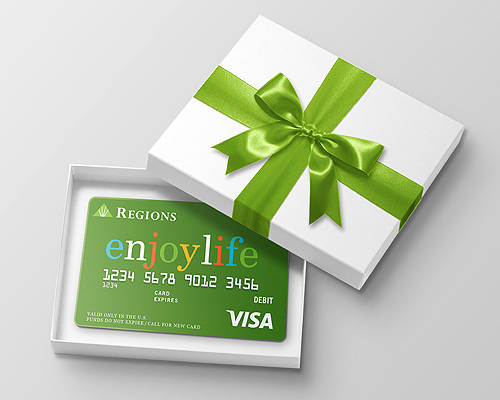 Gift Card >
Gift cards are perfect for any occasion. They can be purchased by Regions customers at our branches in amounts ranging from $10 to $500, in $5 increments, and used at millions of merchants nationwide who accept Visa®1.
Find a branch
Make an appointment
What you get with a Regions Visa® Gift Card
Gift card details
Monthly fees

$3 monthly maintenance fee after 12 months of inactivity

Cost of card

Minimum load

$10 - $500 in $5 increments

Card customization options

No customization available

This card:

Offers protection from unauthorized transactions. A replacement card is issued if original is lost or stolen.
Has a daily purchase limit of $500 maximum per card, based on card balance.
Cannot be used outside the US, to make recurring online payments or for vehicle rentals.
Does not offer cash withdrawals.
Looking for more information