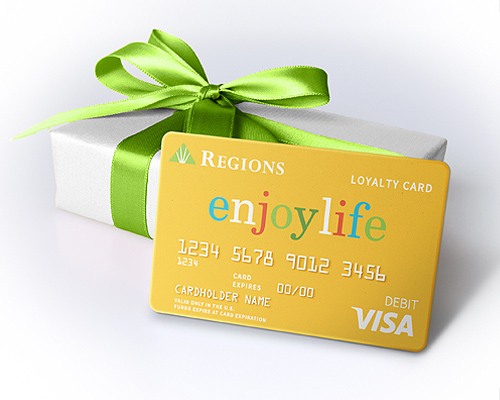 Loyalty Card
This non-reloadable prepaid Visa®1 gift card is primarily for promotional and incentive programs, thanking customers or rewarding employees. They can be purchased in bulk and personalized with your company's name.
Find a branch
Make an appointment
What you get with a Regions Loyalty Visa® Card
Loyalty card details
Monthly fees

Cost of card

$3 per card plus a $20 processing fee for the order

Minimum load

$10 - $500 in $5 increments
Minimum order of 25 cards

Card customization options

Can be personalized with the company's name.

This card:

Offers protection from unauthorized transactions. A replacement card is issued if original is lost or stolen.
Has a daily purchase limit of $500 maximum per card, based on card balance.
Cannot be used outside the US, to make recurring online payments, or for vehicle rentals.
Any remaining balance including this card will expire on the date that is printed on the front of the card.
Does not offer cash withdrawals.
Looking for more information