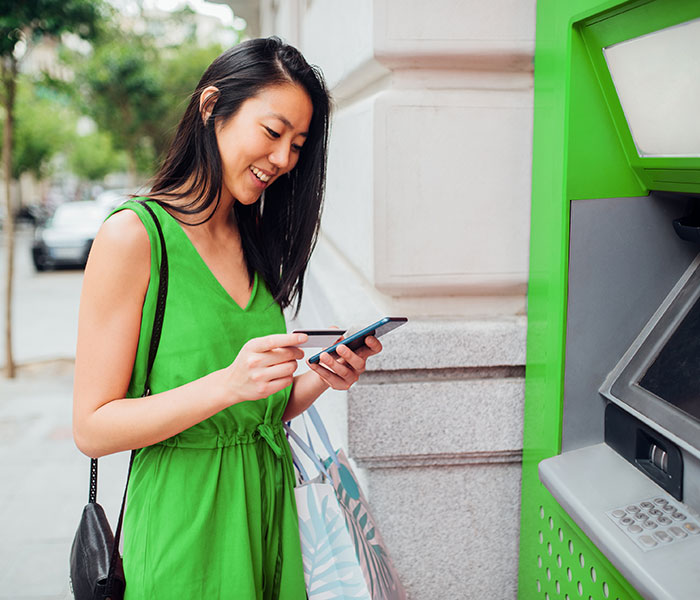 Early Pay >
With Early Pay1, Regions customers can get access to qualifying payroll funds from participating employers or federal and state government payments up to two days early.
No need to enroll and there's no additional cost—it's automatic when you have qualifying direct deposits to your Regions account or prepaid Regions Now Card®.
Not set up with direct deposit yet? Just log in and use the direct deposit form under the customer service tab. For direct deposits to the Now Card, learn more and download the direct deposit form.
Get paid faster than ever with Early Pay
Enjoy Early Pay on your Regions accounts and the prepaid Now Card
Many banks offer early direct deposit only on a specific checking account—but Regions customers can enjoy Early Pay on all checking, savings and money market accounts, as well as the prepaid Now Card.
Watch our short video to learn more.
We're working to give you better access to and control over your money.
Early Pay is just one of the many ways we're working to make your banking experience better – and to help the financial "ifs" in life become less iffy. From reducing the impact of overdraft and returned items fees to Online and Mobile Banking enhancements that give you a more accurate view of your balances, Regions is here to help you along every step of your journey.
Early Pay direct deposit details
Early Pay is a courtesy service giving Regions customers access to their funds through qualifying direct deposits up to two days early. There's no enrollment or activation required when you set up a direct deposit into your Regions checking, savings or money market account or prepaid Now Card.

No, there is no need to enroll. Customers are automatically enrolled in Early Pay.

If you're not currently enrolled in direct deposit you can:

A direct deposit is an electronic transfer of funds from an organization such as your employer, a retirement plan or the Social Security Administration, directly to your checking account, savings or money market account or prepaid Regions Now Card.

Direct deposits that may be received early include payroll and government disbursements, such as Social Security, retirement and state unemployment benefits. Deposits from employers that are notated as payroll or something similar may be eligible for Early Pay.

Businesses and employers don't always submit their direct deposit information at the same time each pay period. For example, one pay period, they may submit it one day early, and the next, they may submit it two days early. Unfortunately, we don't have control over the timing. However, you can subscribe to receive alerts so you're notified when you receive your direct deposits early. Learn more about alerts.

Depending on your employer or payor, it could take up to 60 days for the direct deposit to be eligible for the Early Pay service. However, in some cases, it may happen sooner.

You can set up alerts and notifications through online and mobile banking so that you're notified when funds are deposited or loaded to your prepaid Now Card. Learn more about alerts.

If you don't want to be enrolled in Early Pay, you can visit your local branch or Message Us within Regions Online Banking to opt out of this service. If you choose to opt out of receiving your direct deposit early, it could take up to 5 business days before your changes take effect. In rare cases it could take up to 60 business days before your changes take effect.

Your business will not be impacted by this change; however, if your employee banks with Regions, they may receive their deposit up to 2 days early. If you have additional questions, please contact the following area depending on your current service:

iTreasury users - please contact Commercial Client Services at 1-800-787-3905.
Customers with Online Banking Business Services – please call the Regions Contact Center at 1-800-4PCBANK.
1 Regions Early Pay is a courtesy service provided in the sole discretion of Regions Bank according to criteria established from time to time by Regions Bank. Regions Bank does not guarantee the early availability of any direct deposit or Now Card load. Terms and limitations apply. See Regions Bank deposit agreement and Regions Now Visa® Prepaid Card Terms and Conditions for details.
* We can provide these alerts only if you have provided your compatible mobile phone number and/or email address to us; we can provide alerts by text only if you have not opted out of communication via these methods. We provide alerts as a courtesy, and have no liability for any failure or delay to provide an alert to you. We may modify or discontinue these alerts at any time and without notice to you.