At Regions, we're here to help you manage your accounts as effectively as possible so your funds are available when you need them. Understanding the way we post transactions to your account can allow you to stay on top of your account balances and avoid potential overdraft or returned item fees. 1
How do transactions post to my account?
Items are posted in the following order by category:
Deposits and other credit transactions are posted first.
Wire transfers and certain commercial debits are posted by the transaction date and time.
Money sent instantly through Zelle® and real-time electronic payments as well as internal account transfers made through Online and Mobile Banking and iTreasury (such as a transfer from a Regions checking account to a Regions savings account) post by the transaction date and time.
Checks post in check number order.
Other electronic payments (for example, CheckCard, electronic bill payment transactions, and recurring or future dated payments scheduled through the Zelle service) post by the transaction date and time.
In some cases, items may not have a readable check number or identifiable date/time. These items will be posted by dollar amount, from lowest to highest, after the other items in their category. Please remember that modern bank payment processing systems and operations are complex and that exceptions to the general posting order description may apply. Please keep track of your balance as you use your account.
What does the posting order mean for me?
Our posting order won't have a significant effect on your everyday banking if you maintain sufficient funds in your account to cover all your transactions. However, if you do not maintain sufficient funds in your account, the posting order could impact the number of nonsufficient funds and overdraft fees on your account.
A simple example of how the posting order works:
Your daily transactions post in the following order: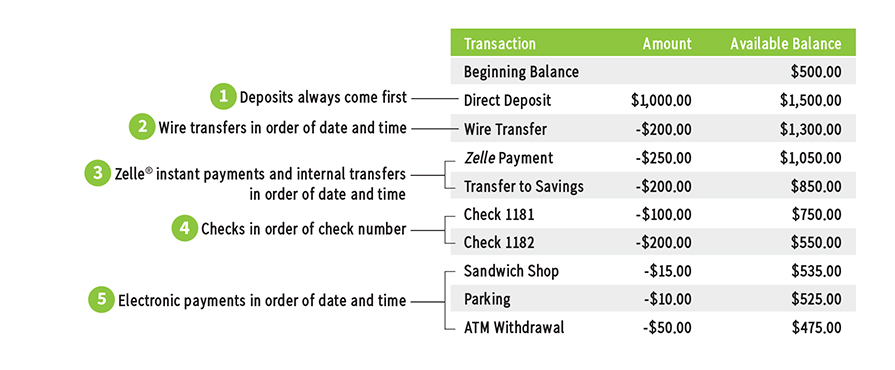 If you have any questions about the posting order, please speak with your Regions Banker or call the Regions Green Line® at 1-800-REGIONS (734-4667).