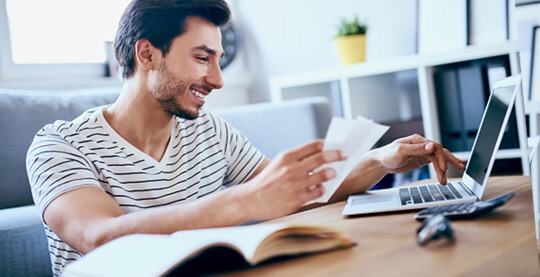 Let Regions help you take the pain out of preparing, submitting and managing your taxes.
Use our tax planning tools and resources to minimize your tax burden and prepare and submit tax returns with ease.
Tax Planning Solutions
Prepare your taxes: Our relationship with TaxSlayer® provides you with a fast and easy way to prepare and e-file your federal and state income taxes online. Use TaxSlayer's refund calculator to estimate your refund or Get Started Now.
Cash your refund check: Use the Regions check-cashing service

legal disclaimer number

1 on any federal or state refund check and/or refund anticipation check.

legal disclaimer number

2 Visit your local branch today.
Load your refund onto a Regions Now Card®: Access your refund by loading it onto a Regions Now Card, a reloadable Visa® prepaid card. It's easy to use, safer than carrying cash and comes with no overdraft fees. Visit your local Regions branch to apply.
© 2018 TaxSlayer LLC and Regions Bank. Regions Bank is pleased to be able to make TaxSlayer services available to our customers. Regions Bank does not provide the product or service, and makes no representations or warranties regarding your use of TaxSlayer.
Regions and the Regions logo are registered trademarks of Regions Bank. The LifeGreen color is a trademark of Regions Bank. TaxSlayer and other related marks are registered trademarks of TaxSlayer, LLC and should not be used or reproduced without consent.