Deposit Checks 24/7 from anywhere in the U.S. with Regions Quick Deposit® Mobile.
Regions Quick Deposit offers three convenient mobile options to meet the evolving deposit needs of businesses of virtually every size and type: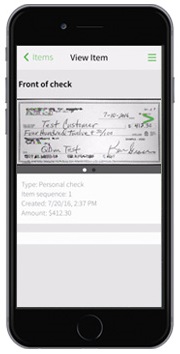 Regions Quick Deposit Mobile Xpress
Use your mobile device to make check deposits on the fly. With Regions Quick Deposit Mobile Xpress, you can deposit a check as soon as your client gives it to you, plus get quick access to simple reporting and deposit details.
Regions Quick Deposit Mobile1
Make deposits at your convenience using your mobile device, and enjoy the advantage of the robust research reporting features that are included with the traditional desktop Quick Deposit solution, plus gain robust reporting and research capabilities.
Regions Quick Deposit Enterprise
Streamline your company-wide check deposit process and improve funds availability and cash flow by enabling multiple users to make simultaneous check deposits. Enjoy the flexibility of depositing large volumes of checks from your desktop computer and individual checks on the fly using your mobile device.
All Regions Quick Deposit options enable you to:
Deposit checks 24/7 from anywhere in the U.S.
Submit checks before 8 p.m. CT for same-day ledger credit2
Deposit multiple checks for a single deposit
Process daily checks at your convenience
Check totals and make error corrections before submitting the deposit to the bank
Review your deposited check images3
Research payments and access reports4
For more information, contact your Regions Relationship Manager or Treasury Management Officer.