Contact Us
Your questions and concerns are important to us. Please call or visit your local branch.
Real Estate
800-290-5358
Revolving
800-333-4104
Installment
800-333-4104
Credit Card
888-231-5461
DDA/Savings
800-289-6730
Flexline
800-723-7035
Recovery/Charge Off
800-289-6720
Insurance Claims
800-289-6710
Legal Documentation
(deceased account owner,
out of country vehicle documents)
800-289-6710
We may be able to offer assistance if you are experiencing a financial hardship. Learn More
| | |
| --- | --- |
| Loss Mitigation | 866-298-1113 |
| Bankruptcy | 800-675-4471 |
| Repossession/Remarketing | 866-298-1131 |
NOTICE TO BORROWERS IN BANKRUPTCY/ BORROWERS DISCHARGED OF PERSONAL LIABILTY – PERIODIC STATEMENTS
You may direct us to stop or start sending, as the case may be, periodic billing statements to you by writing to us at any time at Regions Bank, Consumer Collections, P. O. Box 10063, Birmingham, AL 35202. Within a reasonable time after receipt of your written request to us to stop sending periodic billing statements, we will no longer provide to you said statements. Following receipt of your written request to resume sending to you periodic billing statements, we will begin providing to you said statements unless a bankruptcy court has ordered us otherwise.
Currently past due but too busy to go into a branch to make your payment and want to avoid a late fee? Call us today and schedule a payment to be drafted from your Checking Account. It's quick, easy and we do not charge an additional fee. Our bankers are standing by to assist you. Please have your payment checking account and bank routing numbers ready. These can be found at the bottom of your checks or on your statements. To protect your information, you will be asked to verify your identity based off information as it appears on your Regions account.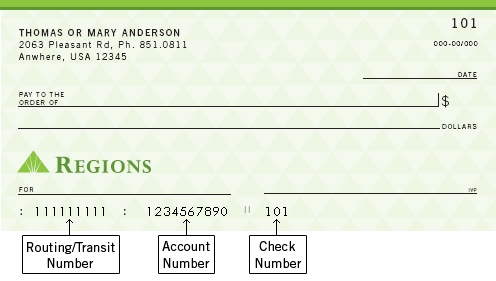 Online Payments
Coming Soon!