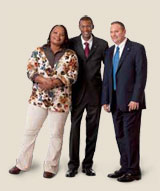 Alma McCray with Courtney I. Smith, Regions Community Affairs manager, and Winston Groat, Regions Workplace Banking manager.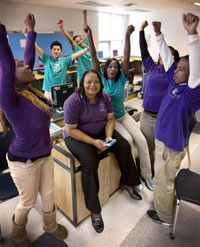 Alma McCray, teacher and leader of the EverFi program at South Atlanta High School, with some budding financial geniuses.
Together, we're helping a great group of kids learn how to make some very mature decisions about money.
As with any life skill, when it comes to managing money and personal finances, the earlier that concepts are learned and good habits are formed, the better. For this reason, Regions has been a long-time supporter of financial literacy education programs for children, teens and adults. Recently, Regions formed a partnership to provide an informative, flexible and interactive experience that motivates teens to learn responsible money habits. Together, Regions, EverFi and Atlanta Public Schools brought the EverFi Financial Education Program to 14 high schools in Atlanta, reaching more than 1,000 students so far.
"Regions was able to provide a sponsorship to EverFi, then partner with Atlanta Public Schools to bring this unique curriculum to the students. It's a web-based program, so the students are able to work through the program not only in school with their instructors, but also anywhere they have access to a computer and the internet," says Courtney I. Smith. "The curriculum is based on real-world experiences like balancing checking and savings accounts, saving for college, purchasing insurance, and using credit properly. Another great feature is that even after the students graduate from the program, they can continue to access the program and seek updated information and advice on topics of their choosing."
The EverFi Financial Education Program has been well received. In fact, at South Atlanta High School, several of the first students to complete the program gave testimonials at an assembly to encourage their classmates to consider enrolling in the program. Imagine that: kids talking to other kids about being responsible with money.
Partnering With Junior Achievement – Georgia and Alabama - Regions associates are getting involved with Junior Achievement in many communities. In Paulding County, Ga., Regions associates taught 50 seventh- and eighth-graders, covering topics such as budgeting, using credit and financial risk. In Birmingham, Ala., associates collected more than $35,000 for the purchase of Junior Achievement teaching materials.
The St.Louis Community Empowerment Foundation – Missouri - The St. Louis Community Empowerment Foundation helps promote self-sufficiency among the economically-challenged residents of blighted St. Louis neighborhoods. In July, Regions helped produce a festival that reached 6,000 people and provided event volunteers and financial literacy materials. It was a tremendous opportunity to reach an underserved population.