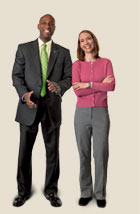 David Germany, Public, Institutional and Not for Profit relationship manager for Regions, in charge of day-to-day banking for Railroad Park, and Camille Spratling, executive director of the Railroad Park Foundation.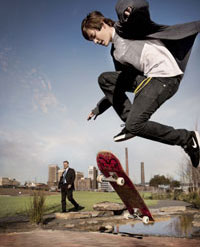 The new Railroad Park is designed to be a place that people of all walks (and rides) of life can enjoy.
Railroad Park Foundation, in partnership with Regions Bank in Birmingham, Alabama, helped create a new point of pride for the city.
Any city offers its share of busy roads and large buildings. But great cities also are known for their green sanctuaries where grass, trees and water offer respite from glass, steel and concrete. In fact, in the case of Birmingham's new Railroad Park, it is much more than a park. It's also a model of sustainable design, a catalyst for revitalization in the surrounding area and a gathering spot that's a point of pride for an entire city. This was due in great part to a community-wide effort that includes a strong partnership between the Railroad Park Foundation and Regions.
From the very start, Regions got involved on the board of Railroad Park and also made a generous contribution to help ensure the project moved forward as planned. Today, what used to be a weed-choked expanse of brick and concrete has been transformed into a beautiful, sustainably-designed, 19-acre green space. "One of the most interesting aspects of the design is the gabion walls which serve as benches throughout the park," says Camille Spratling. "Much of the material used in their construction was actually reclaimed material from the site. The design also incorporated old pavers found here. It's definitely a greener way of building."
While Railroad Park has been open for a relatively short time, it already has become a favorite place for people from all parts of the city to gather. Regions still is involved in Railroad Park's success. "Regions has been not just a funder, but a partner," Spratling says. "Railroad Park is more than just a beautiful place. It serves as an inspiration for what's possible. It's a tangible result of the power of partnerships, and it makes you think about what else is possible."
Helping Habitat for Humanity – Illinois - Sometimes, even Habitat for Humanity needs help finding a new home. In Lincoln, Ill., Regions was able to help by donating a building to be used as the local headquarters for the organization. One of our drive-thru branch buildings was consolidated with another branch, and the donated space now holds a volunteer center and a recycling initiative.