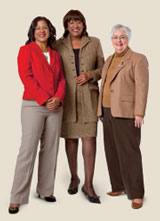 Lethia Mann, vice president and loan administrator of The ONE Fund, with Marilyn Robinson, executive director of the Nashville Minority Business Center, and Laura Roberts, Regions business banker and member of the Loan Committee for The ONE Fund.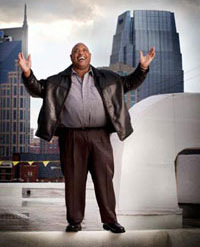 D'Arcy Porter, president of Elite Roofing, atop the roof of Rocket Town – a recent job well done.
The ONE Fund and Regions Bank work in tandem to help the Elite Roofing Company reach toward the sky.
When D'Arcy Porter was asked if he ever thought he would build a multimillion-dollar company out of what started as a one-man roofing operation, he answers with the same confidence that has inspired his success. "Well, I'm going to say yes. You know, because that's how my mind is set. I'm a positive-thinking person. I just do what I have to do and do it the right way." Of course, as in any good pull-yourself-up-by-the-boot-straps story, there were some bumps and some strokes of luck along the way.
After 25 years of working for other commercial roofers, Porter decided in 1991 to start Elite Roofing Company out of his house. Credit cards initially funded the venture, but that only got him so far. That's when Porter discovered the ONE Fund – a loan program of the Nashville Minority Business Center that helps non-traditional business borrowers secure loans. Regions is part of a partnership that funds the program. "I met Laura Roberts, who was serving on the Loan Committee of the ONE Fund, and that's how that relationship started," Porter says.
With an initial line of credit of $50,000 and a lot of hard work, Porter built a solid company that now employs 30 people. And Regions has a customer who takes advantage of all the bank has to offer – from checking to payroll services and mortgage refinancing. "I always knew i was close, but i just needed that little boost," Porter says. And it would appear that when people get together to give others a leg up, the sky is the limit.
Keco Engineered Coatings – Indiana - Regions has partnered with KECO Engineered Coatings, Inc., to finance an expansion of the high-performance coating company and a thriving technology park on the west side of Indianapolis. KECO currently employs 25 people and anticipates hiring up to 50 people over the next two years in areas of engineering, management, customer service and manufacturing.

Small Business Lending – Everywhere, USA - Regions booked $7.2 billion in 2010 in new and renewed loan commitments to small businesses. According to data recently released by the U.S. Small Business Administration (SBA), Regions is a leading national business lender as measured by SBA 504 loan approval dollar volume for fiscal year 2010. The SBA 504 loan program supports economic development within communities by providing small businesses with long-term, fixed-rate financing to acquire assets for expansion or modernization.