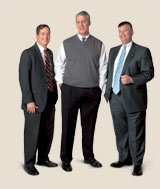 Philip Coote, Regions Commercial Real Estate relationship manager for New Orleans, with James Grauley, president and COO of Columbia Residential, and Brian Callender, Regions Commercial Real Estate market manager for South Louisiana.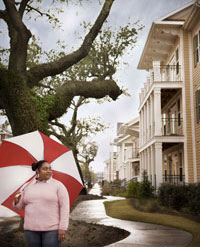 Tonya Smith, a past resident of St. Bernard housing project, enjoys her new home in Columbia Parc.
Regions Bank and Columbia Residential join forces to develop 466 affordable housing units in New Orleans' Columbia Park after Hurricane Katrina.
"WOW! That's all I could say. Wow." That was Tonya Smith's reaction to the new Columbia Parc at the Bayou District. This community had risen from the St. Bernard housing project where she had lived. It was a neighborhood blighted by poverty long before Hurricane Katrina ultimately swamped it and drove Tonya and her son away. "When they gave me the keys to my unit, I opened the door, and even though I didn't have a lick of furniture in there, I felt like I was home."
When the Housing Authority of New Orleans looked to redevelop the site in early 2007, it partnered with Columbia Residential – a company with a great track record of turning areas on the brink into mixed-income communities where people really want to live. What the team lacked in 2008 was a financial partner willing to assist them as the economic crisis was heating up. Regions saw the need and recognized the opportunity to be part of this special project – issuing a construction loan and bridge financing for the development. In fact, it turned out to be just the first 466 of more than 1,000 affordable housing units Regions has helped build in New Orleans since Katrina.
If you visit Columbia Parc today, you'll find a model community that combines public, rent-capped and market-rate apartments. It's a walkable neighborhood with amenities that include an internet café, fitness center and a splash park. "Everybody knows everybody on their block. We look out for one another," says Tonya.
Hope for the Gulf Coast – Louisiana, Mississippi and Florida - Regions believes it's important to help people stay in their homes. So we partnered with HOPE NOW, NeighborWorks America and several other nonprofit and government partners to produce a series of foreclosure-prevention events called "Hope for the Gulf Coast." Regions volunteers spoke one-on-one to those who asked about mortgage payment assistance.

City Place – Florida - Regions partnered with the City of St. Petersburg and the Florida Housing Finance Corporation to create City Place, an affordable senior housing development that promotes active senior lifestyles. Regions provided construction financing and assisted in arranging tax credits to see the project through to completion.