David Christian, senior vice president and Community Affairs manager, with Wendy Leigh, education director for the Straz Center.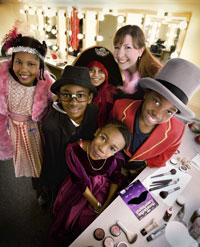 Audrey Siegler, a member of the Theater Administrative Faculty at the Patel Conservatory, works backstage at the Straz Center with a group of children from Sulphur Springs Elementary School.
Regions Bank and the Patel Conservatory at the Straz Center in Tampa lead community outreach programs in music, dance and theatre.
As public school budgets increasingly strain to fund the basics, more often than not, math and science take precedence over Mozart and
Swan Lake
. Regions recognizes the importance of arts education and, to help fill the void, supports a wide variety of programs that bring theatre, dance and music to underserved students.
A good example of this commitment is an arts education program at the Patel Conservatory at the Straz Center. "Regions has been a steady supporter of the Straz Center for many years now," says David Christian. "But, since about 2008, we have looked closely at identifying ways our contributions can reach an even broader range of the community." As part of its mission, the Patel Conservatory conducts arts outreach to 14 tampa-area underserved schools and organizations. "Regions helps to fund our outreach to these students," says wendy Leigh. "The students go through an interview process. What we're looking for most is desire – a child who will really appreciate the experience first and foremost. We serve students of all levels, in music, dance and theatre, and our scholarship students blend seamlessly with all the other students."
At the Patel Conservatory, many different kinds of successes happen every day – from the truly impressive to the absolutely heartwarming. In one case, three dancers in the program were invited to join the School of American Ballet theatre's summer programs. In another, a young man at risk of falling through the cracks asked for and was offered a chance to stay on and join the staff at the Straz Center. The arts always have had the power to transform lives, and by working together, we can make sure that they always will.
Sunshine School – Arkansas - In Searcy, Ark., Regions partnered with the Sunshine School, a not-for-profit school that provides educational and speech therapy services to developmentally disabled persons in Central Arkansas. Regions participated in a $500,000 construction loan to help build a larger school. The new facility will have more than 20,000 square feet of space and will be able to accommodate many more children who need these vital services.

Haiti Relief – Haiti - The 2010 earthquake in Haiti moved unprecedented numbers of people to action. In response to the need, Regions encouraged donations at all 1,900 of its branches. In addition, Regions helped with transportation for a team of Huntsville, Ala., doctors who volunteered to set up mobile clinics to treat Haitians in the aftermath of the earthquake.